If you're focused, driven and goal oriented, there's not much that will elude you. When it comes to InsideIIM's Best 50 - The most employable students from the batch of 2018-20, we're looking at students with these inherent qualities. Because these are the qualities that make one a leader, whether in the corporate space, or as an entrepreneur. Anirudh, one of our best 50 from IIM K featured here today, displays these qualities in various ways. The most interesting aspect of Anirudh's answers? When he shares the story of leaving a cushy job to start his own venture. If you want to know what pushed Anirudh to take such a step and ultimately set him on a path of self discovery, check out this article.
The following is Anirudh Somani's set of responses to a questionnaire floated amongst MBA graduates to determine the top-50 most employable MBA graduates of the Class of 2020. Amongst the massive number of entries and responses being evaluated by the Founder of InsideIIM-Kampus Konversations, Anirudh's story and profile stood out. Here's his own story in his own words.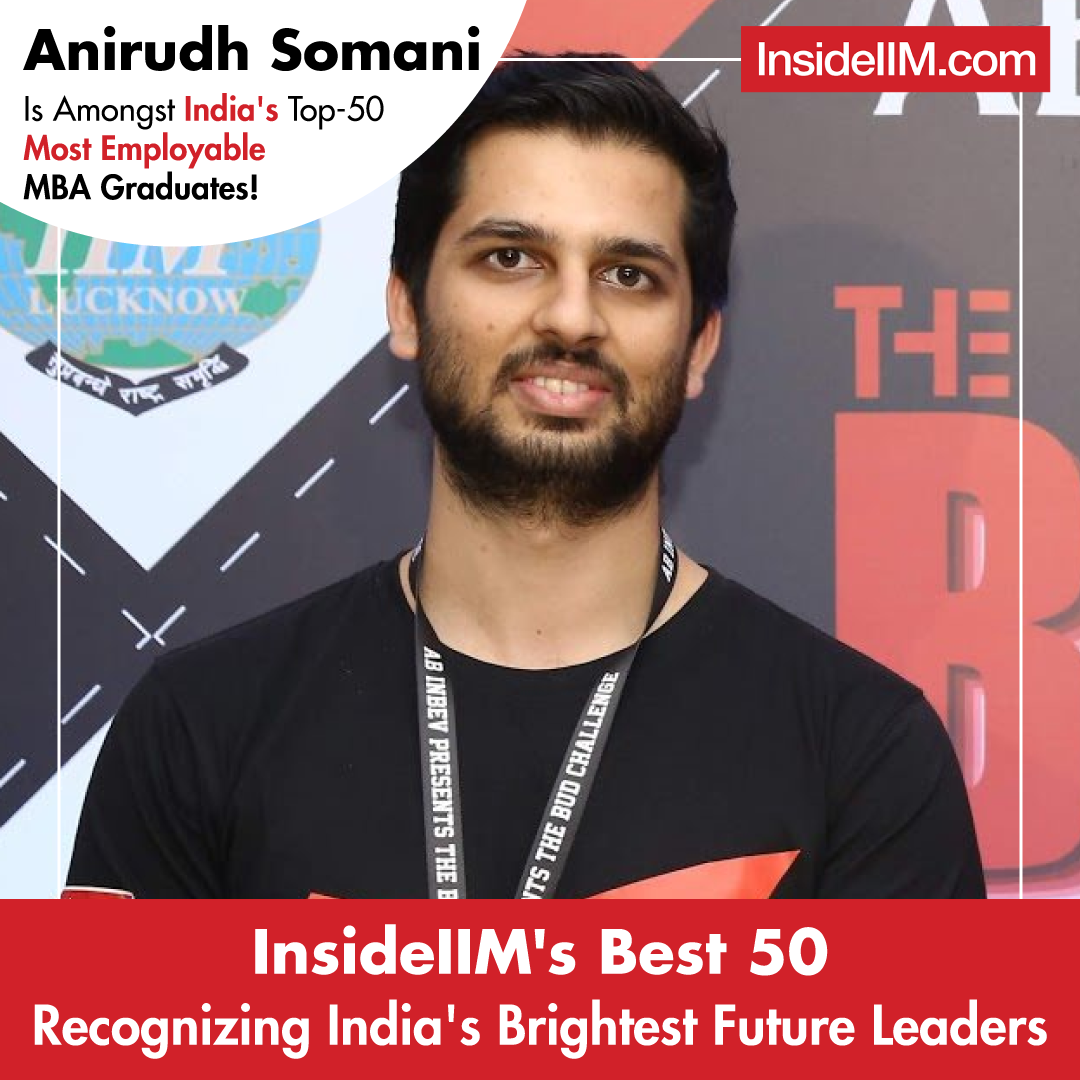 "I am a qualified Indian Chartered Accountant, I have worked as a Financial Controller for Nomura India for over a year. Post that I started my own management consulting and tax advisory firm and worked there for 24 months. I was responsible for business development, team building and focused on business process improvements for our clients. Some of the achievements include improving receivable days from 155 days to 135 days on an annual turnover of INR 300mn, reduction in effort of 1 full-time equivalent (FTE) through process improvements. I have also interned as an equity research analyst and as an internal auditor for publicly traded companies.
At IIM Kozhikode I had been a part of FY - The finance interest group and K-Matinee - the movie club. I have also won some of the major B-School competitions at campus as well as at national level including AB InBev's The Bud Challenge, Flipkart Wired 3.0, Bajaj Offroad 2018 etc. Apart from professional and academic interests, I am a huge cinephile, an amateur poker player and a fitness enthusiast, I love reading (non-fiction) and travelling."
Name an instance where you wanted something and went out of your comfort zone to achieve it OR Tell us the biggest risk you have taken so far in your life.
"Toughest decision for me was to venture into the entrepreneurial waters post my qualification as a Chartered Accountant. It took a lot of toll and convincing on my part to do it. It was very difficult to start my firm as there was insecurity, lack of confidence, fear of failure among my partners. Everyone had a good paying job with a sense of purpose but to give up on the same and do a trade-off was a difficult choice to make for everyone and to convince them and drive them towards starting our own firm was one thing in which I led from the front. To convince my partners and my family about the financial viability was a difficult thing to execute because entrepreneurial failure obviously costs money, but just as important are the time penalty and the emotional toll from seeing something you believed in and worked hard on, go down the tubes. And nobody ever thinks about the opportunity cost -- all the opportunities you passed up while otherwise occupied on your own gig."
When was the last time someone relied on you? OR What did you do which was purely for someone else - a truly selfless act.
"The story goes back to monsoon 2019, the season of case competitions wherein all the major case competitions had been launched. Like others, I too participated in a few so that I can enhance my learning curve and crack a job eventually. I was too caught up with case competitions and I already had a fixed group but a friend of mine wanted me to participate with him in one of the other case competitions because he was particularly interested in that company and he thought it would be relatively easier for him to crack a PPI considering his interest and academic background. I doubled down on my time while managing my other submissions with other teams, I gave my 100% for this friend of mine so that we can win, and he can get his dream job.
Eventually we won the case competition at campus level and were the national finalists and he eventually got the job of his dreams."
Tell us about a time when you disagreed with an opinion/idea/decision. What did you do about it?
"After starting my firm there were many crucial decisions taken regarding the policies of the firm, the kind of work we aspire to do, the kind of human talent we wish to hire by virtue of which there were instances of conflicts among all the partners. One instance that I clearly remember in which I was initially against the idea of it - twelve months post incorporation of our firm, we wished to rent out an office space so that we can formalize our business and have client meetings as we were in the expansion mode. Until then we were working out from home or client locations. I thought that we did not have the finances/cash flows to rent out an office space—as against the popular opinion but then we deliberated and discussed among ourselves over this decision and after a lot of convincing and brainstorming I realized that to base our decisions completely on the current state of affairs was not viable and our financial position was about to get better in the future, thus the big decision was made."
What is the one thing you can claim to have some level of expertise or depth of knowledge in - it could be anything - a subject, a sport, a hobby, a venture, an initiative which has led you to do deep work in that field?
"I developed a very early interest in the field of personal finance partly due to my interest in finance and partly because of my surroundings. I think that many personal finance nerds are born in the crucible of a giant, finite goal, like debt repayment or building wealth for getting into self-employment or early retirement. I felt I had to learn about personal finance just to avoid screwing up with my money. I have seen enough people do just the same. I have seen people who are rich but not wealthy, mis sold a lot of financial products wherein a simple advice could help many people to achieve their personal finance goals.
I thought of pursuing it as a small part time passion project wherein I can use my knowledge to give out genuine personal finance advice to my family and friends and thus I became a mutual fund distributor and have been doling out some serious personal finance tips my friends and families and have 15+ clients with assets under management reaching upwards of INR 2 million."
If 10 Million Dollars (approximately INR 75 Crores) is given to you to use it any way you deem fit what would you do with this corpus?
"Warren Buffett once said that as an investor, it is wise to be "Fearful when others are greedy and greedy when others are fearful." This statement is relevant more than ever before considering the state of stock markets. I will invest the corpus across different asset classes, with the majority of it being in equity as I don't have any kind of loans to pay. The equity markets have entered the green zone (buying zone) after financial crisis of 2008.
This will help me achieve my financial independence in the near term thus helping me to chase the right things and not money. Achieving financial independence is important for me as it will give me control over my time as money will be the last of my priorities. In these times of Covid-19, I have realised that we don't need a lot of things to survive and thus I don't aspire to buy materialistic things. I want to be wealthy and not just look the part."
You might also want to read: