The moment to write this blog post has passed. I have had a dose of a much more powerful drug since I left from Jaipur to come to Ahmedabad 3 days ago. In what follows, I'll try and do justice to Ajmer and Jaipur but I know this one is going to be difficult, because all I really want to write about right now is my two years as a student of MICA.
As a kid who grew up in Bombay, my first introduction to the word "snob" came with reference to the racially superior people residing in the southern part of this city. On understanding what that word meant, I figured anybody wouldn't like to be called one. But there were and are many people who wear it as a badge even today. Not for the word, but probably because with it comes some sort of a privileged membership to a group they simply had to be born to belong to. As I entered into a suburban college, I used to read about this breed in Bombay Times how they really try to 'connect' with the 'burbies' but just find no common ground. Here we are trying to bring the whole nation together, and two people living 10 kms apart fail to find common ground in Bombay. There is another thing, this exclusive class thinks that if it doesn't see it, it doesn't exist – that Dharavi is a myth, that those fishermen living right across the street from their Cuffe Parade flats are living some modified version of their Goan weekends. We create our own boundaries of selfishness – the humanity, the nation, the state, the city, the southern part of the city, the southern tip of the southern part of the city, the home, the self. While they all are stupid, the ball park rule will be that the smaller the total surface area, the more stupid that selfishness is. They live like NRIs in their own country – making all the right noises, but unable to get out of their own little shells. For them, 26/11 was a shock, something unheard of in a 21st century Bombay. They have Shobhaa De as their spokesperson and Bombay Gymkhana as their Parliament.
(The entire Baazigar Series - Kunj's chronicles on Kashmir, Amritsar, Mcleodgunj, Mussoorie, Delhi-Gurgaon, Mughal Sarai – Varanasi, Bangalore,Pondicherry, Hyderabad, Puri, Dantewada, Kanha, Goa and Gujarat.)
And then there are several other kinds of snobs. There is the snobbish traveler who wants to create his own island wherever he travels. Since luxury has a tendency to homogenize or exoticize, the snobbish traveler finds either a customized abode or a conceited story or both in luxury. And Rajasthan is the seat of luxury tourism in India. There are air-conditioned rooms in the jungles of Ranthambore which only look like tents from outside, while inside you could well have been at the Ritz. People live for months on end in the umpteen heritage hotels of all shapes and tariffs, taking in all comforts that their homes offer and listening to stories from the walls-hangings, the chauffeur, the waiter and the receptionist about the number of wives the king had and where the peacocks danced when it rained in a drought-stricken state. The common man isn't important for the travel snob. It is a story he can afford to skip in Rajasthan – the state of the Royals. To be fair, if one has that kind of money, it is quite easy to be tempted into travelling that way.
But I didn't have that kind of money so I chose to go to Ajmer. Ajmer is the seat of Hazrat Khwaja Moinuddin Chishti. It is sacred not only to the Muslims but people from all faiths. It is remarkable that Khwajaji came to India with Mohammad of Ghazni, who himself had come only to loot and plunder, while Khwajaji decided to stay back and make the country his own. Later on, the Mughals in general and Akbar in particular found great solace and succor at the shrine. And while I can go on with the history lesson, the fact of the matter is that after 16 places in India, many of them with religious overtones, it just gets tougher to experience and write something new with a place like Ajmer – as multi-cultural as Varanasi, as devout as Puri and as intimate as Amritsar.
And then, out of nowhere, the place comes to your rescue. So one night as I made my way to my hotel room very close to the dargah after a long walk through the bustling city, I ran into inspiration on the corner of a slimy street. As the clock moves past 9, the area around the dargah becomes deserted. The adjoining streets become dark and portentous. They hardly have space for an auto to pass at a time. On either side are buildings with sculpted arches and bolted wooden entrances. The buildings are so old, that except for the asphalt road and the rotting brown electric meters on the side, everything in the lanes looks like it was of Akbar's time. Heck, even the few of people you do run into, would be dressed in long dark colored achkan suits with woolly inverted cone shaped hats that would remind you of Maulana Azad. Each of these buildings is hollow from inside, as a slight peek through the doorway would reveal. Inside there would be a massive verandah where scooters and bicycles would be parked. As I went past the said slimy street, a constant hum I was hearing cleared itself and I realized some people were singing. As I slowly made my way to the source of the sound, I realized there was a group singing and playing the harmonium, the table and the cymbals, and slowly it dawned on me, it was the Qawwali. They were practicing in one of the verandahs to perform at the dargah on the subsequent day and were more than willing to let me sit in for the practice. Right there, sitting in the dargah the next day, the story presented itself to me and I chased Qawwali through the bylanes of Ajmer for the next two days, taking in all that the people had to say about the art form. The dargah in itself is more of a town square than a religious place. There are more than two to three thousand people inside the complex at any point of time, praying, eating, sleeping, talking to the maulvis and imams, listening to the qawwalis.. The temples at Pushkar were interesting too but the place has been converted into another one of those hippy hot-spots where weed and pizzas reign supreme.
There is another snobbery that our media practices so well. There is this unwillingness to accept that the common man has a properly functional brain – a brain that can register irony, satire, subtlety and a layered discourse. The media talks down to the common man when its satraps tell us in the interviews that they have to dumb down to make it sensible to the lowest common denominator. What I saw at Jaipur Litfest, I believe that is one kind of snobbery the writers' community just doesn't believe in. There was never an attempt from any of the speakers to dumb down on subjects close to them. The listener of every hue would have to elevate himself to understand and internalize the words of the authors. But then, it could well have been because the writers felt they were in the midst of their own ilk.
So there you are, listening to Dr. Binayak Sen talking about hunger and you would be surrounded by Prada and Gucci totting middle-aged women, who wouldn't take off their sunglasses even inside the auditorium, tut-tutting away at the plight of the tribals and talking in hushed tones about what time they are meeting Eduardo for wine at the Suvarna Mahal. They don't even know most of the authors there, but the event will surely give them stories to tell when the next big party happens in Lutyens Delhi. No wonder then that what is happening in the West today will happen here as well very soon. While the book sales go down in the West, such literary fests are only going up. So while not enough people are reading the book, a lot more want to be seen hob-nobbing with the intelligentsia. Either way, there was a lot of quality on display. My favorite sessions were the ones done by Manu Joseph, Howard Jacobson, Pico iyer, Nadeem Aslam and the key note address by Mahasweta Devi. I am tempted to make the Jaipur Litfest an annual pilgrimage.
We all practice the snobbery of the mind. When we call someone stupid and unintelligent, we are essentially talking about our own superior intellect. I have only realized that any kind of snobbery means that we build a wall around ourselves – limiting our own possibilities. Any living organism, when surrounded by a wall, rots and dies. When we bring down those walls, we get to travel to places which we otherwise wouldn't even know existed.
I am home now and after the alumni reunion at MICA, it is simply annoying to sit at home. Your best friends will always teach you a lesson without meaning to – every time I get too full of myself, friends at MICA have taught me to not take myself too seriously. Maybe I should have simply left for Kolkatta from Ahmedabad and not taken this break at all!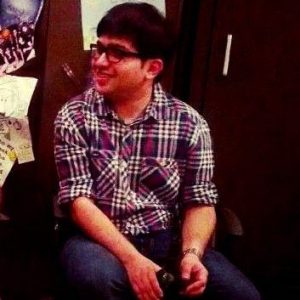 (Kunj Sanghvi will be writing about his experiences in each new city every week on InsideIIM.com. At various junctures on this trip, he'll be found working over cups of coffee in coffee shops across the country. He'd love to meet, talk, discuss with anyone who'd care to meet him; just to know the city and its people better. Follow him on twitter here – @kunjsanghvi. He blogs here.
About Kunj – Kunj Sanghvi is a B.Com graduate from Narsee Monjee College of Commerce and Economics and MBA from Mudra Institute of Communications, Ahmedabad (MICA). Prior to plunging into this adventure he was a Senior Manager at Hindustan Times. He has also worked with whatsonIndia.com in the past. )
You may be interested in :
The entire Baazigar Series - Kunj's chronicles on Kashmir, Amritsar, Mcleodgunj, Mussoorie, Delhi-Gurgaon, Mughal Sarai – Varanasi, Bangalore,Pondicherry, Hyderabad, Puri, Dantewada, Kanha, Goa and Gujarat.