Guwahati is called the 'City of Eastern Light' – probably named by some fuddy-duddy, Raj era British officer or historian. The Assam of the British era has a slightly different history from the rest of the country as it came under the rule of the Raj a little later. Assam always perceived the Chinese to be more interested in it than the British were. It saw Subhash Chandra Bose and his exploits as the centrepiece of its struggle while the rest of the country grew up on an entirely different set of heroes.
But instead of haranguing on Assam's historical identity, let me talk about the here and now of Guwahati. Of all the things it is, it unfortunately is not the 'City of Eastern Light' – in fact, it can't have anything to do with light. There are literally no working street lamps in this city. Come sunset, most residential and governmental areas are shrouded in darkness. Retail areas are not so badly affected because the lights from shops and restaurants keep the streets lit till night. Coupled with the fact that the Indian Standard Time is a joke in the far reaches of eastern India, it means that most people working in offices have to travel home in absolute darkness even if their work day ends at 6 p.m. And while the nation debates whether kids under the age of 18 should be tried as adults in rape cases, we don't take basic steps to ensure the safety of working women in cities.
( Read : The entire Baazigar Series - Kunj's chronicles on Kashmir, Amritsar, Mcleodgunj, Mussoorie, Delhi-Gurgaon, Mughal Sarai – Varanasi, Bangalore,Pondicherry, Hyderabad, Puri, Dantewada, Kanha, Goa, Gujarat, Rajasthan,Kolkata Ranchi,Patna and Gangtok.)
When I was at MICA, I learnt about a concept which described Israel's history as a country in a nutshell. A set of people facing the most horrid atrocities for the better part of its history has now turned into a torturing force of imperialism itself. My professor called it the 'Predator-Prey Syndrome'. Most times, the predator and the prey coexist at the same time in the same person. An Assam is nothing in the context of the national political set-up. It has a handful of Parliament seats and is regularly ignored. Guwahati may be one of the country's fastest growing cities but that is only because it is growing from an abysmally small base and also because the Blue Ocean Strategy is fashionably bandied about in corporate circles in these recessionary times.
Now look at Assam in the context of what is referred to, in a derogatory yet convenient manner, as the Seven Sisters – and Assam is the big bully. It is the state with the maximum access to the Brahmaputra River, is rich with an endless carpet of tea gardens, has the largest population because of its location in the plains and has a largely steadier climate throughout the year. The more talented sons of the other six sisters are sent to the more prosperous sister's house to make a respectable living; the less talented ones are sent even further away to Kolkata or Mumbai to scrub floors and run tea stalls. And Assam thoroughly enjoys this hegemony on politics, culture and economics among the Seven Sisters.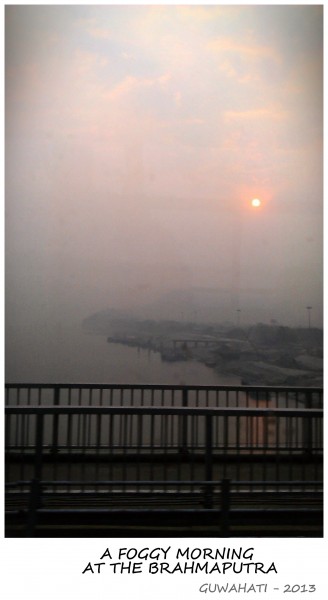 The cultural hegemony is such that one can organize a Northeastern Festival, pepper it with only Assamese performances and not bat an eyelid. I had the good fortune of watching the performance of a very talented violinist who sets plays to the Bihu songs of folk Assam. The performance was set up at the Brahmaputra Ashok Hotel, right on the banks of the river. Folk music can sometimes look at the very soul of a place. The playful melody of a Bihu song blending in with the melancholia only a violin can reveal, made for a wonderful evening. The singer had a sweet voice which rendered all the bad organizing, tacky décor and overdressed socialites around her rather irrelevant. What she did next was even more fun – she coupled the Bihu song with snatches of Irish rock and let it rip with the violin. And as it often happens when two cultures amalgamate in true harmony – the whole was more than the sum of parts.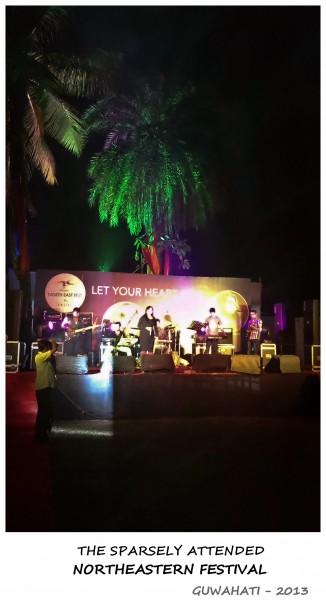 We are a country of prudes. When a foreigner reading about us in the New York Times passes a judgment on our history and mythology on the basis of our present, we should know that it is a comment on our generation. Our history and mythology is in fact peppered with references and events so graphic that we have become masters of euphemism. The Kamakhya Temple in Guwahati is a place where you worship the genitals of a Goddess which were said to have landed there when Vishnu cut her corpse into 51 parts in order to placate Shiva and save the world from "Pralay". What fascinates me about this temple are the hordes of families coming here and worshipping not an idol, but two bedrocks with a v-shaped gap, through which flows a perpetual natural spring. I wonder what wonderful euphemisms the parents cook up to tell their little toddlers to explain what they are actually kneeling to; although I doubt how much even the parents know, considering they too might have been told only about the rewards of worshipping here – prosperity, happiness and similar things – who cares about the history? If the economic 'liberalization' came to this country in 1991, at this rate the socio-cultural liberalization might not come before 2091.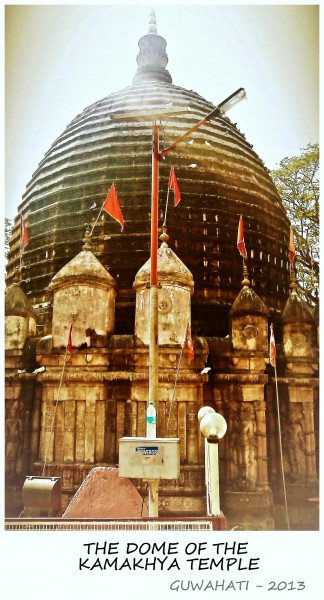 And how then would you explain animism? How would you sensitize a kid who in spite of growing up on a healthy appetite of chickens and goats, will act horrified at the mention of cultures that sacrifice animals to please their Gods? Hindus who cringe on Bakri Id need to be informed of the tantric sects which follow the Hindu Durga and the Hindu Shiva and carry out animal sacrifices at sunrise to this day! Tolerance in real life is much more difficult than what your value education teacher had you believe back in school. I went to witness a buffalo sacrifice here and let's just say that no gore movie will be scary for me anymore.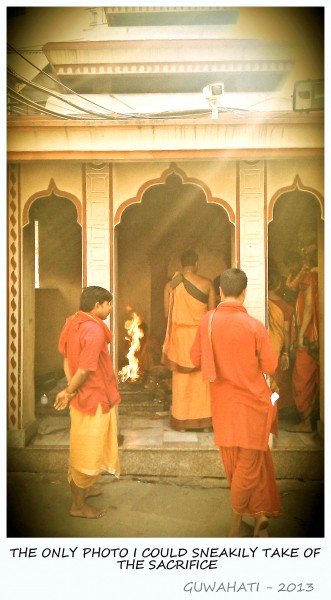 Small cities are often influenced by their larger neighbors. So Ahmedabad until recently saw a lot of its development through the prism of Mumbai and Lucknow borrows from Delhi. Guwahati is also mightily inspired by Kolkata. Heck, it even has a cantilever bridge going across the Brahmaputra which looks extremely similar to its more popular Howrah counterpart. It brings into question the importance of the quality of inspiration when you try to emulate someone. A person driven to writing by Chetan Bhagat won't exactly turn into a Rushdie someday, now will he?
As I write this, I am on my way to Tawang in Arunachal Pradesh. I don't know when I will post this because forget the internet, even the telephone network is absent here. From what I can tell so far, it is going to be the crowning glory of my adventure.
( Read : The entire Baazigar Series - Kunj's chronicles on Kashmir, Amritsar, Mcleodgunj, Mussoorie, Delhi-Gurgaon, Mughal Sarai – Varanasi, Bangalore,Pondicherry, Hyderabad, Puri, Dantewada, Kanha, Goa, Gujarat, Rajasthan,Kolkata Ranchi, Patna and Gangtok.)
(Kunj Sanghvi will be writing about his experiences in each new city every week on InsideIIM.com. At various junctures on this trip, he'll be found working over cups of coffee in coffee shops across the country. He'd love to meet, talk, discuss with anyone who'd care to meet him; just to know the city and its people better. Follow him on twitter here – @kunjsanghvi. He blogs here.
About Kunj – Kunj Sanghvi is a B.Com graduate from Narsee Monjee College of Commerce and Economics and MBA from Mudra Institute of Communications, Ahmedabad (MICA). Prior to plunging into this adventure he was a Senior Manager at Hindustan Times. He has also worked with whatsonIndia.com in the past. )