In order to do a financial analysis of the transaction, I decided to conduct a valuation of the company of Bira 91 craft beer, which is B9 Beverages Pvt. Ltd. The method I used for valuation was relative valuation approach using Enterprise Value multiples.
I used 5 companies from the alcoholic beverages industry which are listed in India. I obtained relevant figures and ratios from Moneycontrol.com. Net Operating Income (NOI) is defined as Gross Income from Operations minus any indirect taxes.
Take Your Career To The Next Level. Ask Our Experts Anything. We Will Respond Within 48 Hours.
Using this data, I calculated mean, median and weighted average of the EV ratios. Weighted average was calculated using NOI as weights. I obtained the annual report for B9 Beverages Pvt Ltd from unlistedzone.com. The latest report available for the company is for FY 2018-19, as company has not yet filed annual report for FY 2019-20 with MCA.
Using the weighted average ratios and EBITDA and Net Operating Income for B9 Beverages from its annual report, I calculated the Enterprise Value of the company.
All figures below are for FY 2019-20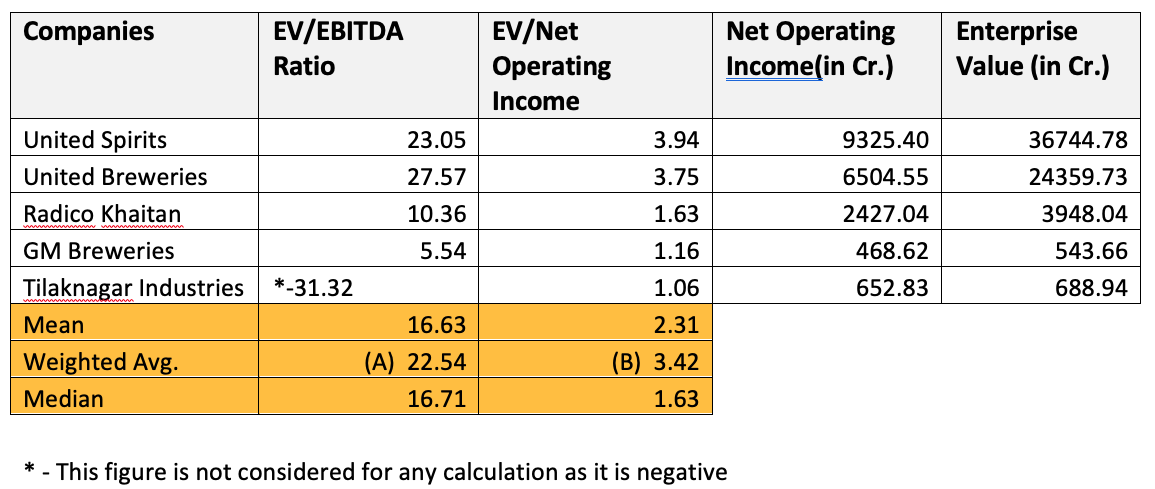 Figures for B9 Beverages Private Ltd. (using data from FY 2018-19 annual report)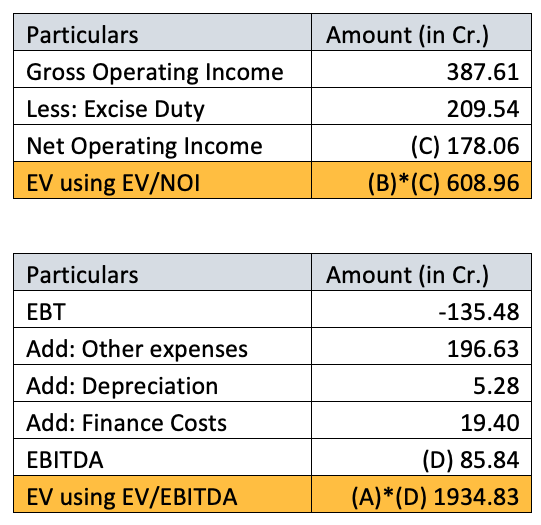 Kirin Holdings has invested $30 million dollars on 4th January 2021 in BIRA for a high single digit stake. Assuming that the stake is equal to 10% will allow us to estimate the valuation of the company at $300 million. Using the USD-INR exchange rate as on that date will allow us to estimate the value of BIRA in INR.

As we can see above, Kirin has paid a premium of 13.68% as compared to the EV/EBITDA ratio and 261.2% as compared to EV/NOI ratio. However, since India is a rapidly growing market for beer and the market is expected to grow significantly over the next few years, it makes sense for Kirin to get a stake in a promising company in a fast-growing market where it has no presence. Also, for Bira, it is useful to get an investor with expertise in the alcoholic beverages industry who can help the company enter new markets such as Kirin's home market in Japan.
You may also like to read these articles