What Does It Take To Organise A TEDx Event In Your College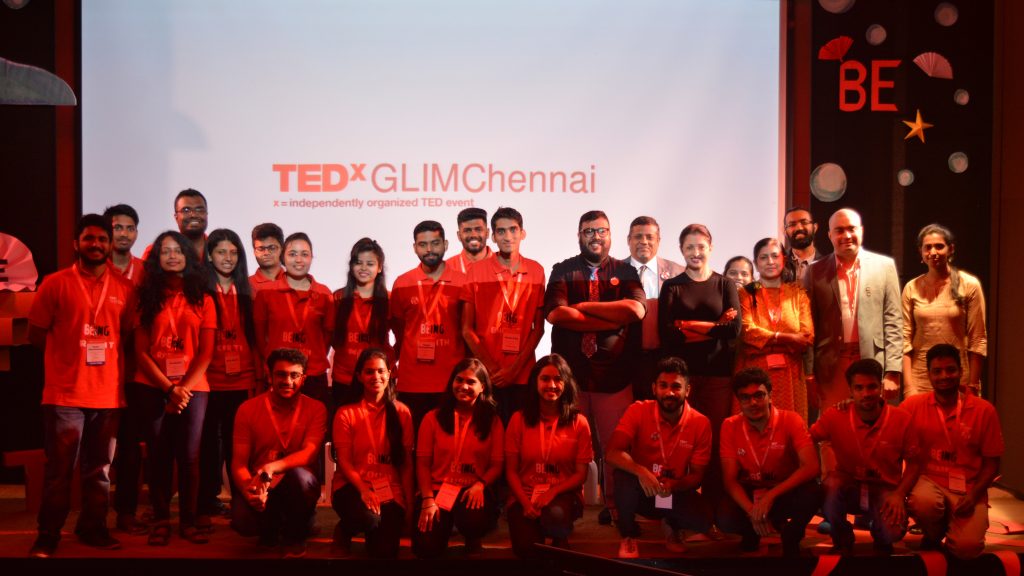 Four years back, I was watching a TED Talk with my friend as part of my classwork. That was the day when we wanted to know how one day we, too, can attend the TED conference. Well, we were surprised to know that TED grants licenses to individuals to organise similar events called as TEDx, where x = an independently organized TED Event. I was from Kerala, a state that didn't have a TEDx event at that time. Hence, I decided to organise a TEDx of my own with a friend.
Since then I have co-organised 3 TEDx events for the past 3 years, and each one has been special. All three of them have given me a different experience altogether. The latest TEDx that I organised was TEDxGLIMChennai on 4th February 2018 at Great Lakes Institute of Management, Chennai. The theme of the event was "Be" and featured 5 speakers including film actress Gautami Tadimalla, Digital Marketing Blogger Deepak Kanakaraju, Beatboxer Bharadwaj Balaji, Cancer Fighting Kartikey Sharma and Student Speaker Mohana Arun.
So, if you are looking to organise a TEDx talk in your college, here is a quick checklist of things that you have to do to pull off a successful event.
1. Approach the Management: Before planning, it's important to approach the college management about their interest for the event. This includes why you want to have it, when you want it, the support from the institution in terms of resources, infrastructure, and monetary funds.
TEDx grants the license to individuals and is valid for a single event for a year. For a university level event, the license is granted to current students or faculty. If you want to carry it forward every year, it's best to have the license in the name of a faculty and as a student, you can be the co-organiser. For TEDxGLIMChennai, Associate Dean Dr Vaidy Jayaraman took up the initiative to be the organiser and I decided to once again don the hat of co-organiser.
2. Apply for a TEDx License: Once you get permission from our institution, you can apply for the TEDx University License. You can apply for a license at https://www.ted.com/participate/organize-a-local-tedx-event. Do read the rules and TEDx License agreement properly before applying. The licensing process is expected to take at least 6-8 weeks. One important thing that you must focus is on the ideas that you would like to share at your TEDx event. Ideas should be unique and diverse. Carefully fill the application and once you get the license, you are good to go with organising the event.
3. Building the right team: Successful TEDx events have a strong team that works relentlessly to bring the best to the platform. It's important to assign roles and responsibilities to each member. Here are some of the 3 sub-teams that are important for a TEDx:
Speaker Curation Team
Marketing and Sponsorship Team
Event Production Team
I won't recommend having a large team for an event of 100 audiences. It's best to have a talented team of 10 people who are multitaskers. The Speaker Curation team task will be to find the right ideas and work closely with speakers in curating the talks. Marketing and Sponsorship team will work towards promoting the event and finding the right sponsors. Event production will take care of all technical requirements of the event day.
4. Choose the right ideas: A good TEDx event is not just about having great speakers, it's also about having the right ideas. Some of the best ideas emerge from within your institution. Have an audition with your student community – you may find some of the best ideas for your event. Note that TEDx is not a platform for personal branding. Do read the TEDx Content guidelines before selecting the speakers. I would recommend that you have a diverse portfolio of speakers.
5. Budgeting: Ensure that you allocate funds properly for each activity associated with the event. It's important to understand your expenses and the source of income. One source is through ticket sales. But, you will have a limitation of 100 audiences. You should consider many factors while pricing the tickets for the event. Sometimes, the ticket price can turn out to be too high for your student to purchase the ticket. Hence, you need to have a proper estimation and pricing strategy.
6. Finding sponsors: This would be one of the toughest processes in organizing a TEDx event. In India, it's difficult to find a sponsor for a TEDx. One of the prime reasons is the low footfall for the event. Since you have a limited audience of 100, not many companies would be interested in partnering with the event. I would recommend that you approach start-ups who would want to associate and leverage branding opportunities with TEDx. It makes more sense for them to partner with the event.
7. Event Production: One of the most important aspects of the event is that you need to have the necessary facilities to conduct it. This starts with the venue. You need to accommodate only 100 people. Next come the stage design and lighting requirements. Consult an expert in stage design and lighting who will be able to guide and provide you with the right equipment. This plays a major role and will take at least 50% of your budget. The case with video production is similar as well. Ensure that you have the best video crew and production unit. It plays a significant role in the success of your event.
8. Event Day Experience: All your hard work in preparing for the event day, boils down to having the best event day experience for your audience. Ensure that the event is running smoothly and hassle-free. Provide good food and keep them engaged in activities. Provide goodie bag to all attendees – include items that they would keep forever and remember your event.
9. Post-Production: Once the event is done, you will have to start working on getting your talks uploaded online to the TEDx YouTube Channel. Work closely with the video crew to edit the videos properly. Once all formalities are done, ensure that you hand over your baton to a new team who would take the event forward.
Feel free to reach out to me at bharatsraj@gmail.com if you have any queries in organizing TEDx University events in India. I'm happy to share more from my experience in organising TEDx events.