The Curator for the very successful TEDxIIMShillong 2014 event and Second Year PGDM student of IIM Shillong, Ms. Prachi Agarwal, had won a scholarship to attend the 2014 TEDGlobal Conference in October 2014 in Rio, Brazil.
Since 2010, the Bill & Melinda Gates Foundation has partnered with TEDx to raise awareness around global health and development through TEDxChange, and to develop programs to help bring new information and ideas to underdeveloped communities.
As a part of this ongoing partnership, the Foundation also offers scholarships to selected TEDx organizers to experience an official TED Conference. The 15 TEDx organizers selected for this opportunity were from emerging communities and have put endless hours into organizing TEDx events in their region.
Ms. Agarwal was nominated after organizing the successful TEDxIIMShillong event in Shillong in February 2014. She was one of the prestigious 15 scholars from all over the globe who attended the TEDGlobal.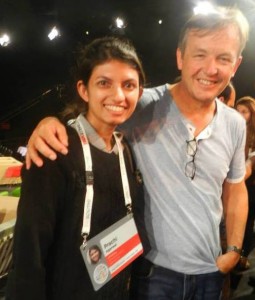 She shared her experience saying "It was opportunity of a lifetime and I am proud to have represented IIM Shillong and my country at TEDGlobal 2014 in Rio. The talks were amazing and the ideas and conversations were inspiring. Meeting Mr. Chris Anderson was another highlight of the visit. I am thankful to my TEDxIIMShillong team for all their support and hard work which made it possible".
Ms. Agarwal's visit ranged from meeting new people to learning better ways of organizing TEDx Events. She also got the chance to network with thought leaders from around the world, TED Fellows and TED Prize winners.
TEDxChange Scholarships cover the cost of pre-selected TEDx organizers from across the globe to attend the official TED Conference.
Attendees of TEDGlobal gain a renewed energy and dedication towards TEDx, thereby bringing more opportunities for idea-sharing in their local communities.
Attending an official TED Conference also gives organizers the privilege of hosting a TEDx event with more than 100 attendees, expanding the reach of TED and TEDx in their communities.
About TEDx, x = independently organized event
In the spirit of ideas worth spreading, TEDx is a program of local, self-organized events that bring people together to share a TED-like experience. At a TEDx event, TEDTalks video and live speakers combine to spark deep discussion and connection in a small group. These local, self-organized events are branded TEDx, where x = independently organized TED event. The TED Conference provides general guidance for the TEDx program, but individual TEDx events are self-organized. (Subject to certain rules and regulations.)