Take Your Career To The Next Level. Ask Our Experts Anything. We Will Respond Within 48 Hours.
The first paragraph of the article (IIM Ranchi) is precisely the definition of a speculative bubble, in a way exemplifying what we stated. According to Investopedia, "For most bubbles, in the beginning, attractive fundamentals may drive prices higher, but over time behavioural finance theories suggest that people invest so as to not "miss the boat" on high returns gained by others. When the artificially high prices inevitably fall, most short-term investors are shaken out of the market after which the market can return to being driven by fundamental metrics".
We agree that the demand drivers point to a huge growth potential but the valuations have exceeded the growth fundamentals as we have shown in the previous article. The term "irrational exuberance" coined by Alan Greenspan, the ex-fed chairman describes this phenomena of inflated asset prices that aren't supported by fundamentals. Robert Shiller, an expert on market volatility, supports this theory in his book, Irrational Exuberance. He cautioned that a market that is overvalued by historical standards is inherently precarious. No one wants to sit on the bubble if or when it bursts.
FDI will actually lead to an influx of a large number of players and the size of the industry will go up. This also means the price-battle will continue, affecting the profitability of the e-commerce firms. High valuations won't sustain without return on investments.
Just yesterday, an article in the Economic Times pointed to the similarities between the e-commerce and the airlines industry. The e-commerce giant Amazon hasn't yet made any profits and they keep pumping in a lot of money for expansion. Similar is the case with Indian e-commerce firms; they require a continuous stream of money, year after year. Though Amazon and Flipkart have a higher market share relative to the competitors, there are too many firms vying to capture the customer's interest.
Brand loyalty and profitability
But do these customers offer loyalty? When they want to buy a product, they will look up sites that offer the best discount, (free) delivery options and buy there. Does service differentiation really matter? If Flipkart suddenly stops the discounts, will these customers still buy from it? Will the massive amounts of money being written off as 'customer acquisition' costs provide any returns in the future?
There is no denying the fact that demand drivers offer a huge revenue potential for this industry. The world-wide revenues of e-commerce firms in 2014 are $ 1.5 trillion! Who wouldn't want to get a slice of that! But that doesn't guarantee profitability. Airlines industry has revenues of $750 billion. What about the return on investments? It ranged between 2.9-5% over the past few years (The Economic Times).
The e-commerce industry will continue to grow but will it completely replace the retail transactions anytime soon? A 2014 report by Technopak says that 97% of the estimated retail sales of INR 62, 40,000 crore will still take place online.
It's not all about Flipkart? Or is it?
Are people sceptical about the valuation of E-commerce industry because they think that industry is just Flipkart and Amazon? Or do the investors think that way?
We agree that E-commerce is not all about Flipkart and Amazon. The travel segment occupies 70% of the market share where as Flipkart has a 5% share of the e-commerce market. The valuation of an online retail company is almost seven times the value of a listed company in the travel segment. Why is then there is so much difference in their valuations?
"E-commerce is much more than Flipkart and Amazon", say our friends from IIM Ranchi. We would like them to reiterate this fact to the PE firms who are busy bloating up valuations of just the e-tailers and conveniently ignoring everyone else. Look at how the valuations of Makemytrip and Flipkart have shaped up over the past four years. When we say that the entire e-commerce industry is growing as a whole, why this special treatment to Flipkart only? This is where we talk about the 'expectations' theory where we attribute this magnanimous rise to a bubble of expectations and speculations.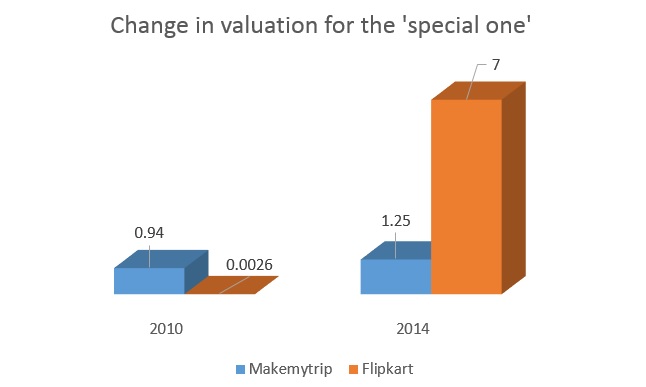 Also, MMT listed on NASDAQ sometime in 2009. How did it fare there?
[caption id="attachment_45375" align="aligncenter" width="757"]
Source: Ycharts[/caption]
We see a -40% return. Why did the intelligentsia of the US Stock markets not deem it fit to think that MMT is also a vision of India's future, a beacon of hope for the emerging economy ravishing with oodles of market potential? Is the e-commerce growth story really not about just Flipkart?
We talked about the GMV multiplier method for valuing e-commerce firms. Let's now look into the impact of GMV on profitability. Even if we the Gross Merchandise Value (GMV) increases substantially, it doesn't necessarily translate into profits. Let us assume that 2 years down the line, the GMV of Flipkart goes up to $ 2 billion. Assuming a gross margin of 15%, they will earn $150 million a year. Currently, the data indicates that they lose $ 10 million cash every month. Let the total expenses be $ 15 million per month. If the costs increase by 20% in two years, then they will lose $ 18 million a month, or $ 216 million a year. They would still be making $ 76 million losses.
They might eventually make profits but what about the rate of return for the investors? Will they accept an IRR that is less than the return from fixed deposits? No and we all know it.
The hype around mobile penetration
According to IAMAI reports (December 2013), US has 245 million Internet users, of whom 156 million are online buyers, China has 538 million Internet with 270 million online buyers. "Even Sri Lanka, with 3.2 million internet users, has two million online buyers. In each of these countries, online buyers constitute 50% of the total internet users. India, on the other hand, with over 231 million internet users, has just 25 million online buyers. While our friends have attributed this to a huge potential for the future, reports from PTI suggest that this number is primarily attributed to poor back-end operations which lead to a lack of trust in online purchase. This is a major reason why the growth rate of customers transacting online will be slower than what is expected.
If all the investors go after the 'right horse', it is only natural that it will become overpriced. The investors who didn't want to miss out the bus second time, will buy at these high valuations. Will the returns be in line with the expectations? When the prices come down to the lower, sustainable levels, will the small investors stick around? The 'buy low and sell high' strategy will not be within the reach of the late entrants.
Before betting on the right horse, it is important to analyse the horse's track record, sometimes even the jockey's record. The question to ponder about is "Do they normally place really high bets or is it the horse placing that fluctuates?" (Do read about betting on horse races to comprehend this statement)