It was 20th of April; I was at my office desk, doing some regular stuff, when an e-mail popped up, with the subject 'Offer Letter'. As an applicant to many Global Masters programs, I was excited and opened it instantly. It read 'Congratulations! You are admitted into the Global Management Programme at SPJIMR and are also accepted for the MAief Program at Brandeis IBS, Boston with a merit scholarship'. I was elated. But, hardly had I come to terms with that jubilation, a second e-mail arrived a few days later, asking me to complete a set of pre-requisite courses before the orientation day, one month hence.
My MBA was on! A realization of a tough road ahead struck, even before the programme commenced.
Take Your Career To The Next Level. Ask Our Experts Anything. We Will Respond Within 48 Hours.
June 1st was the orientation day on the SPJIMR campus. Its 40 acres of green with a serene outlook, embracing vast open spaces and a wide assortment of flora & fauna, a rarity in a space-constrained & bustling city like Bombay. Coming back, the commencement witnessed the faculty and the dean, speak to us. But one common message reverberated across their speeches i.e. 'Be mentally tough!' For, we shall be moving to a foreign land & have to face the challenge of adapting to a new culture, lifestyle and work ethic.
After this, the days of classes and cases started eventually!
A typical day for us starts at 8'o clock in the morning with foreign language classes, followed by back to back MBA course tracks, discussions on International topics, late night group assignments etc. A schedule that is nothing short of crazy! And, the regular class discussions are crazy as well, because of its eclectic mix of engineers and others, coming from backgrounds like mass communications, economics, commerce, and pharmaceuticals. Even a licenced pilot! It is this diversity that is as much a teacher as are the faculty.
Apart from this, courses like the PG Lab (which is a 3 day offsite), Science of Spirituality and Design Thinking etc. helped us look within and an assortment of electives was offered to customize our learning's. And, being in a global programme, visits by foreign professors, alumni and the others, is commonplace. This helps us in being updated about the ground realities in terms of economy, hiring trends and social trends, outside India.
We also get to volunteer, for teaching underprivileged kids, through 'Abhyudhaya' (an initiative of SPJIMR) and also celebrate festivals as diverse as 'Onam', donning the traditional Malayali attire & the Ganesh Chaturthi, with the saffron turbans.
But, it's only just six months for us here at SPJIMR and the time flies quickly. But these are the crucial months that will prepare us for the flight beyond to distant continents, to global B schools & eventually a global career.
A journey has only just begun for me from SPJIMR, Bombay to Brandeis IBS, Boston!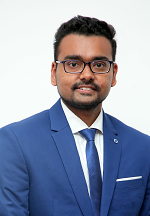 Global Management Programme