In this series, we bring to you the stories of those who juggle life in a b-school, with the biggest hands-on learning experiences: their own ventures. So presenting the second part of this series, where we will see management-in-action!
The ladies of Hel(L) swear by it. No institute event is complete without it. The saviour in a campus which seems so cut-off from the rest of the world, it might even be in some other dimension. Yes ladies, and gentlemen (coz you should know what goes into making your bae look as pretty as she does!), we are talking about Head2Toe, the ingeniously names beauty salon inside IIM Lucknow campus. And today we are talking to the enterprising Hel(L)ites who run this venture. So presenting to you, the current owners-managers of the salon, Ankita Gupta, Nandita Prasad and Vineela Rao, IIM Lucknow Batch of 2017.
Aastha (A): Hello from the world of InsideIIM! To begin with, I would like to thank you for the amazing work you guys do to address a very real need in the campus. So how did it come about?
Team Head2Toe (H2T): This is one of the campus ventures which was started off some years back, and has been passed on from batch to batch. The process involved bidding followed by a B-Plan presentation by top 3 bidders. We were the 3rd highest bidder or should we say, the 3rd lowest bidders, to make it to the presentation stage. We skipped the Holi celebrations on campus last year, to devote time for the presentation. We listed out the entire financial projections, future plans and details on how we planned to go about managing it. We did all the background check with the previous owners and talked to suppliers to check the feasibility of our ideas.
Then we moved on to present our case which, fortunately for us, went very well. We were on our respective internships last summer when the results of the process was declared, and as expected, we had finally made it with the most optimum bid.
A: That is some hardcore business planning! So how did u guys think of taking the plunge?
H2T: We three have been friends here since the beginning of the first year, and all of us shared common interests, even when it came to doing 'something' while on campus. We wanted to have a first-hand experience of running a business, you know, where you yourself are responsible for all the good things and bad, taking the decision to fix problems. When this opportunity came along, we grabbed it both hands! We did some preliminary research and discovered that of all the campus ventures, the ROI of Head2toe was the best. Hence, we decided to try and get the ownership of the campus Salon.
A: Hehe..awesome! But I guess you guys would have faced many challenges during your business run. Could you please elaborate on some of those?
H2T: Yeah, definitely, there are many issues which come with running a business. Even the tiniest of details needed ironing out almost on a daily basis. All this had to be done along with our studies. One of us is also a Placement Committee member, so imagine the juggling she had to do! We had differences of opinion among ourselves as well, but there has been nothing till date which we haven't been able to solve with due planning, prioritising and discussion.
One major issue was that of human resources' no parlour can run without trusted and qualified beauticians. Here again, the distal location of the campus was a great hindrance. The timings of the parlour has to be decided keeping in mind their availability and conveyance, at the same time ensuring that the maximum number of girls are able to get the service at a convenient time. Moreover, the beauticians we have leave early and cannot come in emergency situations hence we suffer revenue losses at times.
Maintaining a proper accounting system was another issue. The service has had to run on credit at time. To have an accounting system which will give us date wise as well as student wise tracking was a challenge. Later we introduced member wise accounting which made account tracking easy for us as well as for the students.
A major expense came from the electricity charges. The salon is air-conditioned, plus many equipments run on power. At time, we ran a huge electricity bill, much more than what we had anticipated.
A: All this would have truly given you all a flavour of running a real-time business.
H2T: It sure did, and we had some hands on ops lessons as well. The major operational issue was to get a supplier with a wide variety of branded products and who would be willing to deliver at the campus. All the good suppliers are in Aminabad, which is at the other corner of the city. Sometimes we managed to go to the place ourselves, but since we couldn't manage city trips everytime, we kept a good track of inventory and used to order 10 days in advance.
A: Wow! Amazing lessons in planning as well! So where do you see the venture in future?
H2T: Future prospects of the parlour are certainly bright, given the problems mentioned above have been addressed to a large extent. There is much more parlour can do to improve the life of girls at IIML. Venturing into providing services for boys as well may as well get a green signal which will boost the revenues at least 2 folds.
A: We would certainly look forward to an extension by this amazing venture. Thank you so much, girls, for taking time out for the readers of InsideIIM. J We wish you all the best!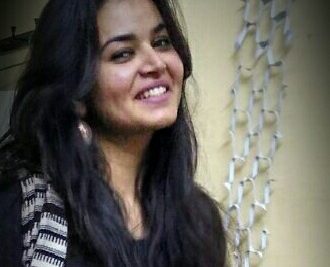 Aastha Sneha Pathak is a 2nd-year student at IIM Lucknow. Besides living the hel(L)ish life, she loves to read. She is also a member of Forty Two, the literary and debating club on campus, as well as, Team Disha, the committee of placement mentors.