Endless 'bakar' and endless food, who wouldn't want this utopia around them. There are days when one craves for a change from the mess food or is plain lazy to walk all the way to the mess. Those are the times when our food-saviours come into the picture, with a wide range of delectable delights to cater to our hunger pangs. While going about their everyday lives, residents of Hel(L) find some respite in the all-time favourite, the ingeniously named Gossip n Bite, IIM Lucknow's in-campus food joint, run by a team of 2nd year students here.
Avinash Kedari, M Bharat Kumar, Chaitanya Vihari, Madhuri Annadanam, M Giri Kumar, Kranti Varre, R Spandana, and Rahul Panwar, of IIM Lucknow Batch of 2017, run this venture currently. Aastha from Team InsideIIM spoke to them.
Aastha (A): Hello folks! To begin with, a big thank you on behalf of the fraternity for running GnB :)
So how did the idea of running this venture come about?
Team Gossip 'n' Bite (GnB): Our idea of starting it came when we had conducted a 'Telugu special' dinner during Sankranti time in the mess, last year. We had helped the mess cooks with recipes and ideas on conducting the theme dinner, which was loved by all. Then a competition by the Entrepreneurship Cell was conducted, wherein different stalls were setup. There was a stall selling dosas, and that was a very successful one. That is when we realised there was an opportunity to set up something related to the food business, with South Indian specialities as well.
A: Great! And why particularly GnB, why not anything else?
GnB: Well, it was already an established brand name on campus. The venture had been running for quite a number of years. It passes down from the outgoing batch to the next through a bidding process, which also involves a business plan presentation before a team of faculty and administration.
A: Yeah, we have heard how GnB had started out some years ago. Could you shed some light on its history?
GnB: This idea found germination in the year 2009, before which there was only the mess and one 'dhaba' on campus for the entire fraternity. With the rising number of students and changing taste preferences, came this need-gap of better, more variety of restaurant-like food. So that is how Gossip 'N' Bite started out, with 24x7 services, and facilities like hostel delivery, which came as a boon for the students. It soon became the hottest hang-out spot on the campus, an envious distinction it hold till date.
A: Wow! Bless those souls who came up with this very useful and I must say, profitable, idea :D
GnB: Hahaha! Profits are the least of our concerns. The working capital was provided out of our pockets and most of our sales are on credit. In fact, that is one big value proposition to cash-strapped students. The experience of operating an actual business, with real-time problems and on-the-spot decision making that gives us the kick.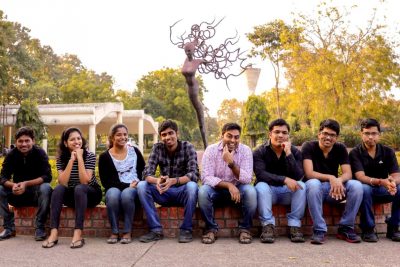 A: Well, I am sure all that adds a lot to your entrepreneurial acumen. You also keep innovating a lot..
GnB: Ohh certainly, innovation and the constant feel on the pulse of the community is what keeps us going, what differentiates us. We focus a lot on high volume, high margin items to improve the bottom line, and reduce wastage. We have to keep rotating the menu according to changing occasions, upcoming festivals and even seasons (e.g., pakoris and bhajiyas during the monsoons). Some patrons have particular demands ("meri wali maggi mein masala zyada daalna!"), and yes, our chefs even customise the offerings by tweaking the recipes.
One very interesting and widely loved idea we had executed was the 'Exam Energizer', which had a nice offering of fruits/dry fruits for taking care of pre-exam jitters.
Apart from all this, we maintain a very active grievance redressal and feedback mechanism
A: Hmm, I remember that very well! So you made use of technology as well, for creating a different positioning?
GnB: Yes, we sure do that. We collaborated with the campus IT whiz team (Synapse) and introduced a portal where itemised bills for every student could be accessed. This customer relation initiative went a long way in minimising complaints, and the community was also able to keep a tab on their credit. We also came out with a loyalty program as well! We called it 'Khana Khao, Points Pao' program. The points can be encashed for further purchases at our outlet. This was one of our ways of retaining patrons in the face of fierce competition.
We made heavy use of social media and mailers for marketing. Our 'Know Your Food Outlet' campaign on FB upped our page views by a large percentage and also made the outlet more 'personal' and involving.
A: Competition! Yes, now that Hel(L)ites have a myriad of options to choose from, it must be tough maintaining market share.
GnB: Without a doubt. There are quite a few competing ventures on the campus itself, not to mention the online orders which many students now practise. But yeah, we are still on the speed dial of many a mobile phones and the go-to eatery after missed breakfasts and on idle afternoons!
A: That you certainly are and hopefully will remain so! But what were the challenges and problems you faced on this journey?
GnB: There were quite a few challenges, the most imminent of those being balancing our academic schedule with the outlet. It has to run even when we have our exams. We are such a well-coordinated team that we were able to sail through this. One of the perks of working with your friends!
Another major practical issue was that of language. Most of us are not very fluent in Hindi. We had to deal with our staff, their daily issues and the vendors in a language almost alien to us. But yeah, we learnt and we innovated, even coming up with incentive schemes for the staff and a more systemised leave policy in place.
One issue the staff faces is the fact that the outlet shuts down during the summer months, when everyone is out on their internships. Retention becomes a problem then.
Wastage of inventory is another issue we have been dealing with.
We run mostly on credit, and bill payments is an additional load. We shortened the bill cycle for improved cash flow.
So yeah, that is how we improvised, that is how we learnt and that is how we brought to everyone Gossip N Bite!
A: Amazing journey and amazing talking to you guys! We wish you all the very best for this and your future endeavors. Thank you for taking time out for InsideIIM.