MBA in systems involves the integration of management with technology. Systems management primarily deals with the use of various dimensions of technology for business processes. It gives an insight into the various technologies which can be adopted into business in terms of software, hardware, networking, etc. for sustainability and growth. It enables managers to tackle administrative issues and technical problems related to information technology. It focuses on making students understand the hardware and software platforms of organisations and the exact IT requirements based on various procedures.
MBA programs that specialise in information management/systems will consist of thorough study in business and IT. Information is a key asset of modern businesses, and information management is the art of being able to effectively define, store, manage, protect, share and distribute information for relevant stakeholders within a business. With the continuous increase in the importance of information in business processes, the importance of managers who deal with these data or information has grown substantially. Advances in computer-based information technology in recent years have led to a wide variety of systems that managers are now using to make and implement decisions effectively. In the current context, the involvement of data in business strategy development has grown substantially. So, future managers need to use data analytics in a very efficient manner to get the hidden vital information from the raw data. Management in systems always focuses on enabling students to decipher necessary information from a large volume of collected data and use it effectively for business development. Management in systems also concentrates on the integration of technology with the growth of business. Managers, having knowledge on disruptive technologies of today and the skill to integrate those technologies into the business processes will play a vital role in the organisation. In this fast-changing world, management in systems enables managers to strategize for the growth of a firm having an eye on future.
In this era of industry 4.0, innovation in business has the same impact as steam had in the case of industrial revolution. To remain competitive in this fast-changing world, organisations are innovating their strategies, processes all the time. To make this innovation efficient and continuous, the fuel is data. Collecting data, analysing it and extracting necessary information has become imperative for an efficient business. To carry out all these processes, understanding the business needs of an organisation and adopting technologies for the same has become the ought most important factor for decision makers. Management of information system always helps in the flow of information seamlessly involving every stakeholder. Correct data helps in making accurate business planning, effective marketing strategy, more systematic management of resources and better customer satisfaction. Now each form of business involves technology.
Industry 4.0 is focusing on automation of processes by collecting a vast amount of information, accurate data extraction, data exchange among stakeholders, use of Internet of Things, cloud computing, etc. Reports have even suggested that emerging markets like India could benefit tremendously from Industry 4.0 practices. So the future of each industry will depend on how well they use technology and how effectively they integrate technological solutions into their business practices.
Systematics club focuses on keeping the future managers updated about industry trends and helps them be prepared for the technological disruptions in the near future.
Following are the activities done by systematics club:
Conduct sessions for the batch to help them understand various technologies like cloud computing, IoT, Analytics, Big Data, Hadoop, ERP, Artificial Intelligence and Business Intelligence, Search Engine Optimisation, SMAC, etc.
Organize Systems Continuum which a rolling seminar series held at Shailesh J. Mehta School of Management, IIT Bombay where industry leaders from systems background come and provide us knowledge on the current industry trends. Students also get an opportunity to interact with industry leaders, and this ultimately helps students to cope up with the ever-changing nature of IT
Conduct quizzes on online platform for B-School students across the country
Organize Diksha sessions where doyens from the industry as well as academia are invited to impart valuable learning and insights from their rich experience
Facilitates various certifications to students which help them gain in-depth knowledge on industry relevant topics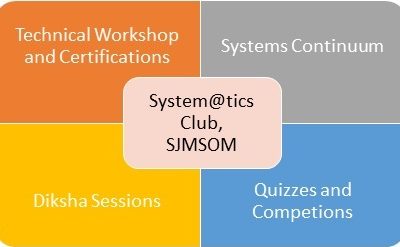 The club imparts knowledge in a way that students gain insights on how industries are using various information technology tools and how integration with technology is being done in all the domains like operations, consulting, marketing, HR. Nowadays industries are looking towards technology in all the domains for their critical business needs. Industries are creating ecosystem by using various software and technology tools to sustain in the highly competitive market and to provide best products and services to the customer. Students joining the industry need to have an idea about the same. The importance of technology and its use for business processes will keep increasing from time to time. Every industry is pushed to adopt technology and the more an industry adopts technology into its business processes, the more efficiency it can achieve.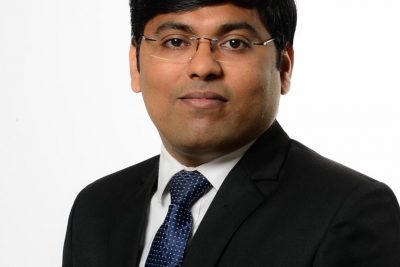 Hiren Rathod is a student of 2016-18 batch of Master of Management at Shailesh J. Mehta School of Management. Hiren holds bachelor's degree in computer engineering and worked for more than 3 years at Meditab Software as a Technical Lead. At SJMSOM, he is a member of the Sytematics Club and also handles PR activities for the institution.