FMS Delhi completed a very successful final placement season. The performance can be termed very impressive given the economic scenario. It is also very balanced across sectors and domains. Banking & Finance has been a tough sector to get into but FMS has ensured plenty of Corporate Banking opportunities for its students in leading MNC banks. Sales & Marketing (especially FMCG) is very strong as usual. Over 1/3rd of students will work in the marketing function. The Boston Consulting Group added FMS to its list of campuses (Others are ISB, A,B,C,L,I and XLRI). ITC Ltd. recruited 11 graduates from FMS (i.e. 5% of the batch).
Do note that the list of companies below includes those who have given PPOs. They may not have recruited for Final Placement season. For the Summer Placement report for this graduating class, click here. For the Final Placement Report of FMS Delhi for the Class of 2012, click here.
FMS clearly emerges as one of the most sought after institutions in India as it offers bright employment prospects at an investment which is less than 1/10th of what is demanded by other top schools in India.
Please find the placement report below.
Banking and Finance
Consulting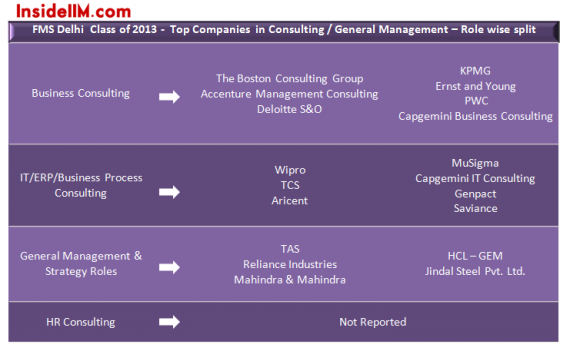 E-Commerce and Consumer Brands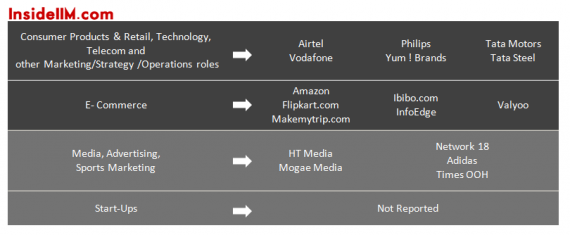 FMCG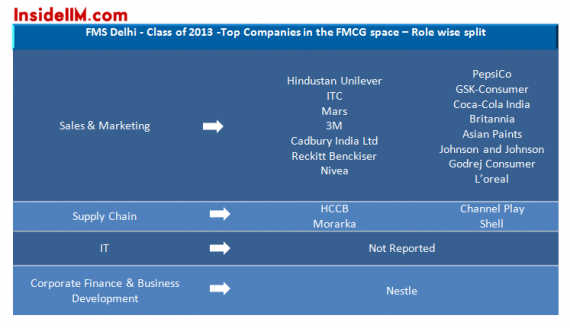 Others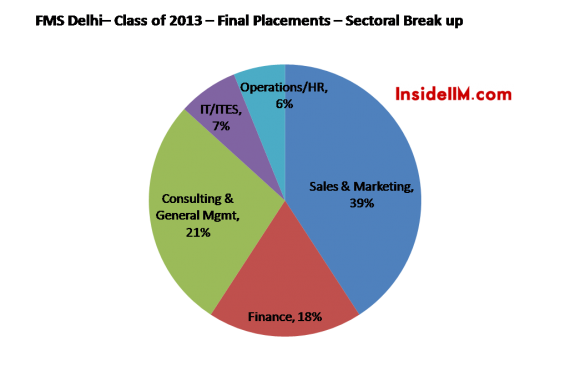 Summary
Update 19th May, 8:00 hrs - FMS Media Committee does not want to make any comment on the number of sign outs/unplaced students. They would like to talk about the 5 students who have taken a placement holiday (and hence signed out).
"5 students from FMS took placement holiday this time to pursue their own ventures and are already working on it enthusiastically"
A note on the 5 Students who took a placement holiday at FMS. We wish them well in their entrepreneurial journey!
Update 17th May 2013 ,16:30 hrs - FMS Media Committee Representative had called us. We should get an official response on the exact no of unplaced/signed outs soon.
Update 17th May 2013 ,11:00 hrs - 20 Students were unplaced. 5 of which have signed out. We have access to the names of all these students. All queries to the media cell of FMS were unanswered. The figure is in line with what most business schools have experienced this year.
We cannot guarantee that 100% of the information above is accurate but we have done our best to verify. We would like to thank the Placement Team at FMS Delhi for their co-operation.
In case you wish to point out anomalies in the report, do write in to us at editor(at)insideiim(dot)com. We will try to clarify it with the placement committee. Anonymity will be ensured.