What was high school like for you? How did it contribute to your personality/the person you are right now?
I was a very quiet child. Simply because there was a chaos raging in my head all the time.
A watershed moment occurred in my life when in standard third, my English teacher was looking for a participant for a story-telling contest to be held two days later as the erstwhile participant had backed out. I surprisingly volunteered, remembering my mother's advice to always accept challenges. To my utter disbelief, I won. It was my first ever participation venture. It so inspired me that I went on to take part in all sorts of events from debates, extempores, plays, radio jockey hunts, and even became the Cultural Secretary of my school and later, the General Secretary in college. I tried my hand at a motley collection of activities ranging from creative writing, art, drama, dance, music to coding, debating, blogging and organising events. For instance, I completed 6 years in Kathak dance, thus earning the title of 'Visharad' and a degree from Prayag Sangeet Samiti, Allahabad. I also trained in classical music for two years and attained Junior Diploma from the same school. It so happened that the 'Times NIE Student of the Year' award by Times of India came my way along with an assortment of inter and intra-school laurels.
Even as I went on to study the sciences in secondary school and computer science engineering at graduation level, the fantasy-seeker in me devoured the stories of Vikram Seth, Nadine Gordimer, and Salman Rushdie and the works of Sartre, Dostoyevsky, and GB Shaw with equal relish, while my feet tap-tapped to the tatkaar of Kathak. After my two-year stint as a software professional, somehow I am headed towards an MBA.
The diary writer in me soon turned into a blogger after I came to lead and be the editor of my college magazine. A couple of winning streaks on IndiBlogger and BlogAdda gave me confidence.
But it was when my articles were published in The Hindu that I actually began to take it seriously.
http://www.thehindu.com/opinion/open-page/open-page-all-about-ways-of-expressive-articulation/article6843030.ece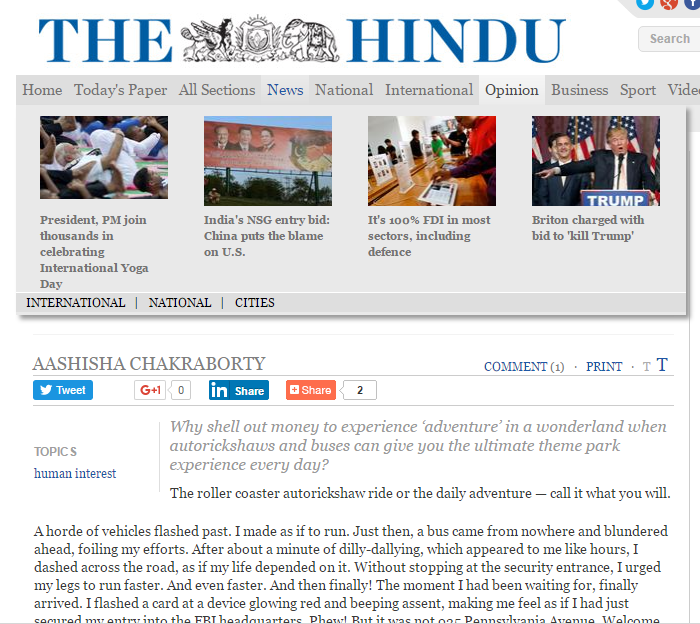 Maybe I should write more often, I wondered. I began to freelance for an entertainment website called 'Being Cyrus'.
And then it happened.
A poetry festival and the publication of my poem in the anthology –'Kaafiyana' followed by my short stories in 'Defiant Dreams' and 'Mock, Stalk and Quarrel' by Readomania.
https://incrediblewomenofindia.wordpress.com/stree-a-short-story-contest/
If money was no object, what would you do all day?
Predictably, I would read and scribble all day long. Not that I do otherwise even though money is an object. My roommates have seen my nose deep in a novel while they swatted for subjects like financial accounting and macroeconomics. They have also seen me burn the midnight oil typing my thoughts away. It's just that my object is always kind of different.
What advice would you give to a 5-year younger you?
Stop wandering and get where you are supposed to be.
Wear the earplugs I bought you from Amazon and block out the naysayers.
You are stronger than you think.
How do you think women are better equipped to deal with problems as compared to men?
I don't believe that women are any better or worse equipped. I feel they are equally able to handle anything and everything that comes their way.
I believe in the kind of world where age, gender, caste, religion- nothing matters and where all of us are human beings in our own rights and don't wear judgment hats all the time.
Many IIMs and other b-schools award extra points for being a woman. What is your take on that? Do you propagate the concept? Have you faced any backlash for the same?
This question reminds me of a passage in my first short story that was published. Coincidentally, the theme of the anthology was women empowerment.
"I only seek equality. Equality of opportunity. Not in the form of seat reservations in buses and colleges, which make the men feel prouder in acing some exam despite 'the women's quota' or help them find an excuse for their ineptitude. I seek a mindset which treats people equally. I seek an outlook which keeps the various factors like gender aside while taking decisions; which sees people as they really are. I need people to have a clear and unbiased lens, unclouded by preconceived notions of female frailty or male might. Is that asking too much?'"
There. You have my views on extra marks for being a woman. I never was a fan of reservations. Will never be.
Name one incident that you encountered where someone told you, you couldn't do something because you are a woman.
One incident? I could recount hundreds. The most primary one: travelling solo.
There was a time when I could only write articles about issues like these. Like this one as a part of the 6th Women Scream Art and Poetry festival.
'There are just too many Cinderella moments in women's life. Sometimes the curfew time, some times, the biological clock…'
https://incrediblewomenofindia.wordpress.com/2016/03/20/gender-stereotyping-by-aashisha-chakraborty/
But then opportunity knocked on my door and I grabbed it with both hands. I flew out of India for a three-month exchange programme at a business school in France. That is when I resolved to do all that I supposedly couldn't. I set out on a solo trip, spanning more than 15 countries and over 45 cities. From the chilly Arctic Circle and the Santa Claus Village of Rovaniemi to the Scandinavian countries of Denmark, Norway, Sweden, Finland; from the historic cities in Italy, Spain, France and Germany to the beautiful eastern and central European countries of Czech, Hungary, Poland, Austria und so Weiter, I backpacked my way through them all.
Solo, yes. The girl who had spent all her life in a single city (Delhi) had just concluded a mini-world tour all by herself.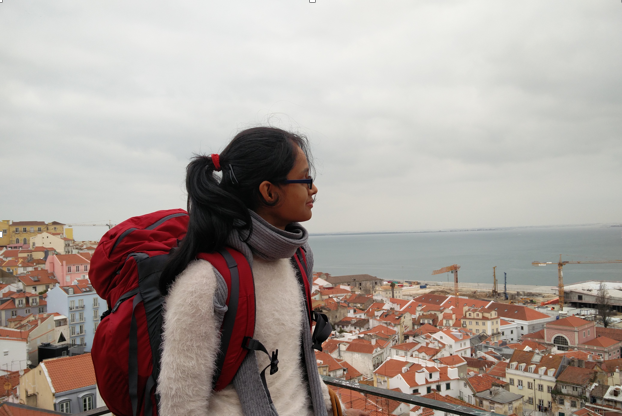 If you are out on a date, do you prefer to pay yourself? If you insisted that you want to pay for yourself, how did the other person react?
Sure, I always offer to pay or at least split the bill. Whenever I insist on paying, (not a polite offer but a firm insistence), I see respect. Respect for me in the eyes, especially of men. Frankly, I think it's sexy to pay.