The Vinod Gupta School of Management, IIT Kharagpur was delighted to host Mr. Sanjay Modi, Managing Director, APAC and the Middle East, Monster.com on campus on the 8th of September, 2017. Mr. Modi, an alumnus of IMT Ghaziabad, has over 2 decades of corporate experience and spearheads Monster.com's strategy for revolutionizing the way of connecting people and jobs in the Asia Pacific and the Middle East regions. Through his dynamism and thought leadership, Mr. Modi has helped Monster.com acquire a leadership position in the markets of India, Middle East, Hong Kong and South East Asia.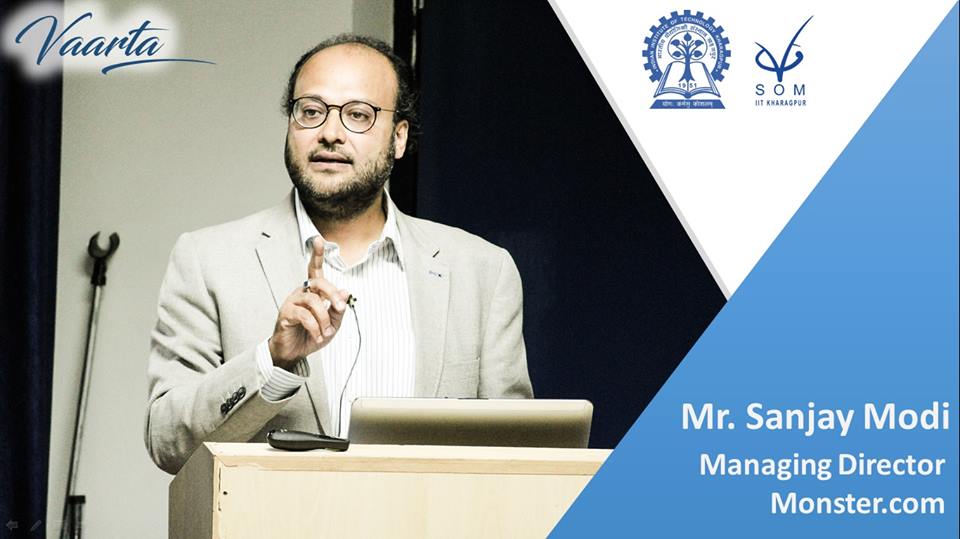 At VGSoM, IIT Kharagpur, Mr. Modi delivered an immensely enriching session on the topic - 'Why We Run ?' The session was indeed as unconventional and thought-provoking as the title sounds. At the outset, the guest drew strong analogies in sports, and life, in general, to gradually drive home his profound views on surviving in the ever-changing business and technological environs of the present age. Mr. Modi expressed in lucid terms the indispensability of persistently running in life to ensure one stays ahead of the inevitable change and achieves sustained success. He even suggested that rather than adapting to change, one must attempt to be the orchestrator of change and lead the world in a positive way. One of the key takeaways of the session was the speaker's strong emphasis on looking inwards for motivation and goals rather than looking outwards. Through excerpts from the realm of business, the speaker elucidated how paramount it was for an organization to frame action plans and goals with a close eye on its inner self, its inner strengths and weaknesses, rather than being solely driven by external factors, many being beyond its control.
Mr. Modi, in his advice to the budding managers from VGSoM, asked them to persistently polish their calling and discover themselves as they evolve, even as they don on many hats throughout their lives and their careers and tend to move away from this core aim. The esteemed guest spoke about the need to ensure a prominent line of segregation between ideators and executors as that would not only ascertain the emergence of game-changing ideas unfettered by the limitations of execution but also work favourably for their effective implementation. In an extremely vital piece of advice, he asked the students to blend within themselves, the qualities of both - a workhorse as well as that of a racehorse. He believed that to ensure longevity in one's career, one must have the DNA of a workhorse and to ensure that one is able to match up to situations demanding quick success or making swift moves, one must also pick up the agility of a racehorse.
As the riveting session meandered to an end, the inquisitive students geared up with thought-provoking questions for the guest. With the completion of the Q&A session, the lecture closed on a great note of insightfulness. Thus, we look forward to a continued association with our honourable guest, Mr. Sanjay Modi and learn further from his rich experience in times to come.