Whether you have landed up here by virtue of poorly-crafted clickbait heading or you're a genuine aspirant who doesn't want to miss out on any suggestion available in the market, I welcome you.
I know digital fatigue is real, so I will directly come to the point. This article aims to provide you with a broad understanding of how you can go ahead with your OPI preparation for the HRM & LR program. For the sake of ease, I have categorized your preparation process under three broad categories. These are:
Who are you?
Why do you want to be here?
What is this course/place about?
---
Take Your Career To The Next Level. Ask Our Experts Anything. We Will Respond Within 48 Hours.
Let's unfold these questions one by one:
Like the protagonist of a typical Imtiaz Ali movie, you need to guide yourself on the path of self-discovery to prepare yourself for the interview. Sounds philosophical? It isn't.
Here's how you can do it:
Start with your bio-sketch (this bio-sketch has nothing to do with what is usually asked in the detailed application form). Write your journey of life. Your life is a story and you're the protagonist. Reflect upon your journey so far. What were the major turning points of your life? What were the major decisions that you took? What were the reasons behind those decisions? What were the mistakes you made? What have you learned from them?
Isn't it all very generic? Let's get specific then:
What is the meaning of your name? Where are you from? Can you share something about the cultural/social aspects of your place? (TISS is a social science Institute, after all). What are your strengths and your weaknesses? What are your core values? Are they indeed core or they can be easily compromised?
Wait! Are you from an industrial town? Are you aware of the labor-related issues that are prevalent in the industries of your region? Have you ever heard of a strike happening there? What is a strike? Is it the same as lockout?
Oh! You're fresh out of college, let's discuss something around your academics.
You've got significant work experience, how do you see the HR function in your organization?
Are you wondering what's going on in this article? If yes, you're on the right track. You need to ask every such question which can help you know yourself better. This process is usually very complex. It's not just you but your upbringing, your society, your education, and precisely everything related to you that you need to know about. As you do it, you will get a holistic understanding of yourself. Once you have that, you can start focusing on specific events of your life. And needless to say, that you should have a decent idea about your academics (if you're a fresher) and about the work that you do/have done (in case of work experience).
Two words of advice before we move to the next part: Be informed!
PART 2: Why do you want to be here?
If you have done the first part diligently, you shouldn't be facing many issues with the second part. As you already have a thorough understanding of your life, can you spot those instances that link to your interest in HR?
There's no standard answer to 'Why HR?'. Every aspirant is different and is guided by his/her situations. You might be in the final year of your undergrad, or you might be having work experience, or you might have prepared for competitive exams, which resulted in a gap in your resume. Based on where you are, you need to find your reason as to why you want to get into this course and when did you realize it? It may be something related to your work experience or maybe one of the books you read on HR or it can result from your research with respect to career options. It can be any of it or something different altogether. However, what's important is that:
The answer to 'Why HR?' should be your own personal answer. Try not to follow someone else's answer blindly.
PART 3: What is this course/place about?
This part of your preparation will cover your understanding of the HRM&LR program & TISS Mumbai.
As a preliminary exercise, you should ideally be visiting the course structure to know how your two years will look like if you get in. As you go through the names of various subjects, viz. Performance management, Learning & development ,etc. go ahead and research more around these subjects & what will you be learning in these subjects.
You should also be knowing about the pedagogy at TISS & how is it different when compared to other institutions in the country. From notable alums to the rich history of this program, stay curious about these insights & gather as much information as you can.
Lastly, since you're applying for the most coveted HR program in the country, it is expected that you should know some basic aspects of the HR function. To get an overview of it, you can refer to 'HRadiance' by Aspirants Relations Committee, HRM & LR, TISS Mumbai. It is available on the Aspirants' group on Facebook.
Some other things that you should keep in mind:
Make sure that you have a good internet connection, IT accessory & power backup.
If you've virtual interaction anxiety, interact over a virtual call more often. Be mindful of your posture in front of the camera.
Don't use any such word during the interview which you aren't sure about. For instance, If you're using the word 'culture', make sure you know the academic definition of the same. As you practice for the interview, practice for probable counter-questions that you might face for your responses.
It helps to prepare some of the generic responses in advance but be very natural when you're there in the interview. It shouldn't appear as if you've memorized your answers.
If you're thorough with any concept, try to mention it subtly in your initial responses. The next question might be in line with that concept. This will help you give a direction to the interview.
Be genuine, don't pretend unnecessarily. At the same time, don't mention anything which is very personal & which can put you/panelists in an uncomfortable situation.
Be informed about your hobby/academics/interests and pretty much everything associated with you.
If you don't know the answer to any question, it's better to accept it politely than to come up with incorrectly made-up responses.
If you're not sure about any question (because of the structure of the question/pronunciation/technical glitches), you can confirm it again with the panelists. It's better than responding based on wrong assumptions. If a particular question has 2-3 sub-questions, try to answer in the same order. Have a blank paper with you to write keywords related to the questions so that you don't forget the question.
Don't assume at any point of the interview that you've screwed it up. This will hamper your confidence. Similarly, don't assume that you've nailed the interview, it might make you overconfident. Take one question at a time & respond sincerely.
It's okay to be opinionated but provide proper logical reasoning for your opinions. There's a fine line between a well-read scholar & a fanatic who is guided by his/her belief. Make sure you remain the former.
Stay confident & humble. Take the interview in a positive spirit.
Take all the above points with a pinch of salt. Every interview is a new interview, otherwise, interviews would have become obsolete by now. Go ahead & experience it!
Irrespective of the results, the interview preparation is going to be your learning for life. Make sure you enjoy the journey, reaching the destination is just a by-product.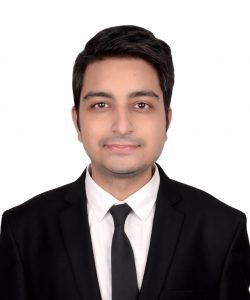 Divyanshu Tripathi is a first-year student of Human Resource Management & Labour Relations at TISS Mumbai. He is an engineering graduate and an erstwhile marketing professional. A lover of creativity who believes in enjoying every moment of life to its fullest.