Product Management is a space that has a little of everything i.e, it has a little to do with Tech, Marketing, Strategy, and Operations.
---
Not got a PPO & worried about Final Placements & your Education loan? Learn how to secure dream offers from top companies without settling for 'average' packages! Take up live projects & refresh your domain knowledge with electives, enhance your CV and crack interviews with 1-on-1 mock interviews with experts. Register for InsideIIM AltUni MBA Placement Bootcamp & learn from experts who've worked in Reckitt, Coca-Cola, Pay-U, Morgan Stanley, Samsung, HDFC, etc.! Click here for more info - https://bit.ly/3iQ9pK5
---
Hard-core skills required for Product Management
Now coming to the hard-core requirements to prepare for a product management profile, it goes without saying that some sort of past work experience helps in the said role, having said that it is not a necessity. People without any formal experience get hired for the same but the number of individuals is generally very small. Experience in the domain of Software Development or for that matter, Tech Consulting helps for the roles of Product Management.
- Proficiency in any programming language with work to display for the same is an added positive for ProdMan roles
- Design thinking is extremely important. This is an underrated skill-set but knowing how the design process works helps you execute your product.
- Understanding Marketing Analytics and basing decisions on the market structures is extremely important. Diagramatic representation of core Marketing skills required for ProdMan is noted below.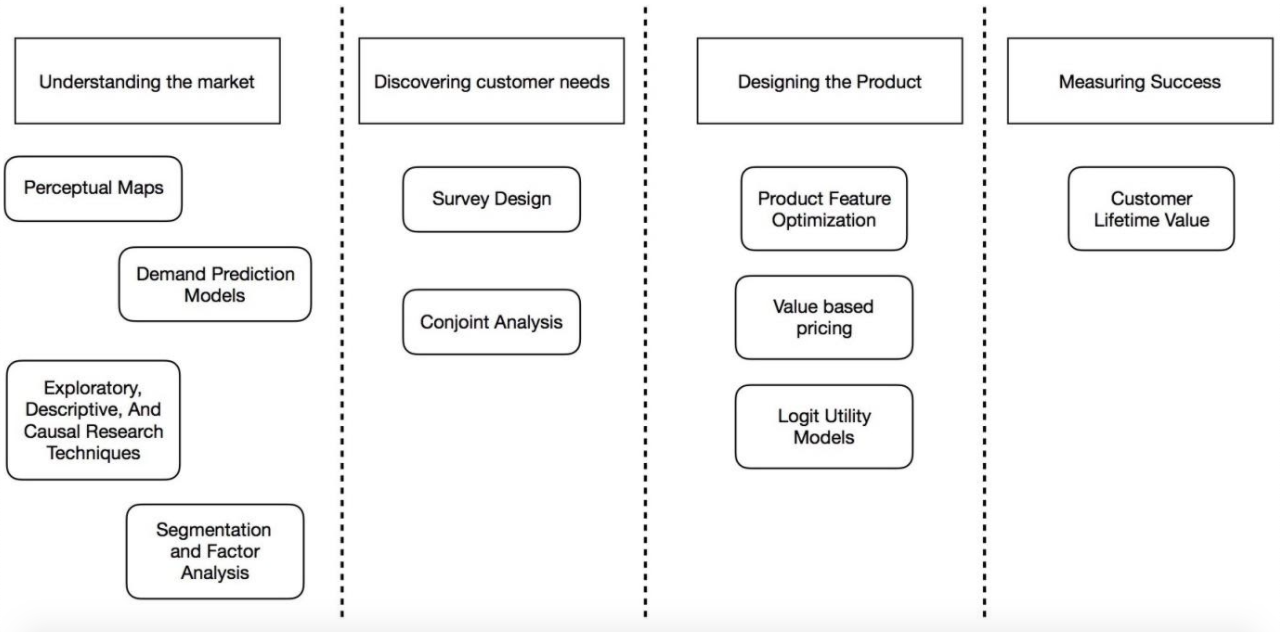 - Being able to design what you think is extremely important. Learning how to make wireframes is of great help. Adobe XD is a good place to learn the same trade

---
Over and above I have painted a road map for all the skill sets that are majorly required for the preparation of ProdMan interviews. Again these are skills that can be spoken of during the interview and will help you in the job. Apart from that, the most important activity that a candidate is expected of doing is

[a] Practice as many cases as possible.

[b] Product Innovation. Think of your favourite company and what new product would you want to add to that. The entire end to end execution of that product should be ready in your head
[c] Storytelling – Your story, your product, you decide
---
Here are some important links that will help you prepare for Product Management Roles.
[1] How To Get Into Product Management - Bible towards the preparation of Product Management, I suggest everyone to read through this. A step by step approach to understanding the nuances of Product Management to secure jobs in the said domain globally
[2] Cracking the ProdMan Interview
[3] Some important ProdMan Q&A series book
[4] Improving Strategic Thinking
[5] Learn about OKR and Goal Setting
[6] ProdMan skills no one talks about

I hope this helps you with your preparation.
---
You may also be interested in these
How To Prepare For A Consulting Profile In A B-School
How To Become A Product Manager - Everything You Need To Know
"You Don't Need To Be An Engineer To Be A Product Manager" - Harshil & Anusha, Flipkart & IIM Alumni - Part 2