Product Management is slowly climbing up the ladder of being one of the sexiest and the most sought after jobs of the 21st century. People generally ask me, where do folks from MBB make exits into? Well, you have it, here is your answer to that boiling question. Now before diving deep into the discussion of Product Management, first let's discuss some of the skills required for the job (hard skills and soft skills) which one can acquire if they want to prepare for product management profile. Read more to find out.
---
I call these the Core Seven Skills or in plain words CSS -
- One should have the capacity to take any problem and can develop a strategy to solve it.
- As a PM you are supposed to be excellent with execution and you can get work done on the go.
- You should be stellar with both verbal and non-verbal communication.
- PM's should be able to influence and lead at the same point in time.
- They should be able to make decisions that are backed by data.
- You should be able to make great products.
- And lastly, you should always be on your toes and prepared.
Now coming to the main crux of the article, what exactly is Product Management and how does it work? Ever wondered how the UI of some application works? Ever wonder how Swiggy Genie came into the picture? These are just over the mind examples of how product management works which have an essence of both back end as well as front end.
Take Your Career To The Next Level. Ask Our Experts Anything. We Will Respond Within 48 Hours.
Product Management is a space that has a little of everything i.e, it has a little to do with Tech, Marketing, Strategy, and Operations.
---
Not got a PPO & worried about Final Placements & your Education loan? Learn how to secure dream offers from top companies without settling for 'average' packages! Take up live projects & refresh your domain knowledge with electives, enhance your CV and crack interviews with 1-on-1 mock interviews with experts. Register for InsideIIM AltUni MBA Placement Bootcamp & learn from experts who've worked in Reckitt, Coca-Cola, Pay-U, Morgan Stanley, Samsung, HDFC, etc.! Click here for more info - https://bit.ly/3iQ9pK5
---
Hard-core skills required for Product Management
Now coming to the hard-core requirements to prepare for a product management profile, it goes without saying that some sort of past work experience helps in the said role, having said that it is not a necessity. People without any formal experience get hired for the same but the number of individuals is generally very small. Experience in the domain of Software Development or for that matter, Tech Consulting helps for the roles of Product Management.
- Proficiency in any programming language with work to display for the same is an added positive for ProdMan roles
- Design thinking is extremely important. This is an underrated skill-set but knowing how the design process works helps you execute your product.
- Understanding Marketing Analytics and basing decisions on the market structures is extremely important. Diagramatic representation of core Marketing skills required for ProdMan is noted below.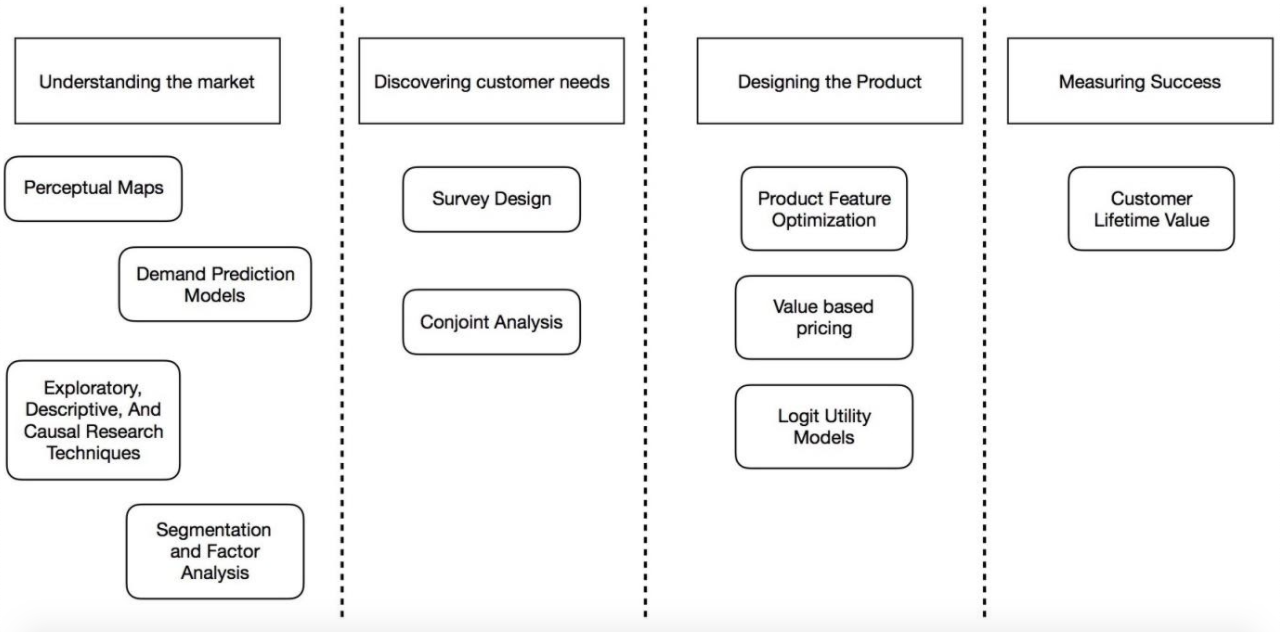 - Being able to design what you think is extremely important. Learning how to make wireframes is of great help. Adobe XD is a good place to learn the same trade

---
Over and above I have painted a road map for all the skill sets that are majorly required for the preparation of ProdMan interviews. Again these are skills that can be spoken of during the interview and will help you in the job. Apart from that, the most important activity that a candidate is expected of doing is

[a] Practice as many cases as possible.

[b] Product Innovation. Think of your favourite company and what new product would you want to add to that. The entire end to end execution of that product should be ready in your head
[c] Storytelling – Your story, your product, you decide
You may also be interested in these