Earlier in the season we had published an unverified report on IIM Ahmedabad's final placements for the batch of 2014. IIM Ahmedabad has now released the final placement report in the CRISIL - audited IPRS format. (You can download it from their website). The IPRS format is very rigorous and granular in the level of detail provides. Most placement committees will be terrified if asked to report their data in this format - too many skeletons will come tumbling out of their closets. IIM Ahmedabad has shown commendable leadership among Indian B schools to push ahead with this format. On the other hand, it is easy to be truthful with disclosures when the truth itself paints such a rosy picture.
In placement reports, the problem of transparency arises because it is not disclosed what profiles the company hired for. The IPRS, for all its merits, suffers from this one drawback. However, the other aspects (about salaries etc) are impressive in their detail, and we also note that the tone of the IPRS report is all about matching job profile expectations rather than achieving 100% placements.
The placement process had two stages - laterals, and final placements. Final Placements at IIM Ahmedabad got over within three clusters. Students had the flexibility to apply for "dream companies" even after having an offer at hand - a luxury that few schools can dream of in this day and age.
In terms of company names, the IPRS report does not give any additional data. So the analysis for all the sectors is reproduced below.
Details of final placements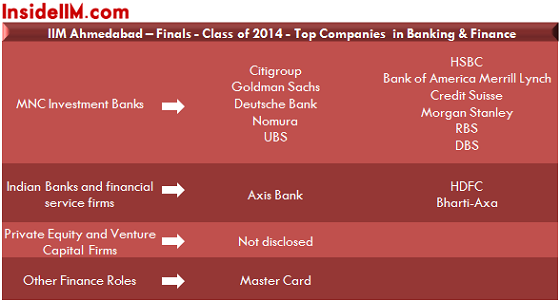 Banking: Most of the marquee MNC investment banks have recruited from IIM Ahmedabad. Unfortunately we do not know exactly what roles were the graduates hired for (whether front-end roles, middle office and operations roles, corporate banking roles and so on). HSBC was the largest recruiter in this space with 9 offers. The level of data is much lower than the summer placement report, where some private equity and venture capital funds had been disclosed as first time recruiters (Indus Balaji, Kalaari Capital etc).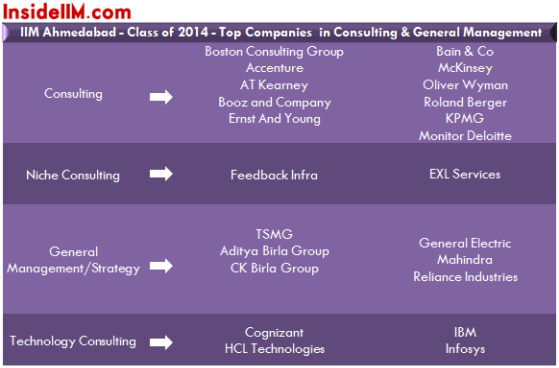 Consulting and general management: Again, recruitment for consulting and General Management roles only serves to demonstrate the hold that IIM Ahmedabad exerts over India's top recruiters. Accenture strategy was the top recruiter in the consulting space, giving 18 offers, closely followed by BCG which gave 15 offers. All the blue-chip strategy consulting firms hired in big numbers. Reliance Industries was a major recruiter in general management and strategy roles – making eight offers. One does note that TAS is the only notable absentee from this list.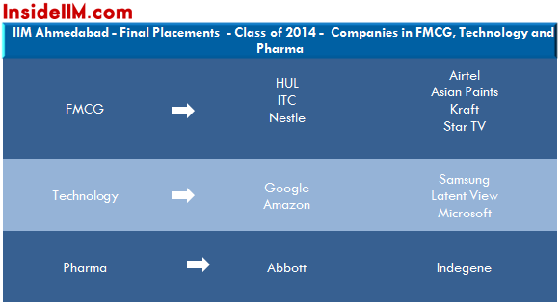 FMCG, Technology and Pharma: All the major FMCG companies have recruited from IIMA. HUL was the largest recruiter, making six offers. (Star TV made six offers as well. We would classify Star TV as a media business rather than an FMCG business). P&G is the only missing big name recruiter from the list. In technology, Amazon was the largest recruiter, making 15 offers.
1 First time recruiters included Embibe.com, Fractal Analytics, Kepler Cannon
2 Seven of the largest recruiters hired 79 students in all (see figures below)
3 Thirteen students opted out of placements to start their own ventures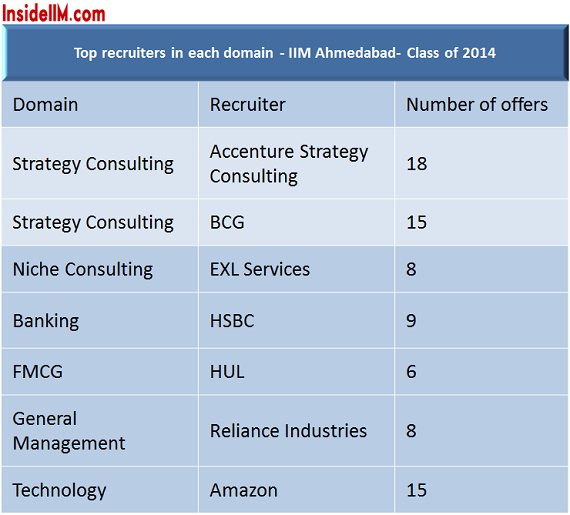 Functional and Sector Level Details
Consulting emerged as the most popular function, with nearly 33% of the batch taking up offers in consulting. Sales and Marketing was next, followed by Finance. As far as sectors are concerned, the 'Consulting' sector absorbed practically one-third of the batch, followed by Banking and Financial Services which absorbed around 16%. 13 of the 19 international offers were made in BFSI. We wonder if so many people are going to start advising others, then who will be left to do the actual work at companies?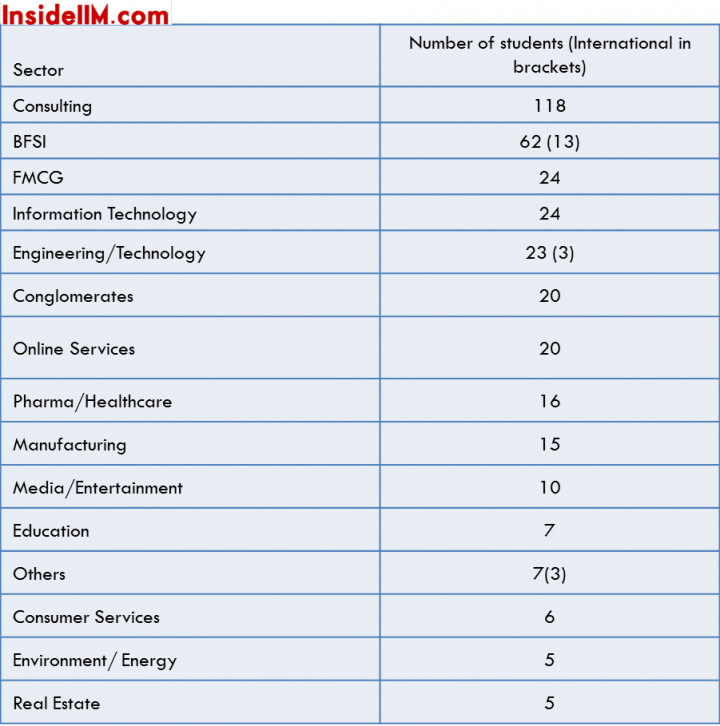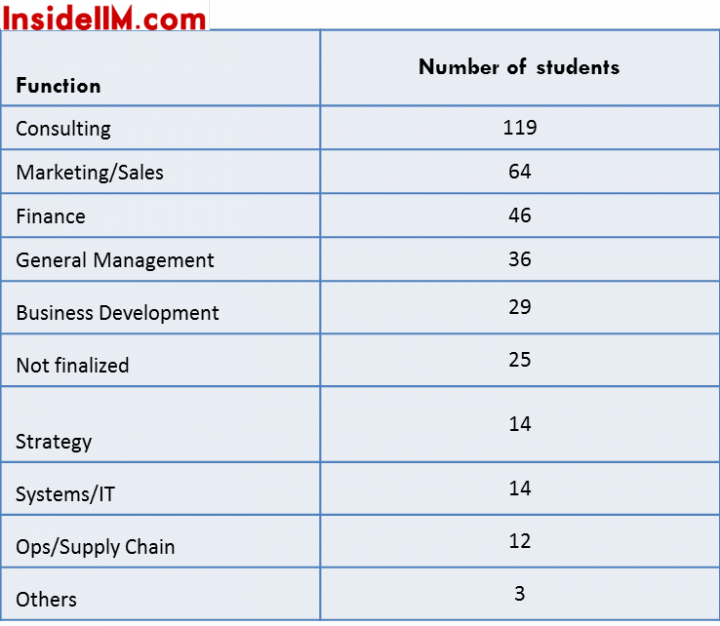 The maximum possible salary for domestic placements is Rs. 41 lakhs. For international offers, it is USD 1,92,581.
Domestic Salaries - all amounts in INR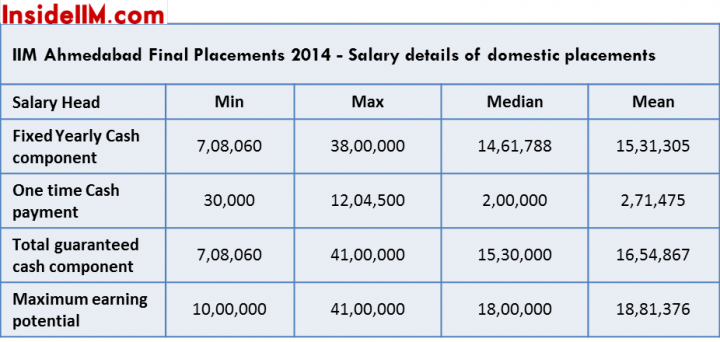 International Salaries - All amounts in USD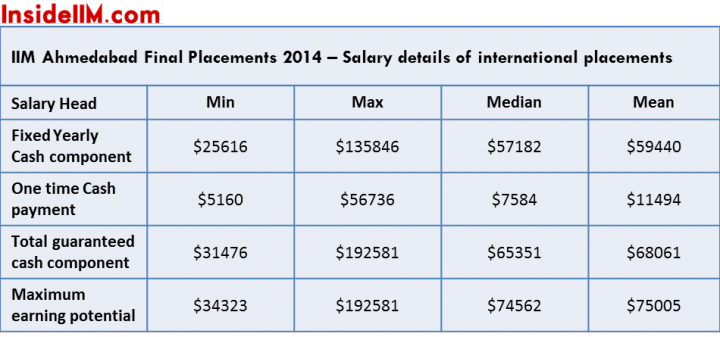 Sectoral Break up of salaries
The Consulting sector comes out as the highest paying sector (based on median salaries) followed by online services and FMCG.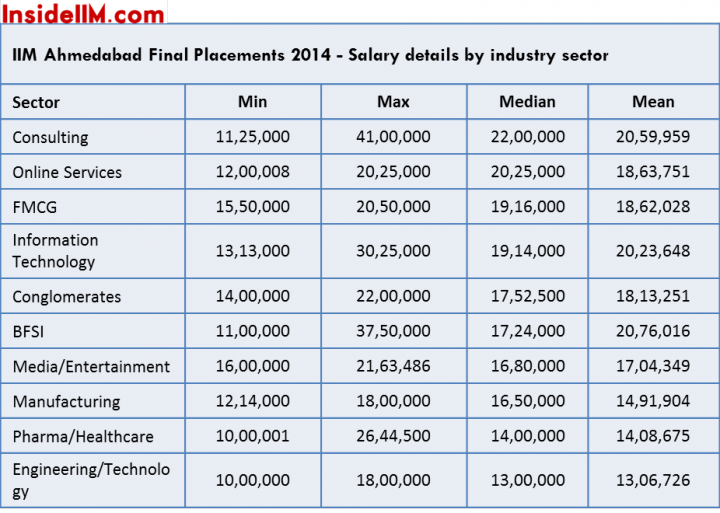 Read the summer placement report (batch of 2013-2015) of IIM Ahmedabad here
Read everything about IIM Ahmedabad here