IIM Ahmedabad's 2021 audited placement report has now been released! The detailed report has revealed domestic and international salaries offered to IIM Ahmedabad's MBA batch of 2021, and has also given a detailed break-down of function-wise and sector-wise salaries as well as offers extended. This year, IIM A has seen a year-on-year drop across some categories, including the highest salary offered and the number of international offers extended. However, IIM Ahmedabad has seen an increase in the average and median domestic salaries offered to the MBA batch. Here is a detailed breakdown of IIM Ahmedabad's 2021 audited placement report.
Take Your Career To The Next Level. Ask Our Experts Anything. We Will Respond Within 48 Hours.
Please refer to the following descriptions of salary heads before proceeding. This information may help you better understand the salary figures mentioned in this report.
Fixed Yearly Cash Component: This is a total of the annual basic salary and additional guaranteed cash components. These additional components include cash payments and allowances that are part of the annual package. The term guaranteed signifies that the amount is certain unless, there is an overall pay revision. The components falling under this salary head are final and are not related to performance.
One-time Cash Payment: This head indicates the value of the remuneration given to a candidate as one-time cash benefit mostly at the time of joining.
Total Guaranteed Cash Component: This is the sum of fixed yearly cash component and one-time cash component.
Maximum Earning Potential (MEP): This is the sum of total guaranteed cash component, maximum possible-linked variable pay and all other components of salary that are a part of the offer.
---
Highest Domestic Salary Touches 55 Lakhs, Highest International Salary At $154,000
In 2021, the highest MEP at IIM Ahmedabad touched INR 55 lakhs, which was a marginal drop as compared to last year. The average MEP stood at INR 27.56 lakhs, and the median MEP stood at INR 27.60 lakhs - both increasing from last year. This year, the lowest salary offered to IIM A's batch of 2021 stood at INR 11 lakhs.

In terms of international salaries offered, the highest MEP stood at $154,355, which amounts to approximately INR 1.17 crores as per latest exchange rates. The median international MEP stood at nearly $99,000, translating to nearly INR 75 lakhs.

---
Consulting Sector Offers Highest Median Domestic Salary, Engineering/Tech And Online Services Also Amongst Top-Paying Sectors
This year, the highest paying sector (median) was the Consulting sector, offering a median MEP of INR 29 lakhs. The sector also offered the second-highest MEP at INR 51 lakhs. The lowest median MEP was offered for a role in the Retail B2B/B2C sector but stood at a significant sum of INR 15.50 lakhs.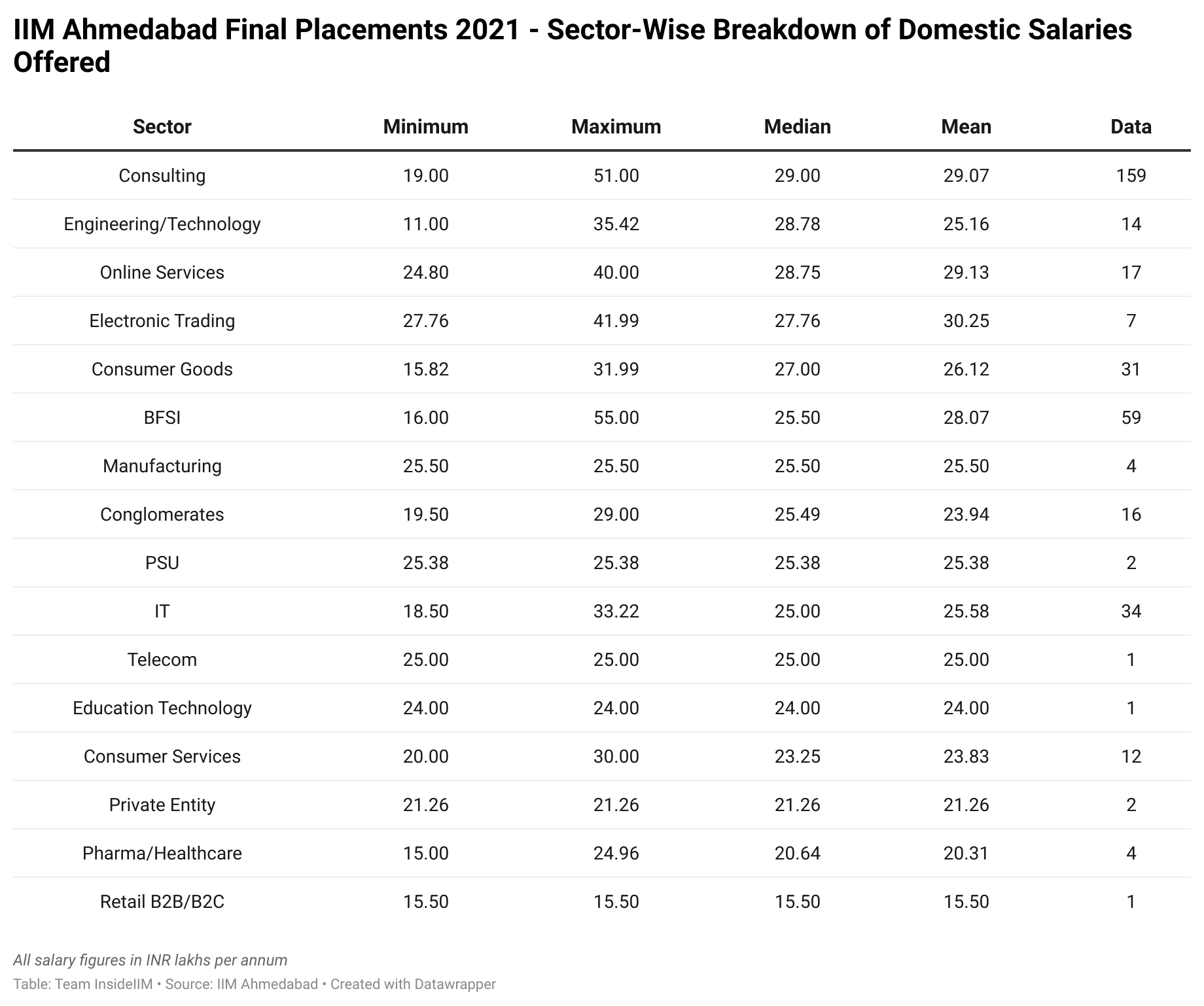 ---
Highest Median Domestic Salary Offered For PE Role, Consulting And Finance Also Amongst Top-Paying Functions
Function-wise, the highest median domestic salary offered was for a Private Equity role, though only one candidate was offered this handsome salary. Consulting was not only the most sought-after role on campus but was also one of the best-paying, offering a median MEP of INR 29 lakhs.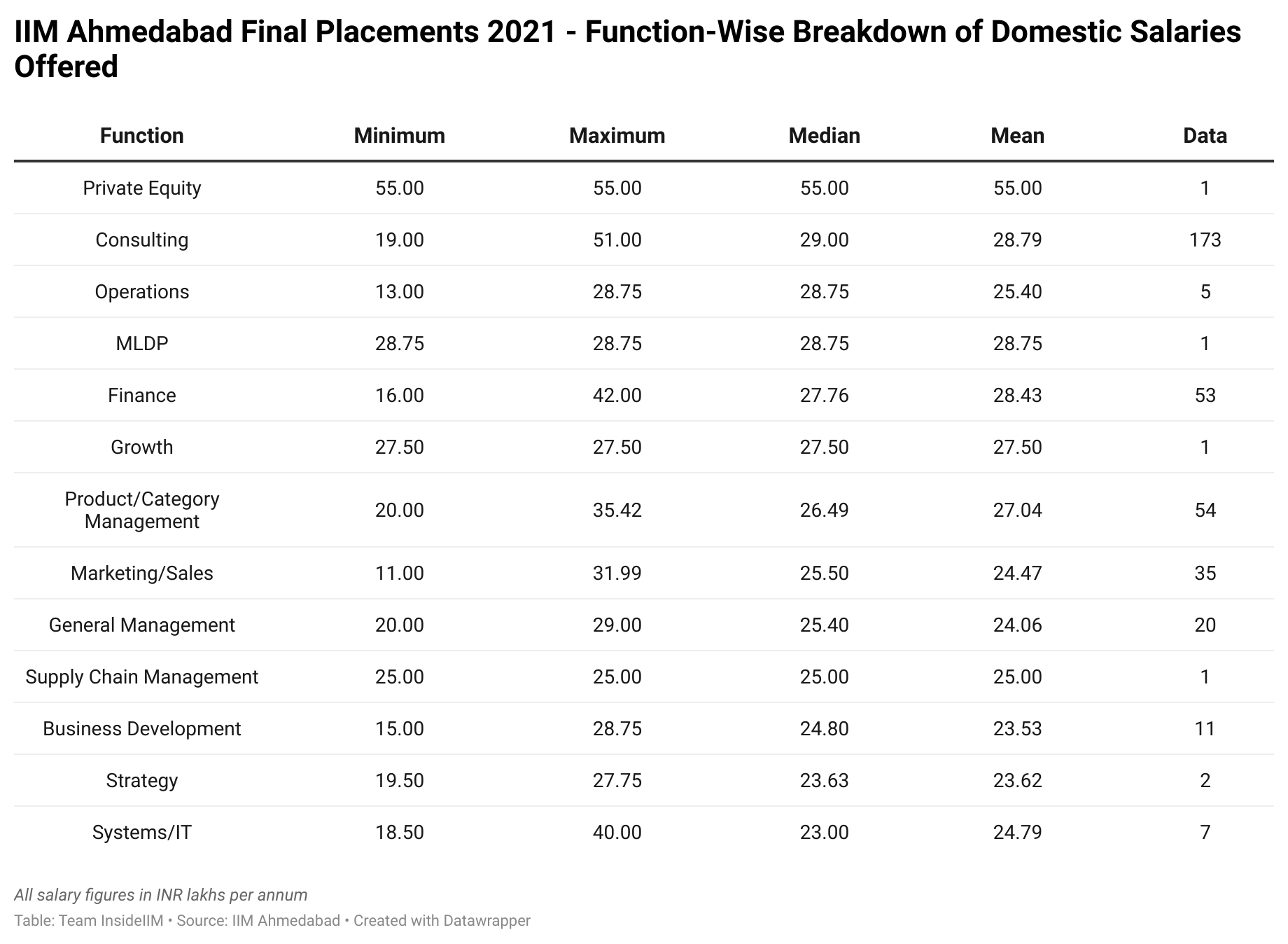 ---
Consulting Emerges As Most In-Demand Role With Nearly 50% of IIM A's Batch Opting For Consulting Roles
To no one's surprise, Consulting emerged as the most sought-after function for IIM Ahmedabad students. In fact, nearly half the batch opted for Consulting roles in 2021. Consulting has always dominated placements at IIM Ahmedabad, with the function claiming the maximum number of IIM-A grads over the past five years. Amongst the least sought-after functions were Private Equity, Growth, Leadership Development Programs, and Supply Chain Management.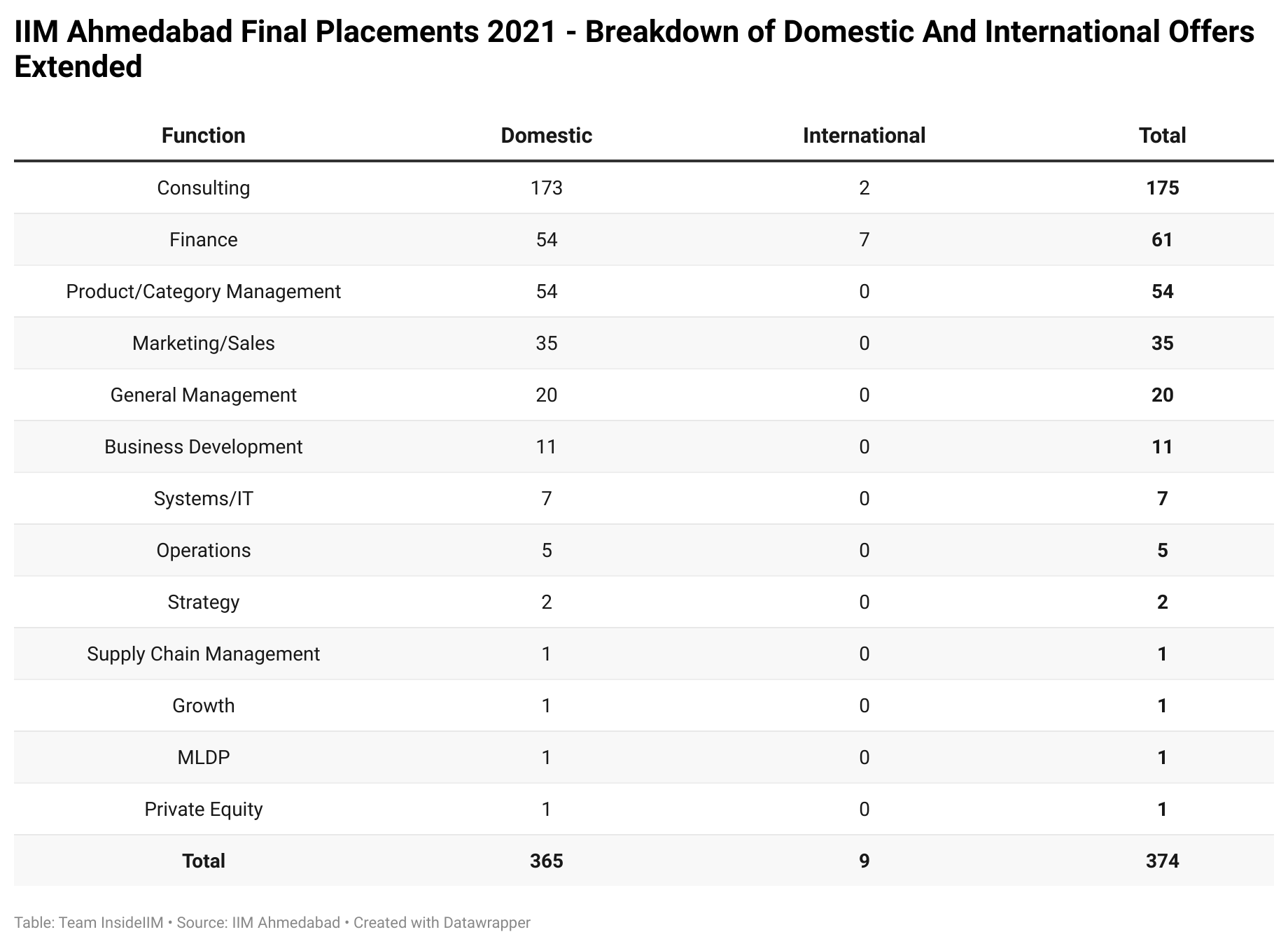 ---
180 PPOs Offered To IIM Ahmedabad's PGP Batch of 2021
This year, a total of 180 pre-placement offers were extended to IIM Ahmedabad's PGP batch of 2021, with 175 of these offers coming at the end of students' summer internships. A total of 115 of these PPOs were accepted by IIM A students.