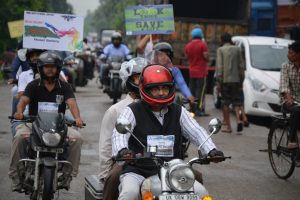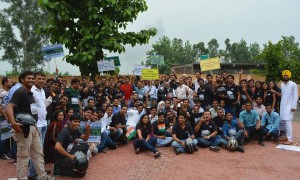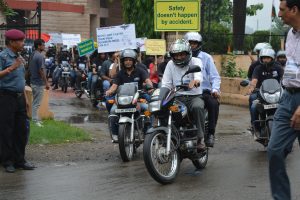 On the auspicious occasion of the 68th Independence Day of India, the students of IIM Kashipur organised a motor kike rally "Bikerthon '14" to spread awareness about the importance of helmets and road safety.
The day started with the Director of IIM Kashipur, Dr. Gautam Sinha sharing his thoughts with the students and staff. He said that there is a difference between independence and freedom and one cannot live without the other. He also asked the students to put their independence in perspective and encouraged them not only to be proud of it but also to help others maintain it. To illustrate, he asked," What good is independence to a man who cannot feed his own family? It will be relevant only when he is in a condition to appreciate it and that will happen only when his basic needs are satisfied."
After Dr. Sinha's inspiring speech, the Dean Dr. Somnath Ghosh addressed the students. He started his speech by quoting famous lines by Rabindranath Tagore 'Where the mind is without fear…' and went on to elaborate on the importance of education in maintaining the hard-earned freedom that we have achieved. He emphasized that the job of management students is not only to recognize the issues faced by the nation but also to find ways to resolve them. He stressed the need for collective action and not just individualistic brilliance in this journey by recounting the lines by famous Urdu poet Majrooh Sultanpuri 'Mai akela hi chala tha janib manzil magar, Log saath ate gaye aur karwan banta gaya (I had started towards my destination alone but people joined and it became a caravan)'.
This was followed by a cultural extravaganza wherein the students of IIM Kashipur presented some beautiful dances and some touching skits.
Bikerthon '14 kick-started post that, with the Director Prof. Gautam Sinha in the lead on his shining Royal Enfield. Bike enthusiasts, both students and faculty followed. Throughout the rally, pillion riders all held banners with strong messages to promote the importance of safe and responsible riding. The troupe stopped on the way and talked to people to spread awareness about the importance of road safety. Quoting recent statistics, a student pointed out that a large number of deaths in India were due to negligent driving. The distance of 18 km was covered taking the route from IIM Kashipur to Dhela pul, then to Sai Stadium and then back to the IIM Kashipur campus. The event garnered great support and the participation and enthusiasm of not only IIM Kashipur but also the citizens of Kashipur were noteworthy. They appreciated this noble initiative taken by the students of the institute and were motivated to always wear helmets while riding.