---
27% Increase In Number of Recruiters on Campus | IIM Kashipur Placements 2022
In 2022, over 150 companies participated in the final placement process at IIM Kashipur, up by 26.6% over the previous year.
Over 60 new recruiters participated in the final placement process at IIM Kashipur in 2022.
A total of 365 offers were extended to the graduating batch of 2022, including 53 pre-placement offers (PPOs)/pre-placement interviews (PPIs).
The number of PPOs/PPIs increased by a whopping 47% over the previous year.
The most sought-after sector and domain for the graduating batch was IT and Analytics.
---
IT and Analytics, BFSI Account for Nearly 70% of All Offers Accepted | IIM Kashipur Placements 2022
In 2022, IT and Analytics, as well as BFSI were the top-two most sought-after sectors for the graduating batch—39% of the batch opted for roles in the former, while 30% of the batch opted for roles in the latter.
The Manufacturing sector was least preferred on the IIM Kashipur campus, followed by the Retail sector.
In terms of domain-wise placements, HR and Operations roles each accounted for only 8% of all offers accepted.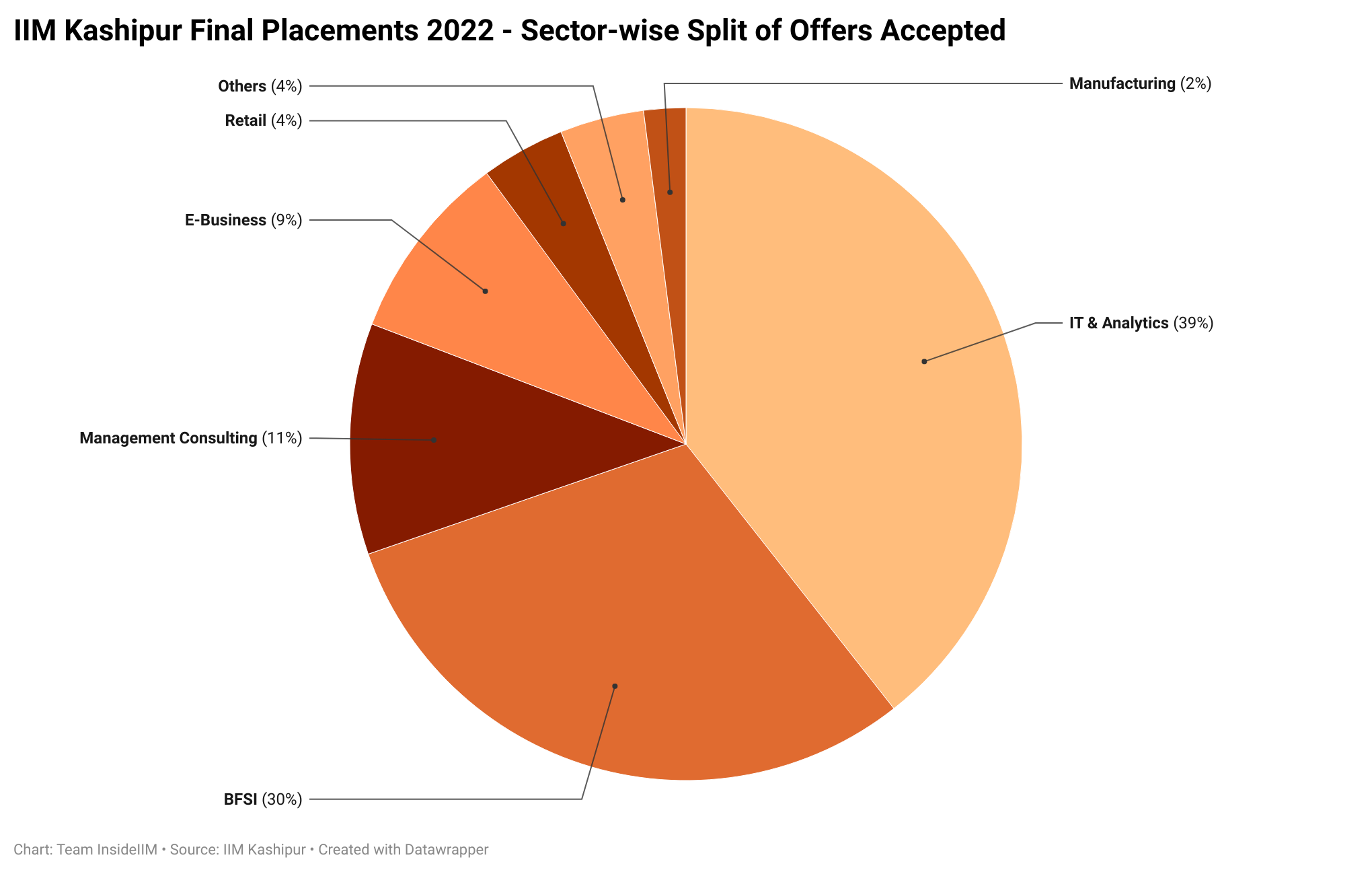 ---
Top Brands Offer Prestigious Roles To Batch of 2022 | IIM Kashipur Placements 2022
Finance companies offered covered profiles including Capital Market Analytics, Financial Strategy, Financial Analytics, M&A, Private Equity, Wealth Management, Investment Analytics, International Banking, Corporate Banking, Retail Banking, Treasury, and many others.
In the field of Strategy and Consulting, companies offered positions including Management Consultant, Senior Functional Consultant, Workforce Advisory Consultant, Associate Engagement Partner and others. Profiles offered included Leadership and Group Strategy, Strategic Consulting, Strategic Alliances, Corporate Advisory, Corporate Strategy, and others.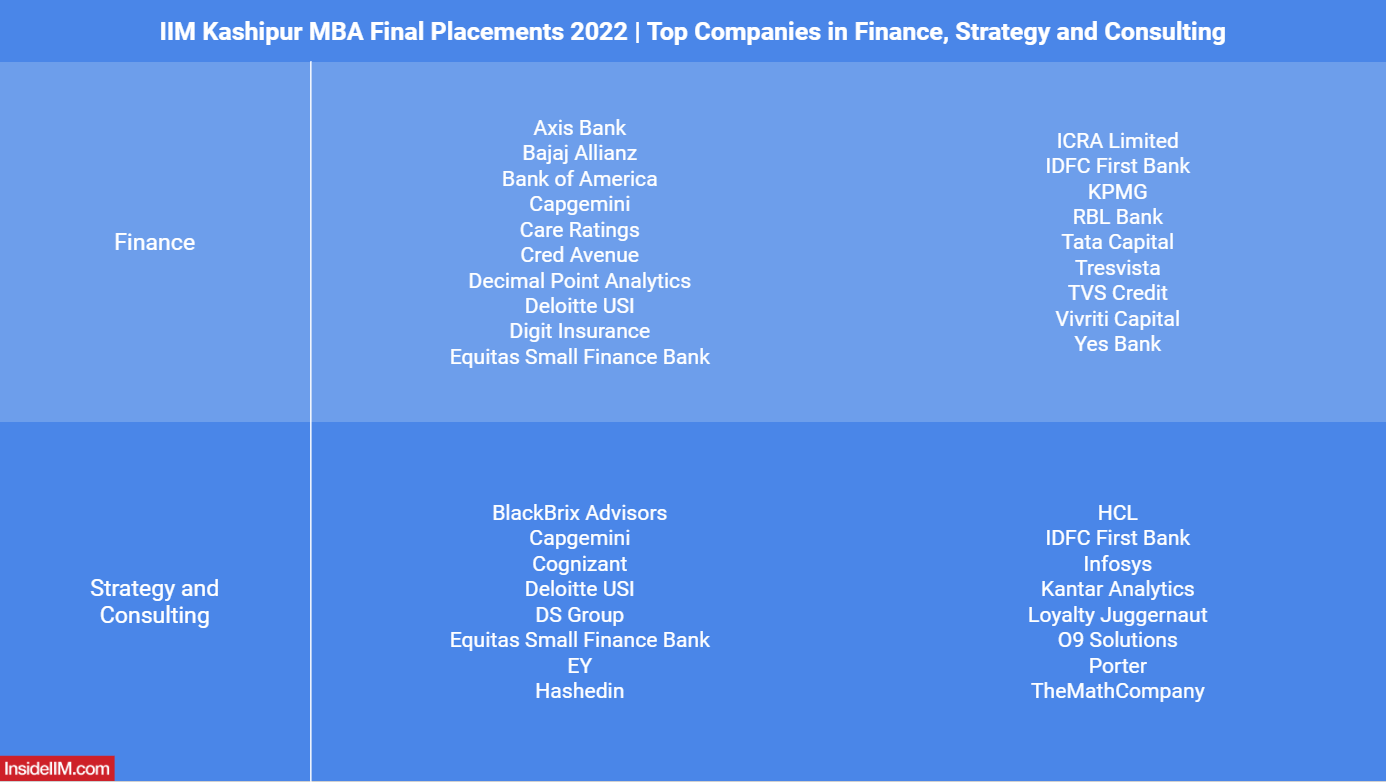 Companies offered General Management profiles offered roles such as Management Trainee/Senior Management Trainee, Program Manager, Key Account Manager, Deputy Manager, and Global Operations Graduate amongst many others.
Companies hiring for HR positions offered roles including HR Generalist, HR Analyst, HR Management Trainee, HR Business Partner, Senior Analyst HR, etc. Profiles offered included HR Advisory, Strategic Performance and Compensation Management, and Industrial Relations Management.
Companies hiring for the Operations function offered roles including AVP, Operations Coordinator, Service Quality Manager, Strategic Operational Planning Associate, and Management Trainee. Profiles offered included Product Operations, Operational Planning, Operations Management, Procurement Analysis, and Service Delivery amongst others.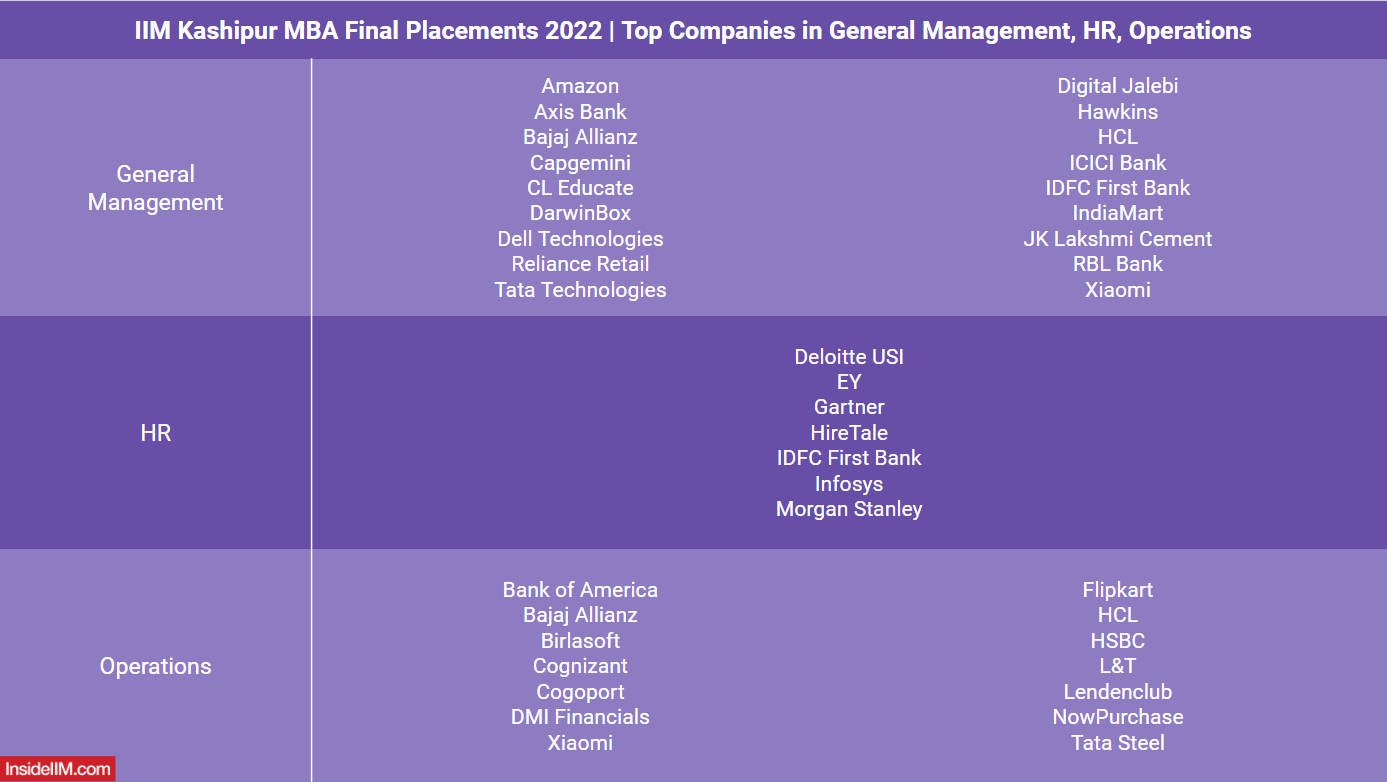 In the IT and Analytics domain, companies offered roles such as BFS Analytics, BI Analytics, Big-Data Services Management, Business Intelligence, Research, Program Manager, Business Solution Enabler, Cloud Business Analyst, Data Analytics Consultant, Financial Analytics, IT Project Management, Operational Analytics, Product Quality Analyst, Senior Business Analyst, Technical Project Manager, and others.
Companies in the Sales and Marketing domain offered profiles including Agri-Marketing, B2B Marketing, B2C Marketing, Territory Business Head, Area Manager, Marketing Manager, Deputy Branch Head, Growth Manager, Brand Manager, Relationship Manager, Strategic Marketing, Digital Marketing, and others.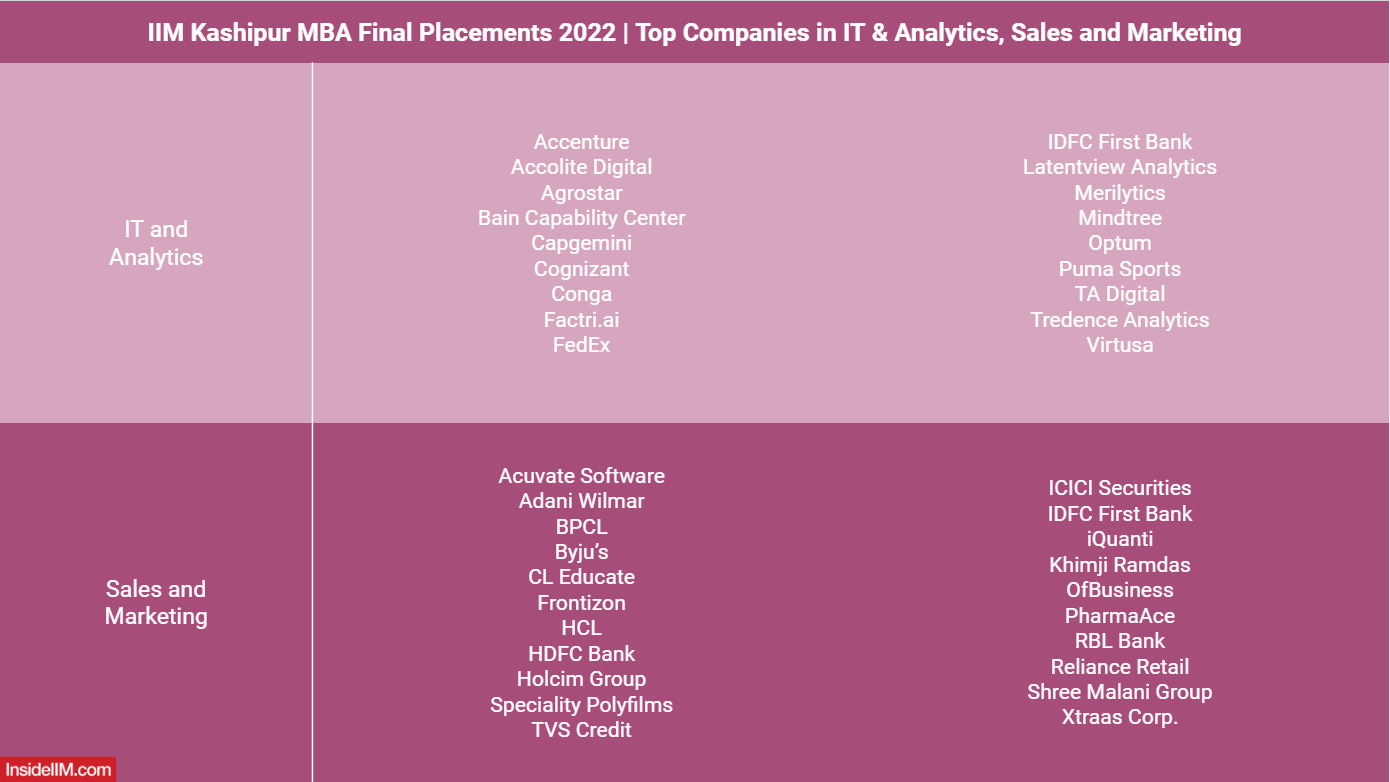 ---
Read Next → Top MBA Colleges in India in 2022