IIM Rohtak has concluded its summer placement process for the academic year 2015-16. The institute witnessed an impressive participation of a multitude of companies across varied domains.
The 172 students' batch successfully availed opportunities in diversified profiles and across various functions in the organizational setup. The corporate visitors were delighted to see the enthusiasm students of the institute exuded during the placement process. Another successful summer placements season reinforced the institute's mission statement: "Management through knowledge and values".
A total of 63 companies participated in the summer placement process. This year saw the institute strengthen its relationship with 21 past recruiters and establish relationships with 42 new companies. Some of the prominent brands that offered summer internships were JP Morgan Chase, Arcesium, ICICI Bank, SEBI, CRISIL, Idea, Cognizant, Wipro, Maruti, Tata Steel, BPCL, Actuate Business Consulting, Amazon, Indus Valley Partners, Dabur, Google, Hero Motocorp, Dr. Lal PathLabs, Apollo Munich, Future Generali, Metro Cash & Carry, Ratnakar Bank among others.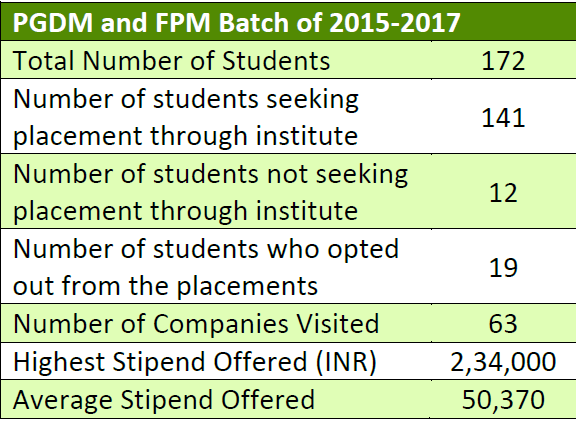 The highest stipend offered for two months grew from Rs 150000 in 2014 to whopping Rs 234000 in 2015. Average stipend, which also saw a rise of 15% as compared to last year, stood at Rs 50370.
The batch diversity in terms of work experience was appreciated by the industry. This also reflected in the offers spanning across the major domains of Finance, Marketing, HR, Operations, Information Technology, General Management and Consulting. Various startups offered profiles of Business Development, Strategy design and execution, reinforcing their belief in the strategic acumen of IIM Rohtak students.
With 49% of the batch opting to intern in Marketing and Sales, IIM Rohtak yet again proved its marketing prowess. Recruiters offered marketing profiles with roles spanning across market research, services marketing, brand strategy, sales, rural marketing, B2B marketing, advertising etc. Prominent companies offering internships in this domain included Amazon, Dabur, Idea, Google, Dr Lal PathLabs and Apollo Munich Health Insurance among others.
Finance was the second most sought-after domain with 20% of the batch bagging internships in it. Prominent organisations such as JP Morgan, Arcesium, ICICI Bank, Crisil, Ratnakar Bank, Indus Valley Partners and SEBI offered diverse profiles with roles including risk management, investment banking, retail banking, trading, financial modeling, corporate finance, portfolio management etc. Apart from these two domains, around 30% of the roles were offered in ITES, Business Consulting, Operations and HR functions.
The resounding success of placement season further bolstered the stature of IIM Rohtak as being among the leading B-schools in the country. On the wrapping up of summer placements, Dr Atanu Raksit, Director, IIM Rohtak, congratulated the students on their impressive performance and Dr Praveen Ranjan Srivastava, Chairperson, Placement Cell, encouraged the students to perform beyond the expectations of their employers during their internships.
The summer placement report can be accessed here.