(This is a Sponsored Post)
India presents an unique opportunity to the world with a rapidly growing young population and a fast developing knowledge economy. To throw some light on innovation and help budding entrepreneurs, Dr. William Verdini will be holding sessions across 3 cities in India over the next two weeks.
He will present topics from systems thinking and integrative innovation, and then we will discuss the important role these concepts play in our quest to create value for ourselves, our organizations, and society.
Dr. Verdini retired as chair of the Department of Supply Chain Management at the W. P. Carey School of Business, Arizona State University. On March 1, 2013, he joined MYRA to help with placement services and with building lasting relationships with corporate leaders in India and abroad.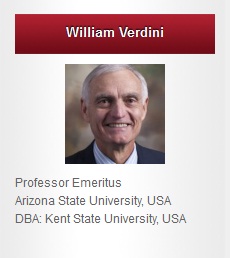 Last month Dr. Abhinanda Sarkar talked about "Big Data" in Bangalore, Chennai, New Delhi, Mumbai, Hyderabad and Kolkata.
The sessions will take place in Bangalore, Chennai ,New Delhi, Mumbai and Hyderabad. This is also a great opportunity for you to know more about the Myra School of Business.
| | | | | |
| --- | --- | --- | --- | --- |
| Location | Time | Date | Venue | Address |
| Bangalore | 2:00 pm to 5:00 pm | Done. Registration Closed. | Jyothi Nivas College | 1st A Cross Road, Koramangala Industrial Layout, Koramangala, Bangalore 560095 |
| Chennai | 10:30 am to 1:00 pm | Done. Registration Closed | Taj Club House | No 2, Club House road, Chennai 600002 |
| Delhi | 10:30 am to 1:00 pm | Done Registration Closed | India International Center | #40, Max Mueller road, Lodhi estate, New Delhi 110003 |
| Mumbai | 10:30 am to 1:00 pm | 30th March | ITC Grand Central | 287, Dr Babasaheb Ambedkar Rd, Parel, Mumbai 400012 |
| Hyderabad | 10:30 am to 1:00 pm | 31st March | Taj Deccan | Road no.1, Banjara Hills, Hyderabad 500034 |
Please register for the event below :
(The above is a Sponsored Article and content cannot be attributed to our Editorial Team)