(Sahil Guglani from Batch 2015-17 writes about the International Immersion Program at FORE School of Management, New Delhi held in association with Nanyang University Singapore)
MBA is not just a course work, it is a rigorous 2 year training program that not just makes a professional out of a student but also enhances his managerial skills loading him with wisdom which shall assist him face the challenges of the dynamic business world. When it comes to grooming of students, FORE walks an extra mile. Along with organizing Industrial visits, Foreign exchange programs etc. to impart exposure to students in order to build Future Managers, students at FORE have to go through a special International Immersion program. The whole batch of 200 students this year was taken to Singapore (All expenses, from boarding to lodging, paid by the college) for week long training in one of the top Universities of the world "Nanyang Technological University". Each day was packed with activities beyond the classroom learning which made the whole trip a great learning experience. DAY 0: 2nd April was the D-day, when just two days after our First Year exams, students had to reach the airport to add another chapter to their MBA life. We assembled at 6am in the morning at IGI Airport to board their flight to Singapore. After 2 hours of formalities, we all boarded the flight (Singapore Airlines) at 9 am. Singapore Airlines well-known for its services stood by their reputation. For many of us it was a first international flight which again was an experience in itself. After 5 hours we landed at Singapore Airport and were taken to Hotel- Village, Bugis located in one of the happening place in Singapore with markets& Metro close by. Each room in Hotel was shared by 2 students. After early check in at the hotel, students were taken to "Little India", one of the most famous places in Singapore known for its variety of authentic Indian food. Our excitement ran high and we were in no mood to head back to hotel after the dinner but in anticipation of the demanding schedule for the next few days, better sense prevailed and we decided in favour of getting some good sleep ahead of the grueling sessions. Day 1: After waking up at 6:30 am and getting ready, we met for breakfast in the Hotel. A sumptuous buffet both vegetarian and non-vegetarian was spread for us. At 8:30, students had to gather in lobby of the hotel to board the buses to Nanyang Technological University (NTU) which was around 45 minutes away from the hotel. On reaching NTU, we were served with coffee and tea in the University premises and the class began at 10 am. Dr. Guido Gianasso, enlightened the students with his immense knowledge and deep understanding on the topic "Cultural Intelligence". The class came to an end at 1:30 pm and which was followed by lunch arranged for us in the university Campus. Post lunch we were taken on a guided city tour of Singapore which included Singapore Flyer, Marina Bay Sands Sky Park and Merlion. On the way to Singapore flyer, our tour guides briefed us on the history of Singapore and shared many interesting facts about the city. Singapore flyer is the second largest flyer in the world with 28 air-conditioned capsules, each able to accommodate 28 passengers, and incorporates a three-storey terminal building. It took us 32 minutes to complete one round in the flyer and on reaching the top, one could see the island of Indonesia and Malaysia touching Singapore. From the flyer, students were taken to Merlion which is a 37 m tall iconic sculpture of Singapore depicted as mythical creature with a lion's head and a body of a fish and then we were taken to visit 191 m high Marina Bay Sands Sky Park located on the rooftop connecting 3 buildings of Singapore. The day ended with dinner at one Indian restaurant in "Little India" and we reached the hotel soon after. Day 2: The 2nd Day in Singapore again started early morning at 6:30 with buffet breakfast in the hotel The lecture sessions at Nanyang was conducted by Prof. Olexander Chernyshenko on "Managing Talents" which aimed at imparting knowledge in the field of Organizational Behavior and Human resource. After the lecture and lunch at University premises, students were taken in groups to Sentosa Island which included one way cable car ride, Dolphin & Seal show and a visit to the amazing Under Water Park giving a real time feel of the underwater eco system. The name Sentosa actually mean "peace and tranquility" in Malay, which was derived from Sanskrit word 'Santosha'. The last attraction at Sentosa Island was "Wings of Time" which was a water, light and cracker show at the beach from where headed to The Arches Restaurant for Dinner and finally to Hotel. Day 3: This was the day that all the students were eagerly waiting for. The visit to " Universal Studios". The day was kept free of classes at Nanyang. After early breakfast, we boarded the buses at 9:30 in the morning and reached Universal studios by 10:15. Each student was a given an entry pass and a lunch coupon of 20 Dollars. We were more than happy to receive the free lunch coupons. Which meant we can utilize our pocket money for other expenses. We enjoyed different rides in the amusement park. It was such a beautiful place to visit with different parts of the park developed with different themes like "Jurassic Park", "Far Far Away", "The Mummy" with different Disney characters playing and having fun with the tourists. The 20 dollar coupon helped us in buying a decent and substantial meal at the Studios. At the strike of 6, we headed towards the exit gates but not before stepping in to those shops for souvenirs and chocolates at the "Hershey's" store present there. At 7 pm, the buses moved towards Marina bay sands for a lavish dinner and there after headed for the Hotel. Since it was not very late, many of us decided to pay a quick visit to "Clarke Quay" for clubbing and exploring the night life of Singapore, Great fun it was.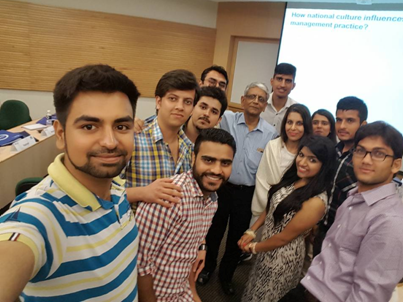 Take Your Career To The Next Level. Ask Our Experts Anything. We Will Respond Within 48 Hours.
Day 4: After one day off from the classes, all of us were fully charged for our next class at Nanyang. After breakfast we reached the University premises at 9:30 and had some time for coffee before our classes. Our lecture started at 10 with Professor Vijay Sethi, who held a leadership position at Division of information Technology, Nanyang Technological University. He articulated his views on "Disruptive Technologies" relating it to the current scenario and all of us enjoyed it thoroughly. End of the class, we were served lunch and we went for the Night Safari at the Zoological parks in Singapore. We got a chance to closely watch exotic animals like White Lion, Malaysian antelope and a "Fire show" in the end. After the night safari, we moved to Hotel Emporium for dinner and back to the Hotel thereafter. Day 5: It was the last day at the NTU; We had our breakfast at the Hotel and moved to NTU. We met local students in the University and tried to understand a more about the culture, pedagogy and methodologies followed at NTU. As the clock struck 10, we moved to our respective classes and Prof. Low Buen Sin shared his insights on "Growth of Singapore as a Global Financial hub" and articulated how financial sector in Singapore has led to Singapore achieving prosperity and boost to its economy. After the class, we gathered at University premises for a group photograph and received our Certificates for International Immersion program.
Evening was planned for another astonishing man-made architectural beauty - "Gardens by the Bay" which is a nature park spanning over 101 hectares of reclaimed land in central Singapore adjacent to the Marina Reservoir. It took us 4 hours to cover this site which was a marvel of human creation. Some of us decided to skip our dinner destination "Little India" and went ahead to explore one restaurant named "Anna Lakshmi", an authentic South Indian restaurant which served the best South Indian food, we ever have had and that too on the revenue model of "Pay as much you want". Then we went to shop at Bugis street followed by a visit to Chinatown where all the things were available at cheapest possible prices. We bought souvenirs and chocolates from there and returned back to our hotel by metro. Day 6: The day of departure from Singapore had finally come. After our breakfast, we checked out and went to visit Jurong Bird Park which had the most exotic species of birds. As the clock struck 12:30, we boarded our buses and reached "Jewels of India", right beside an enormous shopping complex "City Square" where most of us went to shopping and then we boarded the bus at 2pm to reach the airport. Light shower made the weather pleasant and our departure less painful. At 3, we reached the airport, shopped for a while and then boarded our flight along with our faculty coordinators and tour operators guiding us. The flight took off at 5:10 (Singapore Time) and with a delay of 20 minutes. On landing we were delighted to see our parents and siblings who came to pick us up. Thus, the weeklong Singapore trip finally came to an end. It was one of the most remarkable and unforgettable experience for me. The classroom sessions, fun, meeting students, faculties and understanding their and diversity was a truly great experience. The trip also helped us to create memories for life with our college friends which we would cherish for the rest of our lives. About Author: Sahil Guglani , 2015-17 batch, FORE School of Management, New Delhi