Over the last few years, Logical Reasoning & Data Interpretation (LR-DI) has become the most grueling yet important section of the CAT examination. The reason why the focus on this section is ever-increasing is the shared annoyance for it by students of all streams. Hence, this spotlight is expected to remain. The unstructured/ unlimited syllabus adds to the ambiguity. Students heavily rely on past year papers and draw inferences to understand the types of questions asked and the level of difficulty. So how to approach these types of questions with accuracy and score well in the examination?
The Format And The Changes
Typically there are 8 sets with 4 questions in each set, including approximately 8-9 TITA (Type In The Answer) based questions. This section can further be divided into two sub-sections, the distribution of sub-section varies every year and some sets are even a combination of both-
Take Your Career To The Next Level. Ask Our Experts Anything. We Will Respond Within 48 Hours.
The Logical Reasoning sub-section is usually dominant amongst the two and includes topics like direction sense test, tabular arrangement, puzzles and seating arrangement etc.
The Data Interpretation sub-section consists of 3-4 sets. Most of the questions are interconnected, forcing the candidates to fully understand the data. The key is to identify the critical data points to answer the questions asked and eliminate the rest. The subjects are varied, but mainly the data is in different forms of graphs, tables, charts, and caselets.
This rundown doesn't do justice to the vastness and unpredictability of the CAT examination. Also, the whole exam pattern was changed and shortened for 2020 due to the Covid pandemic, but it's expected to be reverted back to normal from this year. Students are expected to have a good foundation of fundamental knowledge of broad topics suggested for CAT, so it's your application skills that are being tested.
Precision is highly valued in this section as the questions are many a time interdependent. So one negative can tend to have a "domino effect" on the rest in a particular set. This section in particular is known to be taxing and one tends to carry the baggage and fatigue to the next section of Quantitative Ability. In order to avoid that one should be flexible in their approach and adapt to the difficulty level of the section and attempt accordingly.
The key to this section is apt question selection; selecting the right sets leads to a good performance in this section. It is generally assumed that in the whole section of 1 hour of LRDI, 4-5 sets should be done with absolute accuracy, instead of attempting more than that and messing up your precision and being awarded negative marks for it.
---
What should one base their question selection upon?
There are certain aspects that could be considered-
1) If the data is insufficient and there could be multiple possible combinations, then it could possibly be a lengthy set. So look into the conditions, more the conditions, lesser the variables and specific the output.
2) Familiarity with the data structure or simply the terms can also be helpful, especially in data interpretation.
3) Spot the sets where the questions are interdependent, the risk associated increases multifold in such cases. Also don't follow a sequence; adapt according to the paper.
4) If the data has been segmented into complementary data sets, it could again be a lengthy set and involve a lot of to and fro.
---
How does the paper look like?
Let's look at the CAT2019 Slot-1 paper to examine the distribution in this section and the difficulty level.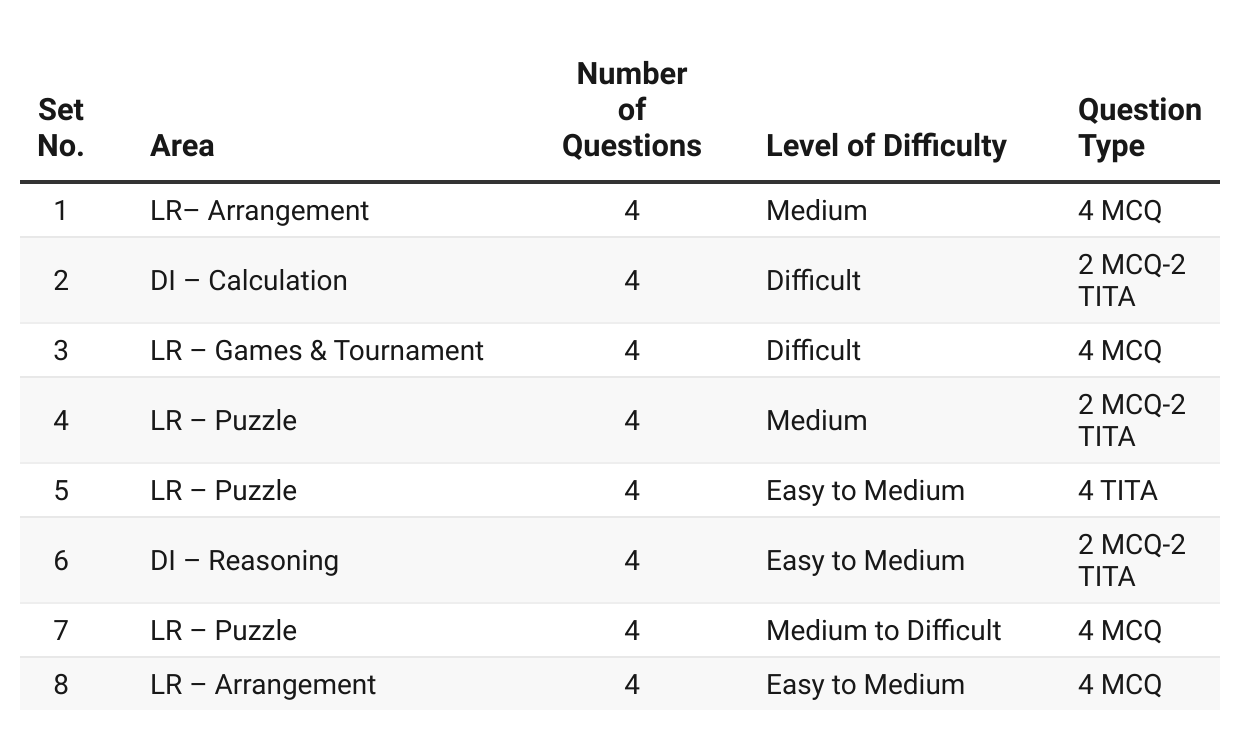 Even though there isn't a specific syllabus if we were to list down the types of questions, they would comprise of the following-
Caselets and Tables
Bar Graphs and Column Graphs
Venn Diagrams
Line and Pie Charts
Number and Letter Series
Calender, Cubes and Clock
Binary Logic
Arrangement
Matching
Logical Sequence
Connectives
Blood Relations
Sometimes, cases of this section are based on data that isn't relatable to the oblivious students easily. For it to be more approachable for you, you should develop a habit of reading things outside your comfort zone. Hence these types of questions are comparatively challenging and even confounding at times. Still, if one keeps calm and deduces the data step by step according to the questions asked, it will be easy enough.
After understanding how the sets are designed, another question pops into one's mind that if only lots and lots of practice of these types of questions in LRDI will help you gain good marks in this section, or there's something more you can do. Indeed there is.
● Although you should keep in mind, there is no replacement for the thorough practice of the topics suggested, specifically in LRDI, as we recommend doing at least 100 sets before the exams and including every category of questions, scenarios at different difficulty levels to get used to them. CAT examination can still surprise you after all your hard work, but if you're prepared on that superior level, your capabilities will surpass that challenge.
● The practice for these types of questions should be regular and steady. Always set aside at least 5-10 sets of LRDI questions every day (based on your capacity) and finish them while keeping track of the time you take. Doing these tests under time pressure will increase your pace, which is the secret behind cracking every section in CAT.
● Your leisure time can be utilized to do some brain teasers, sudoku, crosswords, and other puzzle games, which will help your brain relax, and slowly you'll get better at them. Your brain function increases to strengthen problem-solving, critical thinking and building newer perspectives to see the same thing, which helps a lot in CAT.
● Prepare by solving mock tests based on previous year's examinations. This will enhance your ability to choose the sets and the questions inside them, which will inevitably work wonders for you, as your analytical skills will be apt.
● Start a daily habit of reading newspapers (The Indian Express, The Hindu), magazines (The Economist, Business Today, The Week), and books of different genres to broaden your horizon and refine your knowledge about miscellaneous things. This will help you be aware of the data about random topics used to formulate data-type questions in CAT exams and aid you in your interviews.
● TITA-type questions are generally thought to be the most bothersome because of their characteristic feature of total accuracy to the decimal point. Hence, it is suggested to take time before attempting this question; otherwise it's more rational to just leave it. However, the good part is that these types of questions are primarily based on the final conclusion of data sets, so if you're confident enough about other answers in that set, then go ahead and attempt it.
● Start pre-analyzing options and draw out the ones which are totally unrelated or the ones which are discrete in terms of the data given above, which again makes them meaningless. The hints that options give are far easier to evaluate than questions themselves at times.
So, obviously, there's no single mantra to crack CAT and neither is there a perfect formula for success in the LRDI section. But if you ponder over the question again, "Is there more to preparing for LRDI than just unencumbered focussed practice all the time?" Then I hope your answer should be, no, it is the most effective, but there are several other ways to gain those crucial last marks and bridge the gap between you and your dream management college, which will be done by your common sense and critical thinking.