It's that time of the season when the CAT/XAT exam and its 99.xx scores (almost) are relegated to the side-lines as the GD-PI process (and in some cases, the strange animal called WAT), especially for the top-10 B-schools, takes centre-stage. Clearing the next 'hurdle' is quite the flavour of the season. As one logs on to the internet space, it is replete with buzz of the latest GD sessions, Mock PIs, HR interviews, case discussions, seminars etc. conducted at various coaching centres by special 'IIM' people in town much to the joy of the eager shortlisted aspirants. And you know it is exactly that time of the season as an aspirant when …
1) You get starry-eyed (and $ eyed) when you see the name IIM anywhere.
Take Your Career To The Next Level. Ask Our Experts Anything. We Will Respond Within 48 Hours.
2) The word BLACK assumes a completely new meaning with an elitist twang to it.
3) The PG site page is your new homepage; you sit before your PC the whole day and refresh it almost a dozen times a minute, devouring every update on every forum.
4) Someone asks you for your CAT percentile, you reply "99.xx" matter-of-factly, sending people into a swoon and you wear a "Oh, it was nothing!" smile on our face obviously deriving a kick out of the whole thing. (Editor: In fact, you mention only the last two decimal places, it's taken for granted that people know your score is above 99).
5) Your parents don't waste any time and effort in parading you around, telling your relatives, especially in social gatherings, about your calls to IIM A/B/C…..Z , and then they get a high.
6) You are itching to meet geeky88, iimsocool90, bringitonbaby, sweety_luvsgdpisessions etc. of PG fame in 'real' and are eager to know which GD-PI sessions in town they have joined.
7) …And you secretly hope that sweety_luvsgdpisessions is a hot chick praying that you get to meet and interact with her at least once at one of the centres.
8) People (past students of renowned B-schools) turn 'Advisorosaurus, doling out stuff for free and every time they open their mouths, a mob of eager 'MBA' aspirants or 'CAT' aspirants crowds up to catch the (supposed) pearls of wisdom.
9) You mail inbox is clogged with mails from 5-week old MBA colleges who commonly
give an automatic GD-PI call,
give you a laptop for free with a bundled Euro trip
A guaranteed 7.5 lakh job at the end of it
and all this only 12 lakhs paid up-front.
10) You encounter mentorship mails from different colleges with content/tittles which go something like " Just chill, keep your cool dude", " " Throw a party but prepare well for the process ahead" , " you guys are good enough, the battle is not over yet" etc. besides the regular list of advice.
11) You switch from TOI to Economic Times.
12) You ask yourself for the first time in your life "Who am I"? "What are my short-term and long-term goals?"
13) …. And you go to IMS/TIME/CL for the answer.
14) Anushka Sharma takes a 10% minority stake in your reading habits and the Euro crisis, Jasmine revolution, Railway Budget the majority.
15) You spend more sleepless nights, tossing and turning in your bed thinking about the dreaded "Why MBA?" question than your long-time crush.
16) Some really outrageous extrapolations are done on the basis of seemingly trivial happenings, especially in interviews
("They dint offer me a toffee while finishing my interview – Boo hoo I am out of it !
"They scratched their 'a%%' while I was answering – Dude, I am screwed
"The guy spoke on the phone while I was drawing the Gaussian diagram" )
17) You open your old almirah and dig out your 5th std report card which says you topped the class or the certificate in 6th std inter-school competition for 'junglee dance' to fill up the additional column of extrac-curricular activities.
18) You go back to your IC engines, thermodynamics course books and dwarf your engineering night-outs.
19) You try and learn jargonese in the limited time at hand. Words and phrases like 'leveraging', 'brand value', 'value-chain' make an entry.
20) You feel you will be short-changed solely because you are an engineer, that too male.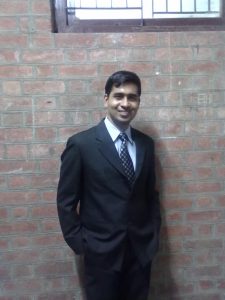 The author is a first year PGP student at IIM Ahmedabad (Class of 2013). He graduated from NIT Trichy in 2007 and worked for nearly 4 years in Mahindra & Mahindra, Automotive Sector in the vendor management function. His blog page is http://my-newsense1.blogspot.com.
You may also like to read :