A Letter From A Placecomer, With Love
Dear All,
Greetings of the day!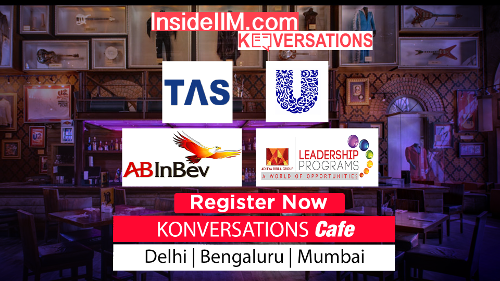 I am a Placement Committee member from one of the top b-schools in India.
In every b-school, the Placecomers are the species, who are subjected to intense public scrutiny, distrust, acrimony and much more. We are considered as a bunch of dishonest, manipulative guys on campus who everyone wants to befriend in public but discredit in private. Hence, today I am compelled to write this letter.
We are a group of students who are elected by the entire batch in collaboration with the placement office on the basis of meritocracy. No question of cheating or any jack here. Unlike our batch mates, our semester begins by cold calling the recruiters. The breaks in between two lectures, any off period time is also utilised for this. Unlike others who slog hard right from day one to score high pointers, to win a corporate competition, to improve their CVs; we slog day in and day out to prepare a suitable market to sell these CVs. You think cold calling is that easy? You call 100 recruiters, 30 revert, 20 agree to give a presentation on campus and 10 actually show up on the d-day.
Once we invite these companies on campus, filling up the auditorium for the presentations is another daunting task. We are frequently accused of violent shouting, penalising our own batch mates, making them sit for hours and hours and much more. But for a second, imagine the most reputed firm in the industry coming down on campus, entering the auditorium just to witness empty chairs! Yes, we play the bad cops deliberately to avoid such horrific encounters. Not that we ignore the constant undercurrent in the batch that these presentations are boring and repetitive…better information can be found online in much less time etc. etc. We do care for you guys. That's why we gently persuade the recruiters to have the Q&A session over a slice of pizza and a cup of hot latte. We have realised this very early that presentations with refreshments tend to sell out quicker.
The planning for your summer as well as final placements begins even before you start preparing for them. The numerous phone calls, meetings, schedules and reschedules, logistical planning coupled with CV proofs validation just to ensure everyone gets a level playing field… it is madness, sheer madness. Oh, and what we get while doing all these activities is doubt, distrust and disbelief!
The high point of this madness is when the actual placement process starts. It is no small task to convince each company coming on campus that today is Day Zero with the best pool of talent at your disposal, to persuade the desi bank HR who is convinced that I am sending the best candidates to a 'Videsi' bank because I have some secret agreement with them. Not to forget the ex-employees of some confectionary giant who refuse to eat their competitor's products, and the alums tugging along with the recruiters leaving no stone unturned to taunt us for some mismanagement. You guys, meanwhile, are getting rejected for or are thrown out in the first two minutes of your dream company's interview. Students break down, completely heartbroken they cry… Some of them need few words of motivation, some a pack of chai-sutta, some just want a shoulder to cry on… We provide it to them, not just out of compassion but to ensure that the process goes on smoothly. Amidst all this, there is a small problem of our own placements!
When the process ends for you all, it is just the interval for us. Filling up various forms and documents for the placement office as well as the recruiters, getting several approvals and publishing the placement report, we are never off duty.
So next time you boast about your great placement, remember that our efforts are entwined at the very root of it!
Sincerely,
A Placecomer