"Telecom and business are becoming inextricably interwoven. I don't think anybody can talk meaningfully about one without talking about the other." – Bill Gates
My second favorite April Fool joke since 2010 has to be Qualcomm's attempt to expand wireless coverage by embedding wireless base-stations into Pigeons that had been crossed with Wolves! I dread to think how much it cost them to create a moving wolf-pigeon hybrid. However, with the growing telecom sector, one day even cats could communicate about a mouse moving across a cheese cube!
Take Your Career To The Next Level. Ask Our Experts Anything. We Will Respond Within 48 Hours.
For the busy reader, all the crucial stats are summarized below:
- Subscriber base in India is almost 900 millions (898.02 million as of 31st March, 2013). Update: As of December 2013, the figure is 915 mn. Note: These figures from TRAI include both wireless and wireline (landline) connections. If only wireless connections are considered, the total is 886 mn as of Dec 13.
- Total urban subscribers - 526 mn (wireless) and 549 mn (wireless + landline) as of Dec 13. Total rural subscribers - 359 mn (wireless) and 365 mn (wireless + landline) as of Dec 13. In other words, rural subscriptions are growing at a faster rate.
- Urban teledensity - 138% (wireless) and 144% (wireless + landline) as of Dec 13. Teledensity is the number of phone connections per hundred people. Rural teledensity - 42% (wireless) and 42.7% (wireless + landline).
- Total internet subscribers - 164.81 mn. Of this, broadband subscribers - (i.e. download speed >512 kbps) are 55 mn.
- Share of prepaid customers by number of subscribers - 96%. Revenue share of prepaid subscribers - 75-80%.
- GSM accounts for 78% of the total wireless market, with 694 mn subscribers.
- Data traffic powered by third-generation (3G) services grew at 146 per cent in India last year.
With the total subscriber count in India now reaching almost 900 millions (898.02 million as of 31st March, 2013) it seems quite a good idea to invest in this particular sector. Rural subscribers have reached almost 350 million. Subscription in Urban Areas decreased from 556.96 million at the end of Dec-12 to 548.80 million at the end of Mar-13, and Urban tele-density declined from 149.90 to 146.96.Market share of private operators is also high (85.51%). Total internet subscribers reached 164.81 million.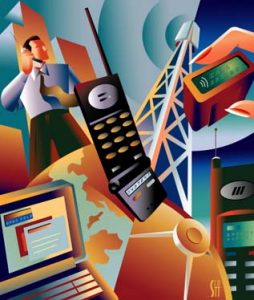 Number of Broadband subscribers (other than subscribers who accessed internet by wireless phones) increased from 14.98 million at the end of Dec-12 to 15.05 million at the end of Mar-13, registering a quarterly growth of 0.45% and Year-on-Year growth of 8.98%. Also, statistics show that the Year-on-Year decrease in the share of prepaid customers have decreased by 2.08%.
The share of prepaid customers as on March 2013 was 96.34%. In Southeast Asia, India and most of Africa, the concentration of prepaid users is higher than in the Middle East and other developed markets. But most of the global subscriber additions are now taking place on the prepaid side. Initially, prepaid plans in India were offered at a significantly higher price, 30-40 per cent more than post-paid plans. Today, there is hardly any difference between the two. But if you look at the overall package, post-paid is a costlier option with the monthly and other charges involved. Moreover, India is a budget market or a high volume, low-tariff market. People typically prefer the prepaid option because it doesn't include monthly charges unlike a post-paid plan. Prepaid plans also help users to control usage, thereby restricting the outflow of funds.
From an operator perspective, postpaid ARPUs are much higher. But prepaid is a low-risk option because the operator can collect money upfront. Moreover, unlike for prepaid connections, the postpaid segment requires services such as customer care, billing and courier. Prepaid connections help low-ARPU customers to control their budget by offering low coupon sizes (Rs 10 or Rs 25 recharge vouchers). The propensity to build up bad debts is also low for prepaid plans. All these factors encourage Indian operators to take the prepaid route
On an all India average, the overall subscriber per month for GSM service increased by 6.28% from 360 in Dec-12 to 383 in Mar-13. CDMA subscribers per month have increased by 19.50%, from 230 in Dec-12 to 275 Mar-13. Prepaid subscribers increased by 6.62% over a 2012-2013 (from 339 to 361), while postpaid subscribers decreased by 0.76% (from 953 to 946).
Gross Revenue (GR) and Adjusted Gross Revenue (AGR) of Telecom Service Sector for the Mar-13 has been 54283.78 Crore and 35279.50 Crore respectively. There has been an increase of 2.70% in GR and 2.18% in AGR as compared to previous quarter.
Data traffic powered by third-generation (3G) services grew at 146 per cent in India last year, higher than the global average that saw usage double. Second-generation (2G) and 3G data combined grew 87 per cent, as 2G data growth stabilised, at 59 per cent. Study also shows that 3G users continue to consume more data on average than 2G users. The data consumed per subscriber for 3G is 532 megabytes (MB), against 146 MB for 2G. The use is much higher in major urban centers, at a gigabyte a month. This indicates the rising popularity and uptake of 3G across India. In addition, premium tariff reductions in 3G services in early 2013 led to an increased migration of high-end 2G customers to 3G.
Let's now look at the bigger picture and how feasible stepping on this sector should be in today's times.
Politico-Legal Environment looks good. FDI of up to 74 per cent is allowed in basic and cellular, unified access, national/international long distance, and V-Sat services as well as public mobile radio trucked services. Moreover, FDI of up to 100 per cent is permitted for infrastructure providers offering dark fibre, electronic mail and voice mail. Increased transparency brought about through the investigation of the 2G scam will encourage free and fair competition and will be positive for the sector. Mobile Number Portability is expected to make the telecom industry more competitive. The Government of India plans to cut license fees up to 33 per cent for operators that cover services for over 95 per cent of the residential areas in a calling circle. The issuance of several international and national long-distance licenses has created opportunities and attracted new companies into the market. The Department of Information Technology intends to set up over 1 million internet- enabled common service centres across India as per the National e-Governance Plan. The Cabinet has given approval to National Telecom Policy 2012 which directs new initiatives like free roaming, unrestricted net telephony, and a new unified licensing regime for operators. The NTP policy endorses a boost to broadband expansion and an increase in local manufacturing of telecom equipment. The USOF (Universal Service Obligation Fund) identified 5,000 villages, and is in the process of developing a scheme to connect through wireless broadband. It also intends to provide 888,832 broadband connections in rural areas by 2014. The USOF also has plans to strengthen the OFC network in rural and remote areas. There are over 62,443 uncovered villages in India; these would be provided with village telephone facility with subsidy support from the government's Universal Service Obligation Fund (thereby increasing rural teledensity)
Economic Environment is affected by the rising incomes which has been a key determinant of demand growth in this sector. Strong income growth is set to continue, IMF forecasts indicate a CAGR of 7% during 2012-2017. Maximization of consumer benefits as tariffs have been falling across the board as a result of unrestricted competition. Pressure on firms margins due to falling tariffs largely due to unrestricted competition and recently due to MNP. The share of private sector in total telephone connections is now 84.60% as per the latest statistics available for December, 2010 as against a mere 5% in 1999.
There is a huge untapped potential to grow further, especially in rural areas where teledensity is 42%.
Socio-Cultural Environment is influenced by the emergence of an affluent middle class which is triggering demand. A young and growing population is aiding this trend. Telecommunication and more specifically mobile communication, whether voice or text, has become a part of lifestyle for most Indians irrespective of their social status. High End Phones and telecom services have become a status symbol. Youth faces a constant peer pressure to remain up to date in telecom gadgets and always stay connected. Strong Indian family values means regular use of telecommunication to stay connected with the family.
Technological Environment has also brought about attractions towards the sector. BWA technologies such as WiMAX have been among the most significant recent developments in wireless communication. 3G has the potential to make the mobile phone, a ubiquitous device for accessing the internet. The new opportunities have opened through new services such as 3G mobile, VAS, Wi-MAX, M-Commerce, Mobile banking and Broadband wireless services will put emphasis on deeper penetration into urban and rural areas. With the roll out of MNP, mobile telecom service providers will be forced to improve quality of their service to avoid loss of subscribers. Mobile VAS such as mobile TV, mobile banking and mobile governance will witness a higher demand in future
However, there is good news for existing players. The Indian telecom industry's average revenue per user (ARPU) has been falling steadily for both GSM and CDMA services, as per the Telecom Regulatory Authority of India (TRAI) telecom performance report for the period October to December 2009.This deters a new player from entering the market as economies of scale cannot be achieved instantaneously. High infrastructure setup costs and ownership of a telecom license and spectrum can represent a huge barrier to entry. Some of the existing players in telecom sector have established their brand image due to their reliability, large customer base and attractive tariffs. Therefore, it is difficult for new players to establish themselves in the market.
The bargaining power of suppliers in Indian telecom industry is influenced by the large number of suppliers and is usually low. This makes the industry attractive. Sub-contractors also don't have much power due to heavy competition among themselves and their relative smaller size compared to vendors. Telecom vendors make sure to outsource their work to a wide range of companies so as to not become completely reliant on a single sub-contractor. Also, medium switching costs lowers supplier bargaining power.
The bargaining power of customers in Indian telecom industry is normally high. There is a lack of differentiation among the service providers. Due to this, there is cut-throat competition among existing service providers resulting in a price war as well as an increase in the bargaining power of customer. The customer in India is highly price sensitive when it comes to telecom services. Also, there is low switching cost for customers.
Some substitutes for the telecom industry that I can think of are CDMA Technology (Tata Indicom, Reliance), VOIP (Skype, Messenger etc.), Online Chat, Email, Satellite phones. Since hand sets are different for both CDMA and GSM technologies therefore switching costs are high from GSM to CDMA. Hence threat from CDMA for existing users is very low, but medium to high for new users. DTH Cable TV services are now offered by some telecom companies. These services face stiff competition from cable operators, with their own direct lines into homes. Telecom company revenues are under pressure from internet telephony option like Skype, Messenger etc. Since none of the substitutes offer mobility together with the service therefore threat of substitutes is Low to Medium.
All the attractions of the industry make the rivalry among competitors quite high. High exit barriers and high fixed cost force companies to strive for economies of scale to be competitive in the market. There are 6-7 players in each region and make the competition very stiff. The time available to gain advantage through an innovation, eg. Caller tunes, life time card, is very less.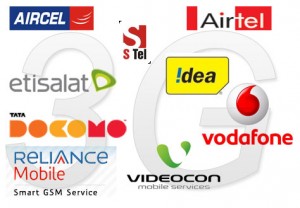 The telecom sector would benefit from an improving regulatory and competitive framework, ratings agency Standard & Poor's (S&P) has said. India's telecommunications industry is all set to turn an important corner. Improving regulatory risk and moderating competition in India will support the credit profiles of the country's top telecoms. However, the top three players in the industry--Bharti Airtel, Vodafone India, and Idea Cellular--are likely to strengthen their market position because of which smaller, weaker players might find it increasingly difficult to acquire expensive spectrum and lack the scale to run profitable nationwide operations.
Policies announced in 2014 provide long-awaited guidelines for important issues that had been mired in uncertainty, ambiguity, and the lack of a policy framework. While the new policies on spectrum renewal, mergers and acquisitions, and spectrum trading significantly improve regulatory risks for Indian telecoms, the risks will still be above-average compared with those in global markets, the agency stated. Companies like Tata Tele and Aircel, which carry non-auctioned spectrum in their fold, may not be benefited much by this policy. All companies that are purely targeting spectrum acquisition would prefer to avoid the M&A route as it involves debt intake and risks, heavy costs and regulatory approvals. Rather they would opt for engaging in spectrum trading or sharing, policies for which are on the anvil. The M&A route would be generally preferred by those who wish to improve and enhance their subscriber base or infrastructure.
This article is written by Debalina Haldar, class of 2015 student at IIM Lucknow. Her novel, The Female Ward, was published in May, 2013. She is the Creative Head and Core Coordinator of the Media and Communication Cell at IIM Lucknow.