IIM Trichy hosted the campus evaluation round for the 9th season of "Mahindra War Room" last Tuesday. Mahindra War Room, a live business case study competition, covers business aspects from various sectors across the Mahindra Group and the participants work on individual caselets to generate realistic solutions for respective business scenarios. The competition which has seen active participation from teams representing top B-Schools across India, is currently in its ninth edition.
After clearing the preliminary evaluation stage, five teams of four members each were shortlisted for the campus evaluation round. The business sectors covered by these teams were aftermarket, realty and infrastructure, and information technology.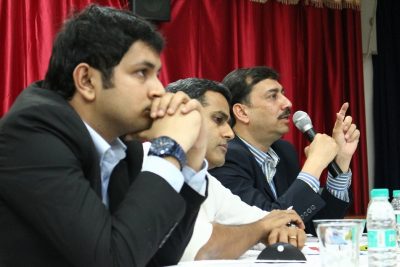 The judging panel consisted of Mr. Naveen Chopra, Head of Vehicle Engineering for the Automotive Division and Mr. Sunil Sharma, Vice-President of Marketing at Mahindra Lifespaces. Also representing the panel was Mr. Parijat C., Executive Assistant to the CEO at Mahindra First Choice Services and IIM Trichy alumnus. Each participating team presented their case solution to the panel for twenty minutes which was followed by a rigorous question and answer round for ten minutes. Each case presentation reflected the in-depth research and analysis conducted by the students who also portrayed their acuity in each of the responses during the question and answer round.
The judging panel selected three teams: "The Brains of Castemere", "Agnee Ke Angarey", and "Charons", for the subsequent rounds in the competition. The session which lasted for over three hours proved to be a learning experience not only for the participating teams but also for the members of the audience, a major part of which consisted of first year students who were very keen on gaining valuable inputs from the judges as well as the participating teams.