On 24th October 2019, the students of the Vinod Gupta School of Management, IIT Kharagpur had the privilege of hosting Mr. Jayant Menghani, Chief Financial Officer & Company Secretary & Board Member, DHL Supply Chain India for a Guest Lecture on "The intricate finance behind logistics in India". With over two decades of experience heading the finances of MNC's in the domain of FMCG, Advertising & Media, Mr. Menghani has worked across diverse industries. He has proven competencies in Finance & Accounting, encompassing Financial and Management Accounting, Financial reporting as per Indian GAAP & IFRS guidelines, MIS, Brand Acquisitions, SOX (Sec 404), Financial Controls, Statutory & Internal Audit, Direct & Indirect - Taxation, Treasury, Legal & Secretarial Compliance.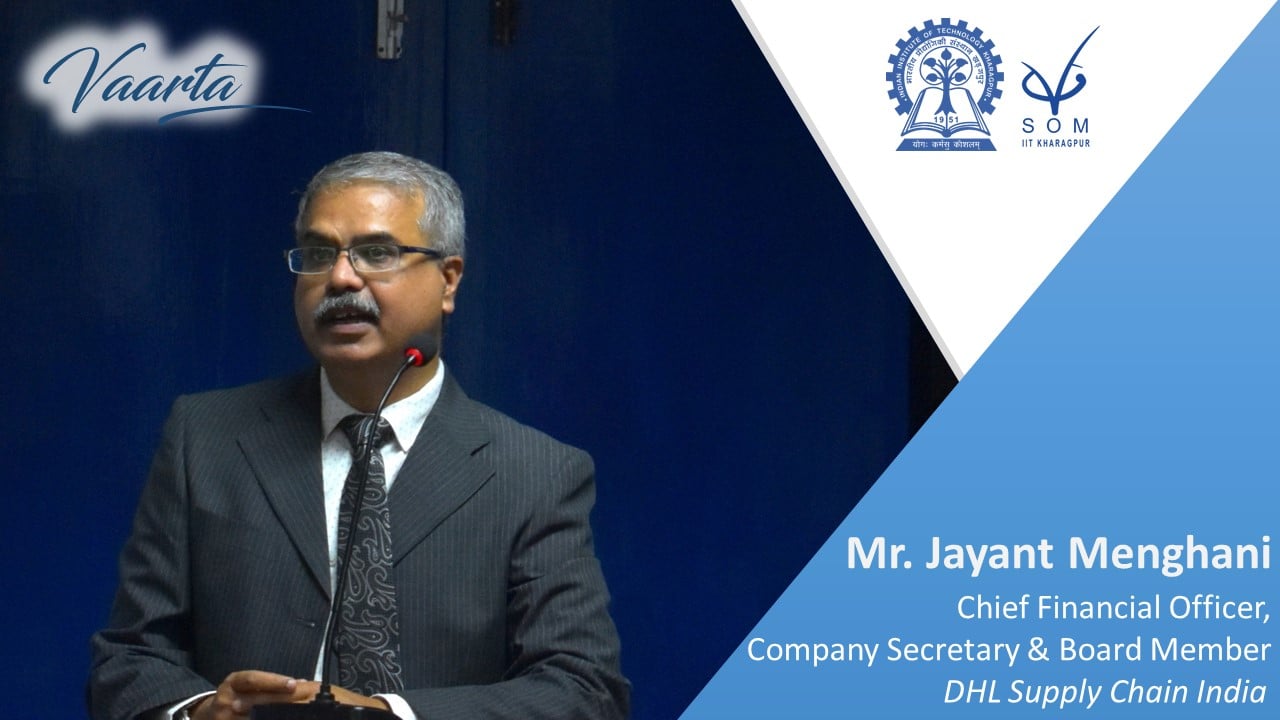 He started the session with a brief outline of Deutsche Post DHL, one of the world's largest logistics companies. He highlighted that DHL has managed to maintain superior safety standards despite the colossal scale of operations. He mentioned that every employee is encouraged to practice safety actively at work as well as home and that senior management is encouraged to periodically administer Gemba walks to identify the unsafe spots at the workplace. He further went on to break down logistics as a combination of two core functions - warehousing and transport. He discussed how robotics and automation are making warehousing safer, cheaper and efficient at the same time. The students were acquainted with the different models employed in logistics like the hub and spoke model.
Mr. Menghani then gave an overview of the operations of DHL India and how DHL India is achieving operational excellence by becoming a decentralized organization aiming to be closer to the customer. He touched upon the framework to perform a cost-benefit analysis for each new customer, the merits and demerits of closed and open book contracts in logistics. He further discussed the complexities in financial reporting and how organizations should pursue profitability and maintaining a healthy cash balance.
He concluded this highly interactive session by explaining how the digital revolution is reshaping logistics, moreover, he examined the possibilities of employing drones and utilizing waterways for transportation in India. He pointed out that despite the slowdown in the economy, the logistics sector is growing at a healthy pace. The session was followed by a thought-provoking Q&A round where he answered queries about finance and logistics. Before leaving the dais, Mr. Menghani reiterated the importance of safety and stated that "Safety should be our religion".
The Vinod Gupta School of Management, IIT Kharagpur thanks Mr. Jayant Menghani for his valuable time that he spent to conduct such a compelling session and sharing his fascinating insights with the budding managers of tomorrow.