It's that time of the year again – ADMISSIONS! As I look at yet another set of shiny, suited-up candidates looking at new ways to answer the question "Why MBA" without mentioning money in it, I am reminded of my own ordeals last year. What began as my idea of entering the big, bad world outside had me introspecting and reflecting on my own actions more than any other experience in my life.
It all began in March 2016, when I decided that I would appear for CAT that year. The decision was based more on a "why not?" kind of thinking – I was extremely happy with my job, so I was not desperate for a switch. But getting a post-graduate almost seemed mandatory, or so my peers would have me believe. Not wanting to pursue a Masters' in Computer Science (since I wanted to stay in Mumbai), I decided to take up the second most common option: an MBA.
Although my decision was not exactly rare, the factors that decided my choice of college definitely were. Unlike almost everyone I knew, I wanted to continue in my current domain even post my degree. Secondly, the rankings and placements of the college did not matter to me as much as its location did. Luckily for me, there was a decent (*understatement alert*) college in the heart of Mumbai that offered Information Management as its specialization. When I found out about SPJIMR, I immediately made it my top choice of B-School. With the benefit of hindsight, I can say that this was the right decision, but more on that later.
The process for SPJIMR was as rigorous as it was innovative. There were questions that made me look back on my life and try to figure out why I was, the way I was. The last time I had to do that was, well, never. The toughest part was the word limit. Although seemingly inconvenient, the limit did a great job of weeding out the chaff and forced me to change my style of writing from expansive to exact. Which, as evidenced by this piece, isn't a habit that I have carried forward with me, sadly. I tried to present as authentic a picture of myself as I possibly could. If I had some shortcomings, I made sure to enter it in the form. This had three advantages: I was ethical in my responses, it is generally far easier to defend the truth than a fake story in interviews, and lastly, the answers would stand out. The biggest advantage was that the ethos of the institute seemed to resonate with my own values. Humility, ethics, conviction – these were the qualities I wished to bring out through my answers – and through the official website, it seemed like these were the exact traits that the college was looking for.
Therefore, I was quietly confident of getting a call, either via the profile-based or the merit-cum-profile based shortlists. To the uninitiated, SPJIMR has a policy of rolling out profile-based calls around December every year to students with outstanding academic records, relevant work experience and/or exceptional versatility in extra-curricular activities. To my mind, this concept is extremely relevant, as it ensures that the CAT score is not the be all and end all for applicants. It also enhances batch diversity, which is so useful in an MBA classroom. However, despite my quiet confidence in my form answers, I was not selected in the first shortlist. Undeterred, I went on with my preparations for CAT. A slight word of caution to all aspirants: until I joined SPJIMR, I used to be proud of my time management skills, handling both my job and CAT preparations simultaneously. However, I now realize that putting in four hours a week of studies along with a steady job is not the zenith of prioritization, as I had imagined it to be. This is not to scare students away from an MBA, just to show them that they can achieve a lot more if they put their minds to it. Trust me, if someone as lazy as me can do it, anyone can!
Anyway, post my CAT results, SPJIMR rolled out its second shortlist, and to my utter delight, I was selected for the next round in the admission. Now, for this phase as well, the college has a very different process, as it administers group interviews instead of personal interviews, the first round of interviews went smoothly enough for me. As a computer engineer wanting to make a career in IT leadership, Information Management was the ideal specialization for me to pursue, and it was very easy to justify my career choices in the interview. I was again quietly confident of making it through to the next round. Although it may not come across in this article, I am not usually confident about outcomes, as I have this irrational (but totally valid) belief that I jinx my own self. Luckily though, I got through to the next round, which was yet another group interview. However, this time, instead of asking us about the motivations behind pursuing an MBA, we were grilled about our value systems and opinions on personal and professional responsibilities. The entire hour-long process reminded me of me in my brother's wedding – I was all blazered up, looking good, surrounded by multiple strangers, did not talk until I was spoken to, and constantly wondered how much my life would potentially change after that day. After the second round, I thought I had blown my chances of entering my dream college. However, (*spoiler alert*) I managed to get through this round as well and secured admission to one of the best B-schools in the country, in case you haven't figured it out already.
So, what worked for me? I am going to tell you the three words that every MBA loves to say – I don't know. If I had to guess though, it would be the fact that I was true to my own self in both the forms and the interviews. I did not try and present a fake version of myself, and as a result, my answers had a lot more conviction in them. For example, when asked about the three factors that I would consider while choosing a B-School, I put placements right at the top of the list. However, if you feel like you can fake it till you make it, go right ahead, and tell me how you did it as well. Another factor that was extremely important was my form. When I first got to know that SPJIMR had a detailed written form, I was extremely happy, as it allowed me to put my thoughts across through writing, which seems a lot easier to me than talking about myself. I put in a lot of thought into my answers, which I feel gave me an edge in the first round of interviews. The first round was mostly about how well SPJIMR fit into my career, and the second was about how well I fit into the college's value system. So, if you follow all these steps, and if you manage not to jinx yourself along the way, who knows, next year, I could be making awkward conversation with you in person!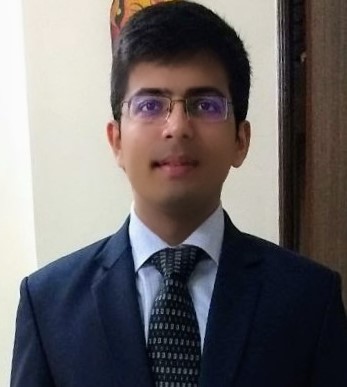 PGDM Candidate, SPJIMR, Mumbai