Highlights as per the placement report -
Overall 98 companies participated in the Summer Placement Season.

The average stipend at MDI jumped to

INR 2,10,000,

a significant rise of

10%

over last year with the highest stipend being

INR 3,20,000.
55%

of students got over INR 2,00,000 stipend for the entire duration.

The average stipend of

top 10%

of the batch is

INR 2,80,000.

More than

96%

of the batch received 6 digit stipend for the entire duration.

43% of offers came from Sales and Marketing, followed by 24% in Finance, 14% in Strategy, 8% in Operations, 7% in General Management and 4% in IT/ITes.

Investment Banking roles were offered by the likes of Avendus Capital, Goldman Sachs, JPMorgan Chase & Co., Langham Capital and Nomura.

Private equity roles were offered by companies like Cube Highways and India Alternatives.

Many leading healthcare companies like Abbott, AstraZeneca, Becton Dickinson, Cipla, Eli Lilly, GSK Pharma, Medtronic and Novartis recruited from campus.

New recruiters included Aon Consulting, BMW, FinIQ, Flipkart, General Electric, Kraft Heinz, Maersk, Samsung, TATA Sky, Uber and Walmart.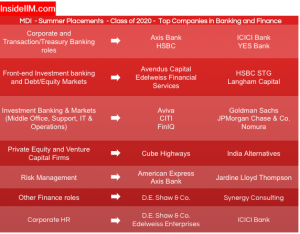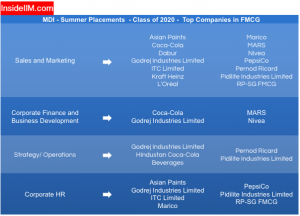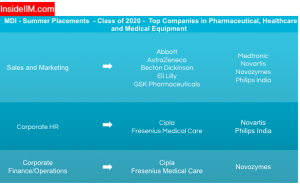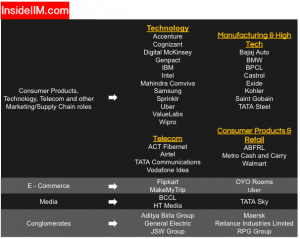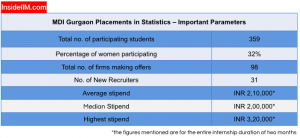 *Editor's Note – If you want to get placement report of your b-school published and promoted by InsideIIM.com, please get in touch with Nidhi at nidhi.malkan@insideiim.com