"You cannot create experience. You must undergo it." Said Albert Camnus. Future managers at MDI- Gurgaon are following it in letter and spirit. Apart from the usual placements and guest lectures, students are doing live projects and case studies to connect to the industry. They help corporate solve real issues through live projects, perform market research on their behalf and also conduct high quality research on emerging areas. Through an event called Delphique (that is derived from the famous 'Delphi' method of research) students at MDI focus on conducting research in collaboration with industry.
MDI Gurgaon's 18th Annual National Management Convention Delphique has created quite a pre-event buzz this season. After associating with big brands for the research panel discussions, it has now on board the big shot Managing Directors and CEOs to grace the 3-day convention with their presence.
Mr. Manoj Kohli, MD, Bharti Enterprises shall be coming in for the Inauguration Ceremony of Delphique 2014 as the Chief Guest. Mr. R. S. Sharma, MD & CEO of Jindal Power would be gracing the Dinner Ceremony where key dignatories such as Mr. K. S. Popli, Chairman, IREDA, Mr. Rahul Munjal, MD, Hero Future Energies have been invited.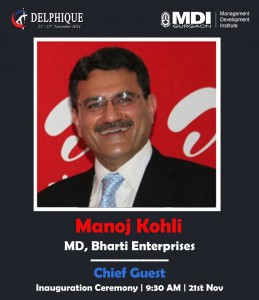 With these business tycoons coming down to its campus, MDI Gurgaon is the place to visit, during 21st-23rd November 2014. Students can join in to witness panel discussions with Ernst and Young, Coca-Cola, Western Union, Encyclopaedia Britannica, Lafarge, ZS Associates, Hero Future Energies, Aricent, DSM and Michael Page. The research teams of these panels have completed projects in complex areas like Digital Marketing where the objective was to leverage social media to increase awareness and help raise funds for "Support My School Campaign". The convention has partnered with Western Union for the third year; the team has done research on Online Payment Gateway Service for cross-border transactions. Mr. Shetty, MD, South Asia, Western Union would be commenting to evaluate the research. Infrastructure is a key topic for research among corporates; for Ernst & Young the research is in terms attracting capital and for Lafarge the research is in terms of projects and building material for the project. For a complete list of research topics please visit: http://mdi-delphique.com/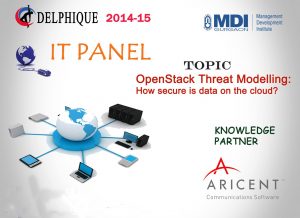 The research team part of the Coca-C0la panel also got a chance to be present during the launch of "Support My School Campaign Season-3" with Venkatesh Kini, President Coca-Cola India and South West Asia, actress Anushka Sharma and Vikram Chandra, CEO NDTV on Children's Day.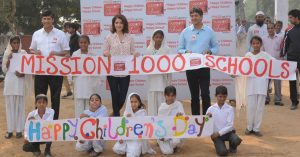 The Convention shall also host two other events, MDI Gurgaon's flagship B-Plan competition Vincenza and the coveted case study competition Cerebro. The convention has partnered with Cognizant Business Consulting for Cerebro. For Vincenza, Delphique has partnered with MIDAS, 91Springboard, Stern Fisher and India Angel Network this year. The Delphique team received a lot of entries for these two events from various B-schools across India. The finalists were chosen after a rigorous screening of the submissions. We hope to see a neck to neck competition among the finalists during these two events.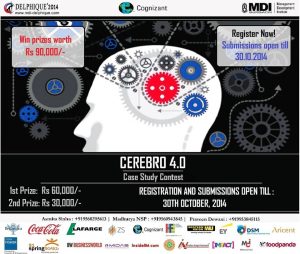 With entrepreneurship being the new order of the day, Delphique is also holding a panel discussion for budding entrepreneurs this year. The discussion shall be graced by some eminent names in the industry- Mr. Pradeep Gidwani, Founder, Beer Cafe and The Pint Room; Mr.Parag Shah, Chief Mentor, MIDAS; Mr.Prasoon Gupta, Co-Founder, Sattviko and Mr.Vikram Chopra, Co-Founder & CEO, Fabfurnish.com. This discussion is bound to ignite the spirit of entrepreneurship among the student fraternity.
The valedictory ceremony is planned for the 23rd with the address of Mr. Sunil Kant Munjal, Joint MD, Hero MotoCorp. With so many industry associations and renowned keynote speakers associating with the event, Delphique 2014 is surely going to be an enriching experience for all the participants. We hope to see you there too!