Live Projects are a critical part of our students' corporate learning and all students are encouraged to pursue them throughout their study at MISB Bocconi. In order to enhance that learning experience, a lot of internships began with Live Projects where students were allowed to work with their companies immediately post selection, for a limited number of hours per week and report to their mentor as per mutual understanding. This allows greater learning when students begin their full-time summer internship and hit the ground running on projects.
The Summer Internship process begins mid-October with our students receiving the most amount of interest from the BFSI sector followed closely by the Manufacturing, E-Commerce, Luxury & Fashion and Retail sectors.
The other sectors that drew interest were the FMCG, Telecom, Media & Advertising and Publications.
Several companies showed interest in hiring from our largest batch, thus far, at MISB Bocconi. We make bold the recruiters that visited us for the first time.
Students secured internships from the following Companies headquartered outside of India. Accor Hotels, Agom, Brembo, Carlsberg Asia, DHL, Estée Lauder Co., Ferrero, Fiat, GEP, ITC Ltd., Konsalidon, Luxottica, Magneti Marelli, Mondelez International, Michael Page, Ognibene, Pepsico, Phillip Capital, Piaggio, Scuola Di Robotica, and Vodafone.
Students secured internships from the following companies headquartered in India. Aditya Birla Capital,
Elara Capital, Flexiloans, Future Group, ICICI Bank, ICICI Prudential, IIFL, L&T Infotech, Max Life, Netcore, SBI Life, Soulflower, The Label Life, and Yes Bank.
The internships outside India were from the following companies AGOM, Konsalidon, Ognibene, Scoula Di Robotica.
The average domestic stipend for the internship is INR 27,000 with the highest stipend at 2,00,000.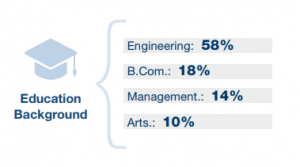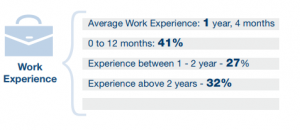 Recruiters Functional Profiles / Roles and Industry and Sector-wise Breakup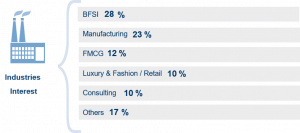 Summer Internship projects are an amalgamation of self-assessment and aspirations, but with the basic fundamentals required by a company. Customizing Summer Internships that allow students to explore their passions and interest has been one of the aims of the program.
Functional Profiles & Role Interest
The Sales & Marketing profiles included roles within Retail Management, Digital Marketing, Advertising and Content Writing and e-Commerce.
The BFSI segment included roles under Financial
Advisory, Corporate Finance and Accounting and Real Estate and Infrastructure Finance besides Sales & Marketing.
A lot of Analytics / Information Systems based assignments and projects were embedded within the many roles offered, including within Human Resource Management and Marketing.
The Operations profiles were mainly within the manufacturing domain and the FMCG / Retail Space.