To Read the first part on tips regarding NMAT, click here.
IIFT is easily among the top 15 MBA College in the country and hence its separate entrance test is one of the most tricky to clear.
It is somewhat of a mix of a speed, accuracy and selectivity. To start with, it is a 2-hour test that consists of around 110-125 questions.
What differentiates IIFT from CAT is that -
20 odd questions from GK with a sectional cut-off for this section, most questions are on current affairs with a mix of static and general GK questions. Cut-off is around 1-3, so avoid doing guesswork.
Data interpretation is extremely calculation based and has huge tables, in short a nightmare to solve.
Reading comprehension is tedious and will take a lot of time to solve, the ability to discover the easier passages will come in handy here. Speed reading is a must.
Verbal and Logical Reasoning are easier than CAT.
IIFT keeps changing its pattern so don't go in with a predetermined strategy, be ready to adjust and change your mindset.
Paper based test and so, gaining an overview, attempting or letting go of questions is easier compared to a Computer Based Test.
You must allocate sufficient time to mark the questions.
A general strategy for IIFT:-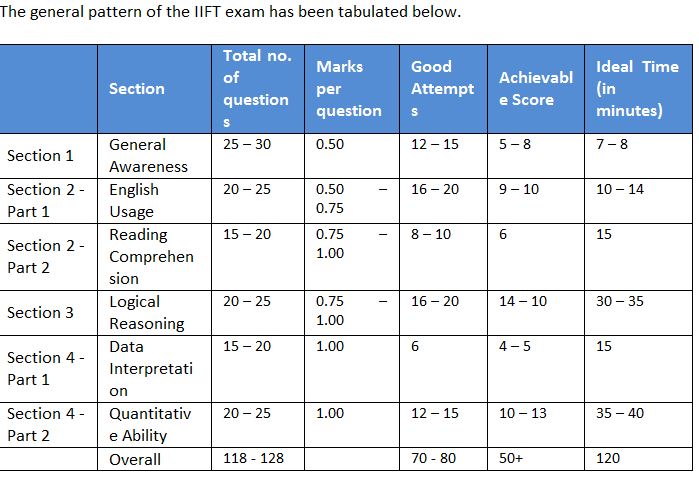 Again this is just a general strategy/time allocation that you can use for IIFT, be prepared to make some changes according to your strengths or changes in pattern.
Use previous years papers and mocks as a measure of how well you are doing, Solve all previous year IIFT papers.
The best source to prepare for current GK is any good newspaper. Besides newspapers, you may prepare current affairs of the last 12 months from any reputed magazine or enroll for Handa ka Fanda courses for GK.
Time Management: Do carry a watch.
Balancing your score across all the sections: Since there are sectional cut-offs (even though it is generally very low) first focus on clearing the sectional cut-offs and then maximise your overall score by attempting the section in which you are the strongest. In my case I focused on LRDI since that was my strong part.
The exam is tough because the number of seats are very few, so the room for error is minimal, get adequate sleep before the exam.
Whatever you are physically...male or female, strong or weak, ill or healthy--all those things matter less than what your heart contains. If you have the soul of a warrior, you are a warrior. All those other things, they are the glass that contains the lamp, but you are the light inside.
You were born a winner, a warrior, one who defied the odds by surviving the most gruesome battle of them all - the race to the egg. And now that you are a giant, why do you even doubt victory against smaller numbers and wider margins? The only walls that exist are those you have placed in your mind. And whatever obstacles you conceive, exist only because you have forgotten what you have already achieved.
To Read the first part on tips regarding NMAT, click here.
To Read the third part on tips regarding XAT, click here.
To Read the story of how I cracked CAT, click here.