As a CAT aspirant, it is imperative to prepare oneself for the decision of selecting the best fit institute. Not everyone is aiming the BLACKIS or XLRI. Sometimes even with a 99.5+ %le, people from little less financially stable backgrounds would opt for colleges with a better ROI rather than a better brand value. So certainly there is no generalized rule for selecting an institute. Pursuing an MBA is not only about the academic effort one needs to put in but also requires careful selection of options available since an investment of this magnitude is always risky.
This article will help you to prepare and weigh two institutes of more-or-less comparable stature to make an informed decision.
This article will focus on the two very well-known institutes, NITIE Mumbai and SJMSOM (IIT Bombay). We will typically look at the rankings, admission criteria, curriculum, placement statistics, fees, alumni presence across industry sectors and special programs.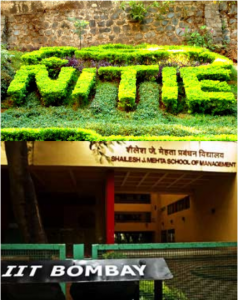 Rankings
| | | | |
| --- | --- | --- | --- |
| | Inside IIM | The Hindu Business Line | Business Today |
| NITIE Mumbai | 15th | 13th | 12th |
| SJMSOM IIT Bombay | 16th | 18th | 21st |
*Inside IIM rankings are based purely on the feedback provided by the aspirants, ongoing students and the alumni.
Set up against the backdrop of the majestic Vihar Lake with the Sanjay Gandhi National Park and Powai Lake, NITIE Mumbai stands tall in its own brilliance. A truly unique initiative by the then Govt. of India in 1963 created a centre of excellence for industrial engineering. NITIE or National Institute of Industrial Engineering which started off as an institute for industrial engineering now offers Post graduate diploma in Industrial Engineering(PGDIE), Industrial Management (PGDIM), Industrial Safety and Environmental Management(PGDISEM) etc. The Institute has been recognized as one of the 15 centres of Excellence along with the seven Indian Institutes of Technology (IITs), six Indian Institutes of Management (IIMs) and Indian Institute of Science (IISc) by the Ministry of HRD, Government of India.
NITIE considers only CAT percentile for its application in PGDIM & PGDISEM.
It considers GATE for PGDIE, PGDMM and PGDPM and for fellow programme application based.
Candidates should have an Engineering/Technology graduation degree in any branch with aggregate 60% marks (55% in case of SC/ST/PD candidates).
NITIE doesn't disclose the selection criteria for any of its programme. For GD/PI shortlisting, calls are made solely on the basis of CAT/GATE score.So a high score can get you a sure shot call from NITIE.
Generally, a CAT score of 97%le will fetch you a sure shot GD/PI call.
NITIE doesn't disclose the selection criteria for final merit also but the following figures had been shared by NITIE AdCom.
| | |
| --- | --- |
| CAT %le | 30% |
| GD | 15% |
| PI | 30% |
| Xth | 10% |
| XIIth | 10% |
| Graduation | 5% |
Shailesh J Mehta School of Management, IIT Bombay
Shailesh J Mehta School of Management was established in 1995 under the aegis of IIT Bombay. IIT Bombay, being a household name in the country, attracts the best of talents around the country for its management programmes. After six long decades, IIT Bombay has not only managed to put itself to be amongst the country's top-notch technical institute but also created a brand of successful managers who have proliferated the business positions along the length and breadth of the nation.
Programs offered by the institute are as follows:
Doctoral program (PhD) in Management.
Master of Management: Two-year Full-time (Flagship Program).
Executive MBA jointly with Olin Business School, Washington University in St. Louis(USA).
Tech (Minor) Courses in all areas of Management.
Certificate and Management Development Programs.
SJMSOM considers only CAT percentile for its application in Masters of Management program for Indian candidates and GMAT for international candidates.
Candidates should have a four year Bachelor's degree or a Master's degree in any discipline with first class or 60% marks (55% in case of candidates belonging to SC/ST category) in aggregate (including all years/semesters) or a minimum CPI of 6.5 (6 in case of candidates belonging to SC/ST category) out of 10
CA/ICWA, with a first-class Bachelor's Degree in any discipline having secured 60% marks (55% in case of candidates belonging to SC/ST category) in aggregate or a minimum CPI of 6.5 (6 in case of candidates belonging to SC/ST category) out of 10.
Those appearing for the final degree examination can also apply.
Candidates are shortlisted on the basis of their score in the CAT exam. Minimum CAT percentile required is 90%le overall. Cut off %le for 2018 batch was 98.3%le.
The shortlisted candidates are then asked to appear for the Written Ability Test (WAT) and Personal Interview.
Shortlisting Criteria & Final merit list criteria is given as below:
| | |
| --- | --- |
| Parameter | Weightage |
| Performance in CAT | 80% |
| Academic Profile: | |
| 12th | 5% |
| Graduation | 5% |
| Gender Diversity | 3% |
| Post-Graduate/Professionals | 2% |
| Work Experience | 5% |
Final Merit List Criteria:
| | |
| --- | --- |
| CAT overall %le | 37.5% |
| Academic Profile | 15% |
| Personal Interaction(WAT & PI) | 43.5% |
Current Batch Size:
In NITIE Mumbai, the current batch size includes 274 students for PGDIM and 39 (including 15 from sponsored candidates) for PGDISEM.
In SJMSOM, a total number of students for Masters of Management program is 220.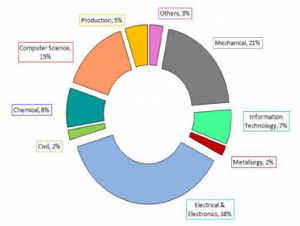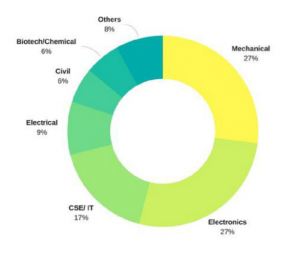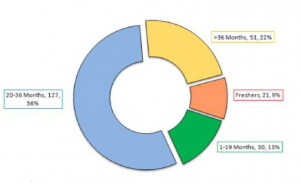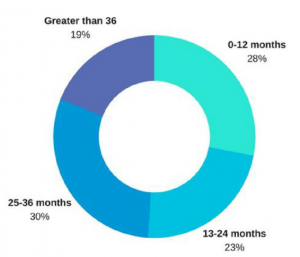 NITIE Mumbai has already completed its final placement for the outgoing batch of 2018 with a stellar performance.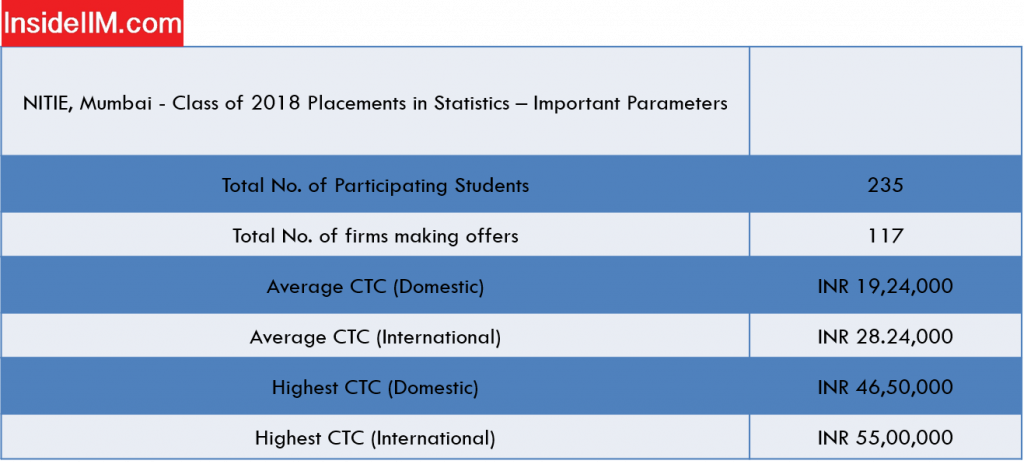 The average CTC offered was INR 19.24 LPA, while the highest International CTC offered was 55 LPA and Domestic CTC was 46.50 LPA this year.
The average CTC of the top 10% of the batch is INR 33.14 LPA and that of the top 20% of the batch is INR 28.44 LPA.
The average salary offered this year was 19.84 LPA for PGDIM Batch, 17.35 LPA for PGDIE Batch, 15.14 LPA for PGDISEM Batch, 16.39 LPA for PGDMM Batch and 15.71 LPA for PGDPM Batch.
117 business organizations including MNCs participated in the campus placement and made offers.
The season saw companies like Airtel, Accenture, Ab InBev, Amazon, Colgate Palmolive, Deloitte, E&Y, KPMG, HUL, P&G, Marico, Nestle, PwC SDC, PwC, to name a few.
SJMSOM has not yet published its final placement report for the batch of 2018, hence we will highlight the statistics of 2017 batch which comprised of 115 students.
The average CTC offered was INR 17.63 LPA, while the highest CTC offered was 29.9 LPA.
The students were able to secure 48 PPO/PPI during the course of their summer internship.
52 recruiting companies participated in the placement drive and 17 were new amongst them.
Fees:
| | |
| --- | --- |
| NITIE | Rs. 8,10,000 |
| SJMSOM | Rs. 2,29,600 |
Pedagogy:
In NITIE Mumbai, the academic year has been split into 3 modules, hence it follows a trimester approach. After the completion of the 1st year, students opt for summer placements for two months before returning for the second year. It is a fully residential programme. Here are the course highlights:
There are 16 core courses which are fundamental for all such as a) Industrial Engineering and productivity management b) Operations management c) Managerial accounting d) Financial Management e) Managerial economics f) Operations research g) IT management etc.
Students are allowed to take 10 stream specific elective courses from the electives listed under different areas in respect of PGDIM programme and 5 electives (called open electives) from the lists of electives of other PGPs of the Institute.
The Programmes are designed to create holistic managers who have the ability to think laterally and also possess sufficient knowledge and skills which are required to be successful in business management. To help develop the student's acumen a mix of analytical thinking and intuitive approach is used. These include case lectures, case studies, seminars, group discussions, seminars, group discussions, roleplays, simulation exercises, business games and field visits.
SJMSOM follows the same engineering semester design i.e. two semesters per year. In the first year, the students go through 23 rigorous courses through which student gain knowledge of all the disciplines of management. After the completion of the first year, the students are expected to do a summer internship for two months.
The 23 core courses comprise of a variety of management education starting from a) Statistical Methods b) Operations Research c) Marketing and Management d) Corporate finance e) International Business etc.
The electives offered by the institute in the second year is wide-ranging such as
a)IT Systems ; b)Economy and Strategy; c)Operations and Technology Management ; d) Accounting and Finance ; e)Marketing f)General management etc.
One unique feature of the program is that apart from the regular courses on Finance, Accounting, Operations and HR, SJMSOM prepares for technology management with core courses like Technology Policy, R&D Management and Managing technology transfer. Also, innovative courses like "Mission, Vision and Leadership" provide an opportunity for the student to work under the mentorship of Indian Business leaders and to hone their leadership skills.
Student Exchange Programmes:
The International exchange programme is relatively new and had started approximately 2-3 years back. There are four programs for student exchange which are as follows:
Immersion Program: NITIE students would participate in an immersion program where they will spend 2-3 weeks of intensive interaction which will comprise of classroom, industry and also cultural interaction.
Guest student program: Selected second-year students of NITIE will spend one semester at the partner university.
One plus One program: This program includes a First Year foundation program at NITIE, after which the student will be absorbed by the Host University for the second year.
Dual Degree Program: Students will spend two years at NITIE and one year at the host university. At the end of the third year, students would be awarded diploma from NITIE and specialized degree form Host University.
University of Pittsburgh (USA), Ecole Centrale de Lille (France) and University of Alabama are its current International Partners.
The student exchange programme is not yet fully functional in SJMSOM though it is active in few stages. The International Relations team is working towards organizing study tours for select students every year. There is faculty exchange programme for which many faculties travel internationally for research.
NITIE has a vibrant alumni base spread across the industry sector who are holding key positions in the country's most prestigious organizations. Most FMCGs have NITIE alumni seated as the chief supply chain executive. A lesser-known fact is that a huge number of NITIE alumni work in the BFSI sector as well. SANSMARAN, the annual event held by NITIE where the alumni meet the present batches provides an excellent medium of networking.
Since SJMSOM lives under the aegis of IIT Bombay, it enjoys the alumni connectivity of not only its past students but also the engineering alumni from time to time. IIT Bombay alumni is not only restricted to India but has major presence globally. Several alumni interaction events such as "Avenues", "Continuum" and "Diksha" are hosted which strengthens the bond between the current and former students.
The campus boasts of year the round activities starting from the most talked about annual business fest "Avartan" and the cultural fest "Arohan". The campus seems to never sleep because of the plethora of activities one can find here. Every person out there has an opportunity to relive his/her passion through the different forums/committees the institute has formed. Committees range from Placements, sports, alumni, International relations, cultural, Young Entrepreneurship etc. One can find different forums to his/her liking also such as Photography, Dramatics, strategy and quizzing, Spic macay, Rotaract etc. NITIE premier League which has been a raging success for the past few years is a cricketing tournament simulated on the lines of IPL which acts as a refreshing break from the academic rigor.
The school of management not only lies emphasis on academics but also on the holistic development of its students. Hence one would find
a) Opera-operations club; b) Marketrix-marketing club ; c) Consig - Consulting Club ; d) Systematics - Systems Club ; e) Finesse - Finance Club; f) Humane - HR Club ; g)E-Club - Entrepreneurship Club ; h)Spike - Sports Club to hone their theoretical skills into practical ones.
"AVENUES" which is a major event of SJSOM ensembles business and management events with the objective of learning combined with fun. Several seminar series which is bannered under the name of "Continuum" is organised.
NITIE boasts of the tallest hostel building in India and the library along with IIT's, IIM's is a core member of INDEST Consortium, an initiative of MHRD which enables high profile scientific and management journal access easily. Classrooms are hugely spacious and are equipped with modern day projectors and screens for an excellent learning experience. Various sports facilities such as Badminton, Table Tennis, Basketball, Volleyball, Cricket etc are present. The campus has been often termed as "God's own campus" due to the scenic beauty it has to offer.
One of the 15 Centers of excellence.
Arguably the best institute in India for Operations and SCM.
Excellent ROI.
Location advantage being In Mumbai.
Research centres for Technology and Innovation Management, Centre for supply chain Management etc. provides tremendous insight into real life techno-managerial domains.
Not much diversity owing to the fact that only engineers are allowed.
Gender diversity is also very less. Approximately 20-30 female students are there in a batch of 250.
Lesser Brand Value compared to IIM's. Even though very famous in the Industry circle but not famous amongst the common population.
Students at SJMSOM can avail the best of infrastructure on the campus. State of the art Libraries and classrooms equipped with the latest audio-visual aids. Students can also avail world class facilities of IIT Bombay which includes the Central Library, Student Activity Centre, Convocation Hall, F. C. Kohli Auditorium, and Sports Facilities like Swimming Pool, Tennis Courts, Squash Courts, Badminton Courts, Basketball Courts, Football ground, Cricket Ground, Hockey Ground, Gymnasiums and many more.
One of the 15 Centers of excellence.
Due to a lesser batch size, the networking and placements are good.
Shares the brand name of IIT Bombay.
Excellent ROI even better than NITIE.
Location advantage being In Mumbai.
State of the art infrastructure facilities.
Alumni Base
IITs are technology institutes hence MBA from there would still be considered secondary to IIMs.
Student exchange programmes till now have not been fully functional.
Niche Marketing/Consulting/Finance profiles are not offered to the extent of the older IIMs. Even though Operations management has made a mark in the industry sector.
Even though NITIE Mumbai and SJMSOM seem similar in many aspects but these two world-class institutes are also intrinsically different in many facets. This article doesn't aim to find the best out of the two institutes. Rather, the main motive is to provide a comprehensive analysis of what these B-schools have to offer. An MBA from any one of these would surely be a life-changing experience.
(This article is completely based on secondary research)
If you have any suggestions or opinions, let me know in the comments below.