Professor R. Sesha Iyer is this year's InsideIIM Professor Of The Year at SPJIMR Mumbai! Prof. Iyer already won the InsideIIM Professor Of the Year in 2019. Here's why Dr. Iyer deserves to win the title for the second consecutive time.
Note - The winner(s) of the InsideIIM Professor of The Year has/have been chosen by current MBA students of a particular campus. The voting started in February 2020, and MBA students nominated their favourite professors here. The professor(s) with the maximum number of votes has/have been declared the winner(s) in 2020!
Meet Dr R. Sesha Iyer - Professor at SPJIMR Mumbai, InsideIIM Professor of The Year In 2020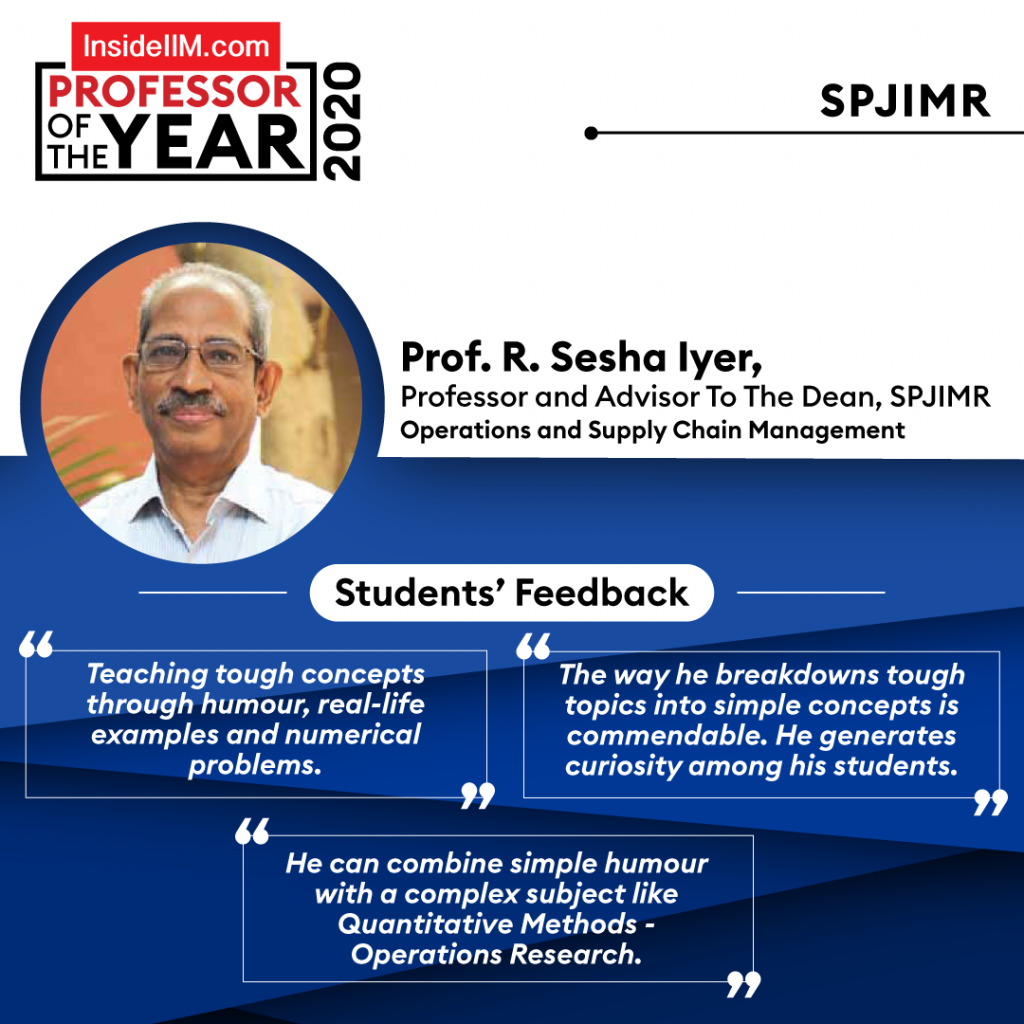 Dr Sesha Iyer is a professor and advisor to the dean at SPJIMR. He teaches operation management, quantitative techniques, decision science, manufacturing planning control and supply chain management at the institute.
Professor Iyer, a Mechanical Engineer, who later did his PhD in product management at the University of Mumbai.
Prof. Iyer has 14 years of industry experience. He began teaching at SPJMIR as Director in 2007 and got promoted to professor and advisor to the dean in the year 2015. Before SPJMIR, he was the principal at Fr. Conceicao Rodrigues College of Engineering.
(Below) Dr Iyer was awarded for his outstanding contribution in the area of Operations Management. HEF celebrated Teachers' Day on 9 September 2017.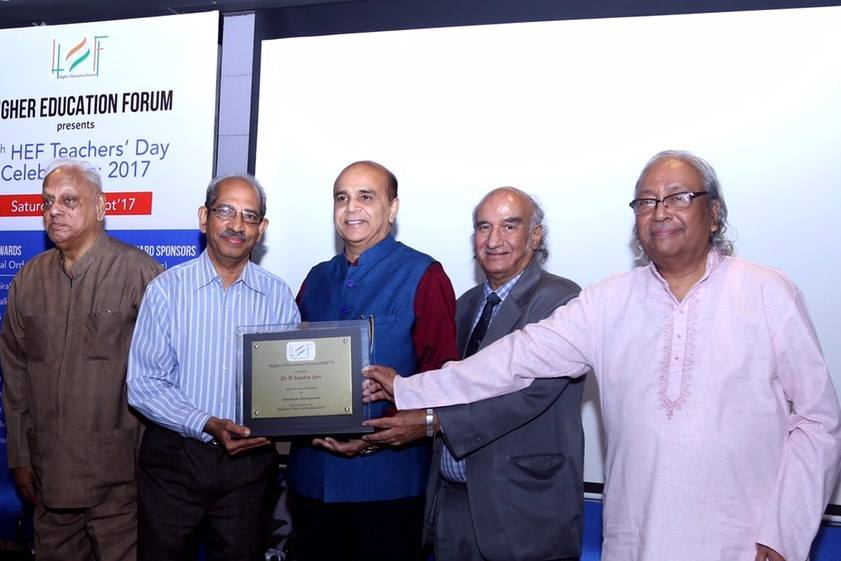 Read more about Prof. Sesha Iyer here.
InsideIIM Professor of The Year 2020 - What Students Have To Say About Professor Iyer
"One of the most witty teachers. He mesmerizes students with his tone and gives straight to the point answers." - 2nd Year Student At SPJIMR
"He gives simple explanations of concepts. He starts topic from the basics so that everyone understands it properly." - 1st Year Student At SPJMIR
"You just cannot sleep in his class. He is a hard-core academician and understands the psyche of the students well. I had never worked on Excel Solver before nor had any experience with statistical modelling. But he made the course really interesting for us." - 1st Year Student At SPJMIR
The following are professors at SPJIMR who missed out on winning the title of InsideIIM's Professor of The Year in 2020, but are loved by SPJIMR students are -
Prof. Srivatsan Lakshminarayan - The classes were incredible and he was able to make difficult concepts so easy for the students. The industry examples which he gave were also very interesting.
Prof. Renuka Kamath - She makes classes interactive & interesting by making use of simulations. She brings in vast industry knowledge to the classroom which helps one to gain a holistic insight into business environment.
Prof.Prem Chandrani - He challenges you a lot in class and engages with you. He makes sure that each and every student understands the subject. He also has this way of interacting with us that just leaves us smiling - making us feel good about ourselves.