Summer placements this season have been something of a party, at least at top B schools. Students from here have been making their joy known on Facebook, and for once, the draconian Placecoms didn't seem to mind. From the victory dance at MDI Gurgaon, to euphoria at IIM L, B schools are having a good time. XLRI is having a great time. For the second year in succession, XLRI is the first to report its summer placements on InsideIIM. Summer placements were excellent for the batch of 2015 last year , especially in the form of a greater width and depth of profiles in finance. This year, it is even better. Here are some of the highlights of this summer placement season.
(Promotion : The Smartest in the country take the XAT. Are you one of them. Register now.)
Highlights of summer placements at XLRI (as reported by the placement committee)
- Largest ever batch of 365 students gets placed in record time of 3.5 days yet again with the Business Management Batch (184 in strength) getting placed in 2.5 days.
- XLRI launched a parallel placement process called "Parivartan" for the students who voluntarily withdrew from the conventional placement process and sat for interviews in various top notch NGOs and Not for Profit Organizations. The agenda was to facilitate and offer opportunities to students who genuinely intend to participate in the social sector organisations. Two students were placed with the Tata Trust. The process was held and completed before the conventional Summer Placement Week.
- International stints in summer internships increased, with firms like M.H. AlShaya, ABG, Altisource, HUL, Kellogg's, Nomura, Pepsi, Godrej and a European Hedge Fund offering overseas roles.
- Paid internships for all the students (consistent record in this area was maintained this year).
- Carlyle recruited exclusively from XLRI. Avendus Capital recruited for its front end PE Syndication & M&A Advisory role. World Bank offered its Structured Products role to XLRI. The European Hedge Fund after offering it's only PPO to XLRI returned to hire summer interns.
- XLRI had participation from PE / VC firms like Uniquest Infra Ventures and an Angel Fund.
- P&G's and Nestlé's S&M role for the Business Management students for Summer Internships returned after a long hiatus.
- Around 46% of the offers were in the form of new roles that opened up on campus.
- BCG continued to hire summer interns from XLRI. BCG hired from the HR programme for the first time this year.
This year again, we have good granular data on the BM and HRM program. For each domain reported below (Banking and Finance, Consulting, FMCG, etc.), the last row indicates HR roles from these companies, offered to students from the HR programme.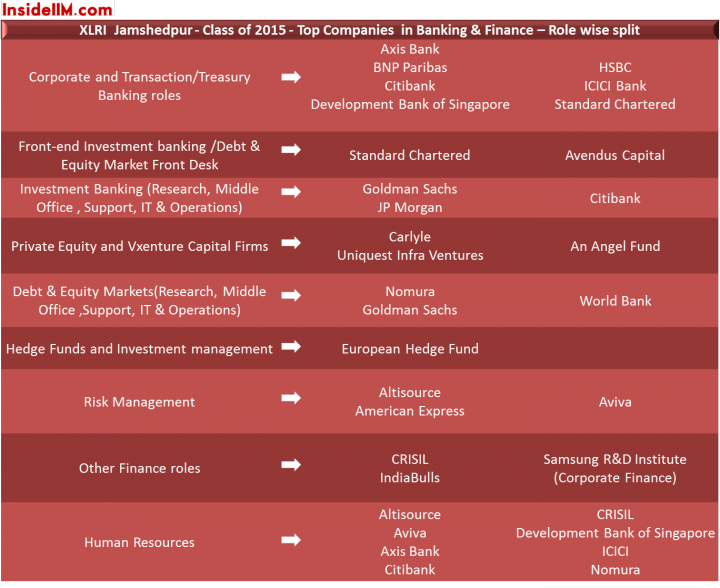 Consulting and General Management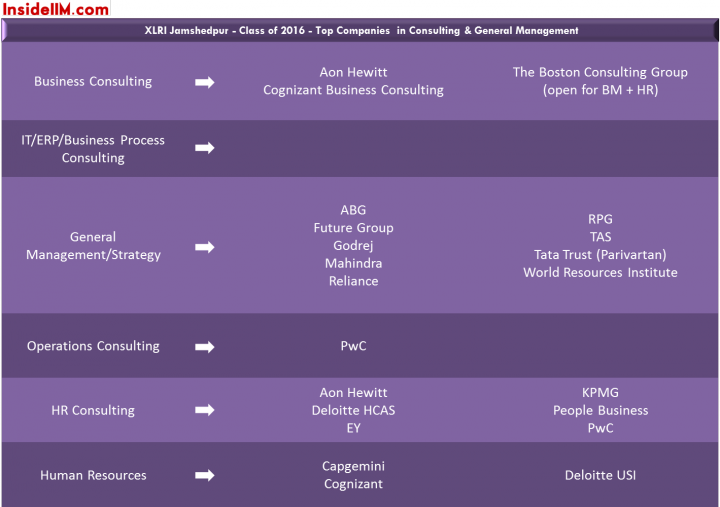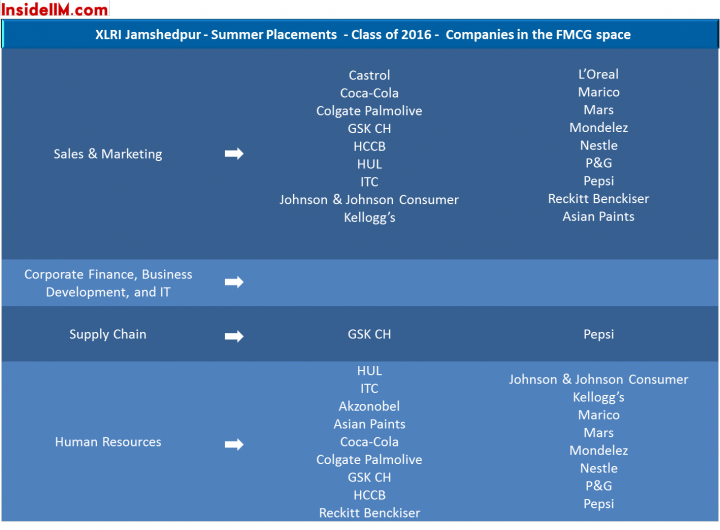 Technology, E-commerce, Media and Telecom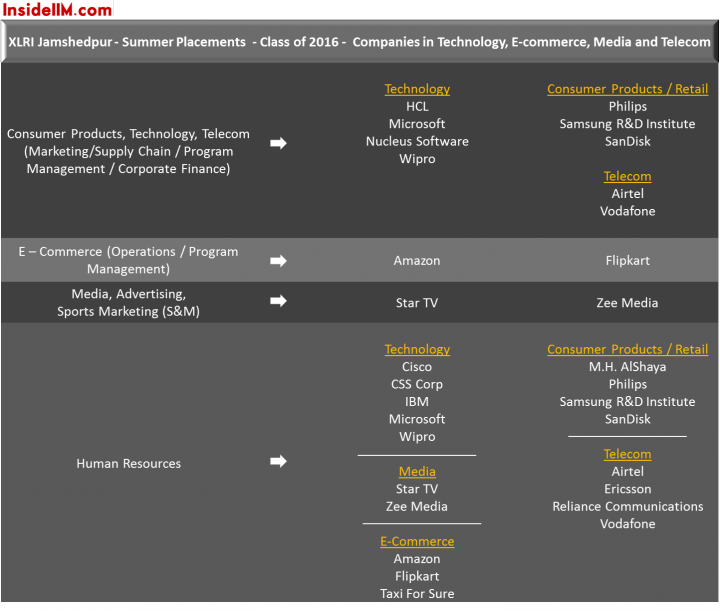 Pharma, Other BM and HR Roles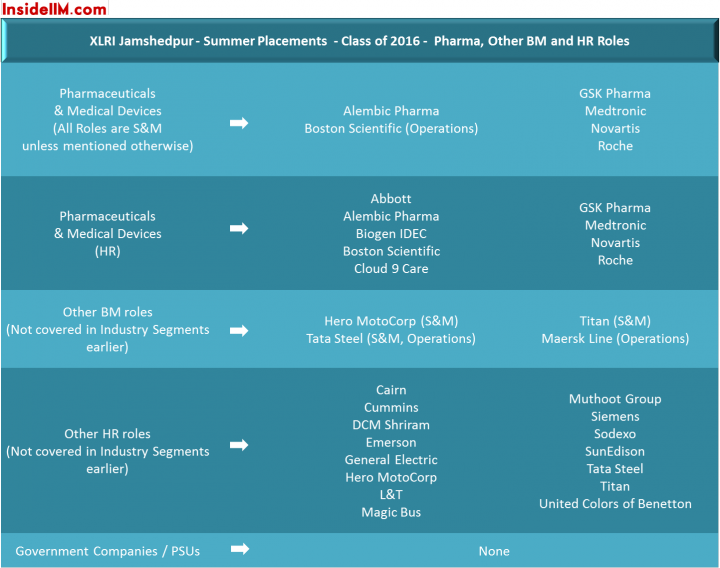 Other Important Data You may be interested in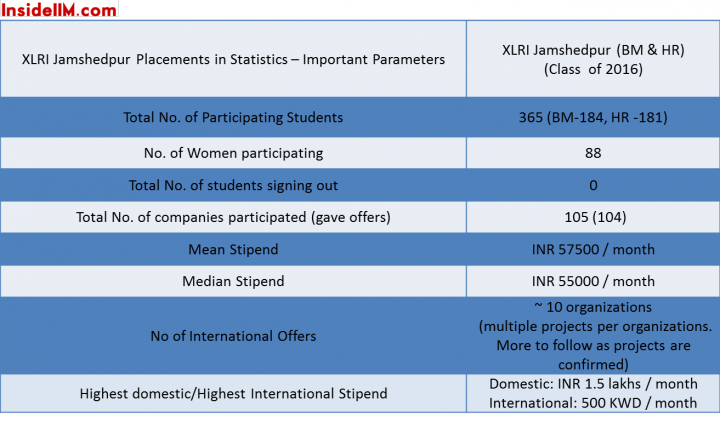 We would like to thank the placement committee and the External Linkages Cell of XLRI Jamshedpur for providing information in the InsideIIM.com format. They have been very forthcoming in sharing information and solving our queries. We believe it will be of immense help to readers, aspirants and recruiters.
(Promotion : The Smartest in the country take the XAT. Are you one of them. Register now.)
We must put a disclaimer that despite our best efforts it is not always necessary that the data given to us is 100 % accurate.
In case you wish to point out anomalies in the report, do write in to us at editor(at)insideiim(dot)com. We will try to clarify it with the placement committee. Anonymity will be ensured.
Track the official book of XLRI Media Cell on InsideIIM here.