Will Football overtake cricket in India?
Our hearts scream 'YESSS', but our minds say 'No'!
Yours truly,
Adarsh (Tottenham Hotspur/Belgium) and Sayan (Barcelona/Argentina).
We are two of the most hardcore and passionate football fans you will ever get to meet. But, even we know when to accept the truth, however hard it may be to digest. Football is NEVER going to supplant Cricket in India.
Take Your Career To The Next Level. Ask Our Experts Anything. We Will Respond Within 48 Hours.
1. Fanbase
It's true that it is becoming increasingly 'fashionable' to support an international football club in many parts of India. A few years back, people were falling over themselves trying to board the Manchester United bandwagon. Now with post-Ferguson Man United being the subject of open ridicule, the same bunch of fans didn't even think twice before hopping on to the flashier Chelsea 'bus'.
There are several thousand true football fans who have shed tears for their favourite sides. But, a major chunk of the football population in India will happily swap jerseys before you can say Jack Robinson. This will never deign to happen in cricket. Even if India gets whitewashed in a Test series in England or Australia, the unwavering support and devotion of the Indian fans will never change. There will be criticism aimed at the players, gleefully cooked up by the media of course. But, fans will not start rooting for Pakistan or Sri Lanka because of that.
So, unless there comes a day when a football player is worshipped by our country with the same fervour that is usually reserved for the likes of Sachin and Dhoni, the cricket fanbase will continue to dominate over the soccer fanbase.
Urban/Rural Divide (Fanbase):
Of the 121 crore Indians, 83.3 crores live in rural areas while 37.7 crores stay in urban areas according to the Census of 2011. It is typical for the rural populace to connect and identify only with things closer to home and remain alienated to the international happenings. Now, football in India is a myriad concoction of a lacklustre national team and few regional teams with glorious 'pasts'. If football has any craze among the general Indian population, then it is due to the swashbuckling dribbles and goals of international stars such as CR7, LM10 and the likes. Herein arrives the problem. With the myopic sports vision of rural India already stated, it is now an open secret as to where the future of football is headed in this country. The overwhelming media coverage of FIFA World Cups, EURO Cups and Champion Leagues merely scratch at the surface as they cater to the eyes and ears of mostly urban India. So, the next time you have a heated argument about a possible Renaissance in football with fellow passionate fans in a pub, just remember that you (urban India in this case) are merely the dregs of the wine barrel.

India is playing host to a string of former 'have-beens' in the inaugural edition of Indian Super League (ISL). Former World Cup winners like Del Piero and Trezeguet are set to grace the competition.
Though it will be tempting to draw comparisons between ISL and its much richer elder cousin, IPL, it wouldn't actually make much of a contest because ISL cannot possibly hope to repeat the financial success of the IPL. The ICC sanctioned cricket league has a talent pool of all the best players in the world and the franchise owners are so spoilt for choice that legends like Brett Lee and Mahela Jayawardane can be allowed to be remain unsold.
ISL, even with the lure of millions, cannot expect to draw the elite players. With the league scheduled to take place from October and December, the best the founders of ISL can expect is the participation of some recently retired players or some free agent looking to make some quick cash.
It is true that the presence of reputed players like Nicolas Anelka will be a huge motivation for our crop of youngsters. But, expecting the next Lionel Messi to emerge from Kerala Blasters or Delhi Dynamos is just wistful fantasy. It is NOT going to happen.
The lack of adequate youth development programs has been holding back Indian football for more than four decades now. Although the AIFF has tried to change that in the recent past by starting regional academies, the progress has been excruciatingly slow. The I-League clubs should also take much of the blame for this as most of them still don't even have academies, with some clubs only assembling youth teams a few weeks before any tournament rather than running them throughout the year.

Another major problem in Indian football has been the continued absence of proper infrastructure. Even a club like Mohun Bagan, one of the oldest in Asia, doesn't have a proper home ground. Most I-League venues are multi-purpose stadiums and need major refurbishments. A majority of the venues either belong to the state government or local municipalities, and not to the football clubs. It goes without saying then that they are not maintained properly and are frequently made available for public shows and concerts.
Cricket, on the other hand, can boast of state-of-the-art facilities even in Tier-II cities like Ranchi and Mohali. However, the Salt Lake stadium in Kolkata (a metro) despite being the second largest stadium in the world is in a dilapidated state. So, football still has a lot of catching up to do.
4. No. 1 in ODI Rankings and No. 150 in FIFA Rankings
India is ranked at a lowly 150 in the latest FIFA Rankings. To put this into perspective, the puny nation of Maldives is ranked 5 places before us. It is hard to fathom how a nation of 1.2 Billion cannot even produce 11 footballers who can actually take our rankings to double digits. On the other hand, the same nation has managed to produce cricketers par excellence for decades. While it is unfair to compare the two rankings, owing to the insignificant number of cricket playing nations, the fact remains that Indian football is in the doldrums.
While the 'Men in Blue' can boast of three World Cups in their trophy cabinet, the best the other 'Men in Blue' can come up with is a paltry 4th place finish in the 1964 Olympics. The closest India came to the FIFA World Cup was in 1950 when they actually qualified for the event. But sadly enough, we blew the chance of a World Cup representation citing our inability to play with boots strapped on. It has been a downhill ride ever since. India craves so much for its representation in the world's biggest sporting spectacle that the nation actually went delirious when Vikash Dhorasoo (of Indian origin) was called up for France in 2006.
Watching football is a complex business. We have to go through a sea of emotions ranging from pure agony to unbridled ecstasy. But sometimes as we watch the English pin up their hopes on their perennially underachieving national side, we suddenly feel very small. That is when the crushing realization hits us. We can never realistically hope to see a team in Indian colours challenging for a World Cup. We might never hear the music of 'Jana Gana Mana' at a World Cup match (except perhaps in an EA Sports video game).
This is another problem that a football fan has to suffer in India - telecast. The STAR network owns the rights to air the Barclays Premier League games live. But, it has reserved three of its four standard-definition channels — STAR Sports 1, 2 and 3 — primarily for cricket and cricket-based shows. And football, whose global fan base dwarves that of any other sport, has been relegated to STAR Sports 4. So if Manchester United and Tottenham Hotspur kick off their games at the same time, only one game will be broadcast. That means a Spurs fan who wanted to watch Eriksen and Lamela will either have to stream online or suffer watching reruns of 'Outstanding Ojha', a programme centred on the exploits of Indian spinner Pragyan Ojha.
A tweet on the fake twitter account of Pragyan Ojha concurs with us: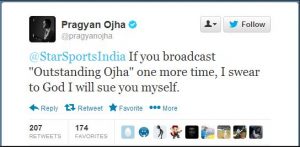 India might boast of a higher number of football fans than even Britain (owing to our superior population, of course). But, the stark reality is that India is languishing near anonymity in the global arena. We need to get our basics right and aim to conquer Asia first before even contemplating to venture out into the vast world.
Only when we have a football team in Indian colours to truly cheer for will some of the cricket fans even think about switching loyalties and completely embrace football. Until that day, cricket will continue to be 'Numero Uno'.
Will the 'game' in India ever change from 'cover drive' to 'free kick'? Well, sorry to disappoint the football fans. But, the answer is NO.
This is a formal entry for the semi-final #2 of the InsideIIM Debate.
Team Name: The Intellect Box
Team Members: Sayan Kar, Adarsh K A M