I am currently pursuing my MBA at MICA, Ahmedabad. After an extensive shortlisting procedure via an introductory PPT (a more vibrant version of our CV, customized to their requirements), Group Exercise and Personal Interview, I (and 3 other MICAns) was chosen to intern at L'Oreal India.
I was thrilled! L'Oreal is one of the best brands globally when it comes to marketing its products and services and thus is enticing for someone like me who plans to establish a career in this field. Moreover, being a L'Oreal hair care brand loyal, I looked forward to the opportunity to work on and endorse products I strongly believe in. A month before the 45 day internship, we were informed of our division, guide and project. I got to know that I would be a part of L'Oreal Professionnel's (LP) marketing department and in Mumbai, my hometown. This also meant saving on accommodation and food costs and of course, shopping and discounts on products I use! The official page of the HR team- L'Oreal Careers- began posting intern pictures and interesting snippets from the PPT/application form 2 weeks prior to the internship which created a buzz (and a lot of 'look, her picture is on the L'Oreal page' remarks from our parents and relatives).
The Human Resources (Campus Relations and Integration) Team had done a job par excellence in planning the induction programme and making it engaging for all the 32 handpicked interns from across the nation. We were welcomed with a huge standee having all our pictures in the canteen, a Facebook post on the official page, lots of freebies and a customized T-shirt (which we later regretted as it gave a lot of information about us to everyone who saw us on the way to office). They also introduced the idea of 'Digital Intern', an award which would be given to summer interns who posted, Tweeted or Instagram-ed frequent, relevant and interesting pictures during the course of the 45 days. Being a part of Team Interface, the Media and PR wing of MICA, I couldn't resist this enticing challenge. I have supplemented this write-up with pictures and tweets below that will make this Summer Saga entry come to life. The orientation programme included a session on basic makeup, hair care and styling and skin care from training experts since we were expected to know the fundamentals of what were to sell, market or work with. We were also given a glimpse into L'Oreal's 4 distinctive Divisions- Consumer Products Division (CPD), Active Cosmetic Division (ACD), Luxury Products Division (LPD or Luxe) and Professional Product Division (PPD) - by the division heads themselves followed by a talk from heads of different functions like HR, Finance and Operations. The talk by Management Trainees (now employees) from 2009-12 who spoke about their experiences and gave us tips for our internship and final presentations made the induction more insightful and valuable for us.
An interim feedback session was organized by the HR team after a month to get a sense of how our internships were going and to expedite action on issues that any interns were facing. Summer Interns were also given the opportunity to meet Jean-Christophe Letellier, MD L'Oreal India, and ask him anything under the sun towards the end of our stints. They also made sure a write-up of all our experiences with the company featured in the monthly newsletter and we were informed of every party (the Cannes launch with Sonam Kapoor being one of them) and employee offer (the 60% discount on luxury brands YSL and Lancome couldn't make the women interns happier!). So the HR team definitely deserves a 10/10 for taking good care of its summer interns.
Now let' focus on my internship project. My project dealt with understanding the 'hair damage' space and identifying opportunities in terms new launch proposition, communication and packaging. In order to identify trends and propose a plan of action, I had to tap insights from competition's existing strategies & communication, opinions and behaviour of hairdressers and consumers via online and offline research. In the process, I organized and moderated the first Focus Group Discussion of my life, analysed insights gathered from market visits to 50 salons in Mumbai and 100 women via an online survey. Thus, I ended up presenting an extensive proposition in terms of what hair dressers and Indian women want in terms of damage repair services and products in-salon. This comprised of not only marketing and communication strategies but also product development insights such as fragrance, texture and associations. My guide had drafted the project charter meticulously with deliverables and timelines that helped me immensely to prioritize and execute tasks. The most challenging aspect of my project was to get women across age groups to fill the survey. Even after exhausting all of my networking skills, most of the older women I could get in touch with had very little online presence and had to be hand delivered the survey in the span of a week to stay on track in terms of the project timeline.. The market visits were brilliant eye-openers not only in terms of meeting various professionals and learning from their experiences but also appreciating the mutually beneficial relationships the sales team establishes and sustains with salons and hairdressers.
I had worked with Raymond Limited and had a glimpse of marketing as a function prior to joining MICA. PPD, however, is an entirely different ball game! It follows the B2B2C model which essentially means products are sold exclusively via salons and depend largely on the marketing and sales skills of a) Sales team of PPD who sell to salon owners and b) Hair Dressers who recommend products to clients in-salon. The internship gave me a fair idea of this model that L'Oreal has not only learnt to thrive in but also established to a great extent in India. I hold high regard for the fact that the organization believes in an inclusive model of development. Due to their focus on hairdresser education and profit simultaneously, they have built a lot of goodwill in the industry. The Head Office at Lower Parel itself hosts a state-of-the-art training academy for hair dressers working Mumbai with frequent product/service sessions by experts and visits from French stylists. Stakeholder management is thus a big takeaway from my internship with L'Oreal.
Another key learning has been that responsiveness to competitors' strategies and latent needs in the market is crucial for success. Complacency and a lack of innovation can be perilous in the beauty industry. Besides gaining a basic understanding of the beauty industry, I have also learnt technical terms in hair care and can now have a decent conversation with any hairdresser under the sun!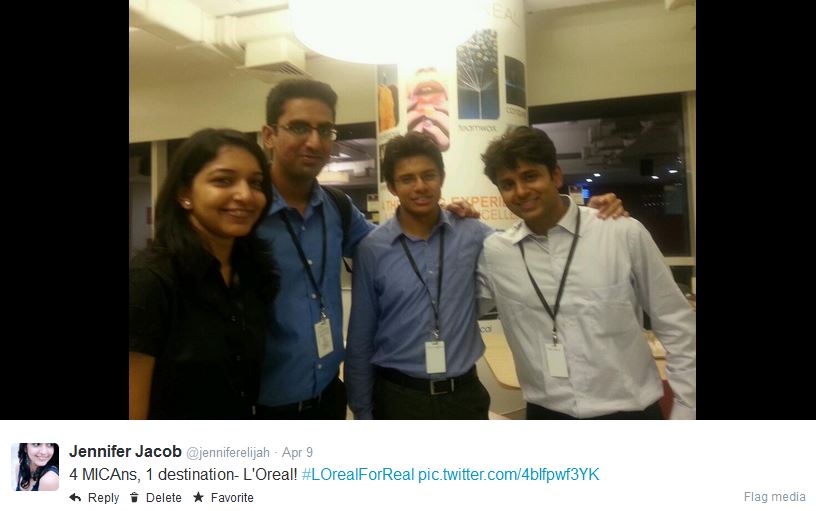 Read all entries under the 2014 Summer Saga here