The Peculiar Problem of Business School Rankings in India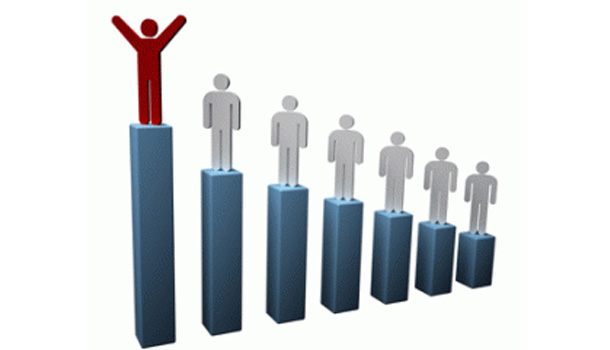 Since March our helpline – 'Eklavya' has been flooded with queries on choosing business schools. A lot of them quote rankings published in various popular media and  on other management education portals. We just thought about having some fun and went about looking at rankings published by media houses with maximum reach and their methodology.
In the process, we realised that it is actually difficult to be completely objective about rankings. Assuming that the survey and analysis for the rankings is done honestly (and that's a big if) it is possible to come out with different outcomes. The problem is that most observers tend to correlate mba colleges' rankings with placements. All the rankings that do not agree with the common perception of placements are dismissed. Yes. It is an important indicator but we believe it would be taking a very functional and transactional view. It's a view that looks at education as a commodity. Management Education is much more than that.  And we are quite optimistic about the future. Increasingly, we will see a departure from this myopia and business schools will be selected by aspirants beyond comparing the size of the first pay cheque after graduation.
The methodology of some of the rankings below is well-constructed in its intent. Whether the execution is equally good is another question. But there are important questions that need focus – Infrastructure .. International Exposure.. Quality of Faculty.. Research.. Class Diversity.. Pedagogy.. Alumni Performance.. Selection Process etc. And some of the rankings at least attempt to use that in their methodology. Outcomes are surprising because data supplied is sketchy. But we feel some of the rankings below have the potential to mature into more credible rankings.
Another aspect with agencies and media houses doing rankings is the fact that they are far away from the current happenings in the business school circuit.  Now this could mean 2 things –
1) They cannot appreciate finer aspects which go beyond data;
2) They will have a much cleaner slate to begin with and will analyse raw data without biases and preconceived notions. Depends which way you look at it.
Rankings at best can serve as an indicator. What the world needs though is an insight into the finer aspects of a business school. The sooner someone brings those aspects out in the open for discussion, faster will be the trajectory of top business schools improving in those aspects. It's our goal at InsideIIM to engineer this phenomenon.
Have a look at some rankings below. ISB Hyderabad doesn't seem to participate in most rankings.
One of the rankings below is outrageous. We let you figure out which one 🙂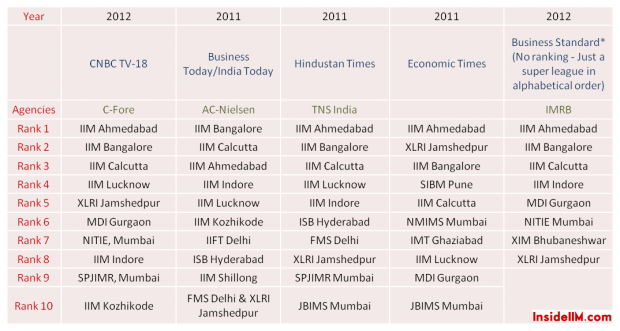 *IIM Lucknow & FMS Delhi didn't participate or their response to the questionnaire was incomplete
The media houses above who have published the rankings are 5 of the biggest and have a considerable reach. Also, the surveys have been conducted by reputed agencies.
Source of all Rankings. Click below for full view :
CNBC-TV18 : http://www.moneycontrol.com/mccode/bestbschools/
Business Today : http://businesstoday.intoday.in/story/best-business-schools-iims-of-2011/1/17938.html
Hindustan Times : http://www.hindustantimes.com/specials/education/b-school/India-s-top-50-business-schools/BSchool-TheTop50BSchools/SP-Article10-739665.aspx
Economic Times : http://economictimes.indiatimes.com/features/corporate-dossier/et-business-school-ranking-the-top-50/articleshow/8017876.cms
Business Today : http://www.business-standard.com/india/news/four-iims-among-eight-in-business-standards-top-b-school-bracket/475789/
Insights at InsideIIM –  Cut the clutter with sharper insights from better data.
Knowledge Cafe – Football Club Finances
Industry Series : Interview with Rishiraj Singh Pruthi – Head, Customer Marketing at Abbot Nutrition
Our facebook page : InsideIIM
Follow us on twitter here : @InsideIIM