This is the second installment of our interview with Adam Pervez - volunteer, traveler, writer and MBA grad. (Read the first part here). For those in the dark, Adam is an engineer from Ohio State and an MBA graduate from IE Business School - Spain. He quit his comfortable job with Siemens Wind Power, Denmark (paying a six-figure salary) before deciding to follow his passions - travelling, and giving back to society. The HappinessPlunge and the Happy Nomad Tour - an 18 month tour of the world is the result of his initiative to travel and volunteer around the world with the objective of leaving each place better than how it was when he found it. He writes regularly for the Huffington Post. He has also written for The Economist and been featured on BusinessWeek. [Update: If this story has inspired you, you may want to read about Adam's Crazy Hair FundRaiser for kids with cancer].
We sent him quite a lot of questions, and he replied in such depth and detail that we felt the only way of doing justice would be to do this interview in parts.
Did you face social pressures while taking this decision? If yes, how did you respond to them?
Great question. I never knew what social pressure was until I got to India. By the way, I'm 30 and have no plans to get married.. and no, nothing is wrong with me! :)My parents weren't thrilled. They weren't terribly happy about me working in the Middle East just after the Iraq war began either, but they accepted it. My dad and I even travelled a bit together in Europe and the Middle East, fulfilling some of his travel dreams. Then Spain, then Denmark. I think they finally felt comfortable and hoped I would find a Viking to marry and make grandkids with.
In the end, it took some time but they are on board. Naturally, they fear for my safety and I do seem to get robbed regularly, but I call them regularly and never hide the truth from them.
In terms of friends, it's always complicated. You form friendships under certain guises and it's like an informal contract. By dropping out of the corporate world I broke many contracts and some friends didn't know what to make of me (and many surely thought I went crazy). Part of this adventure has been learning how to be non-judgmental in every way. But I think many friends fear meeting me as what I have to say might not fit with their reality, or their perception of reality. Or they may fear I will judge them, which of course I wouldn't. It's complicated, but I'm thankful for the amazing friends and relationships I have in my life.
[caption id="attachment_6239" align="aligncenter" width="550"]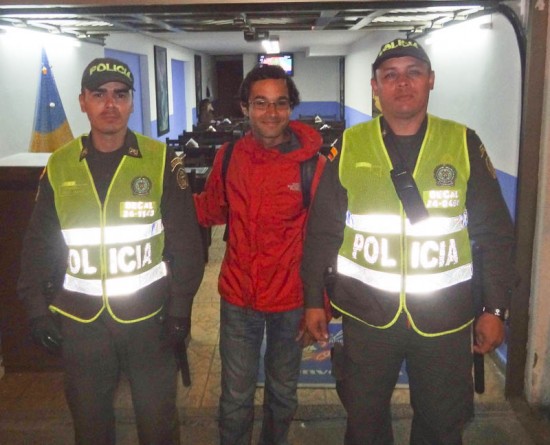 Occupational Hazards of voluntouring - With the Columbian police after getting robbed the second time[/caption]
Could you recount some of your most satisfying moments (professionally and personally) over the last 18 months?
There have been too many. Life is satisfying for me in general now, which I can't say was the case before this trip.Professionally, being able to share my ideas with audiences as diverse as my blog, HuffPo, The Economist, BusinessWeek, and my many speeches and discussions with students have been extremely fulfilling. I don't advocate anyone do what I'm doing and I don't denigrate anyone's choices in life. But I do advocate the process of figuring out who you are, what your passions are, and going after it. That process should yield 7 billion different results since we're all different. Many have gotten in touch with me saying my story inspired them to do x, y, or z and creating ripples in the pond is terribly satisfying.
Personally, probably not this one, but I've volunteered at child-focused organizations many times. I haven't spent much of my adult life around kids and they were kind of like little aliens to me. Volunteering at orphanages in Costa Rica and Ecuador, a Mother Teresa home for sick and malnourished children in The Philippines, and at an organization that restores dignity to children born with HIV/Aids in Vietnam has given me a completely different perspective on children. They are much smarter than I realized, much more pure, and much more beautiful than I ever could have realized otherwise. And unlike us adults, they focus on being happy.
[caption id="attachment_6232" align="aligncenter" width="550"]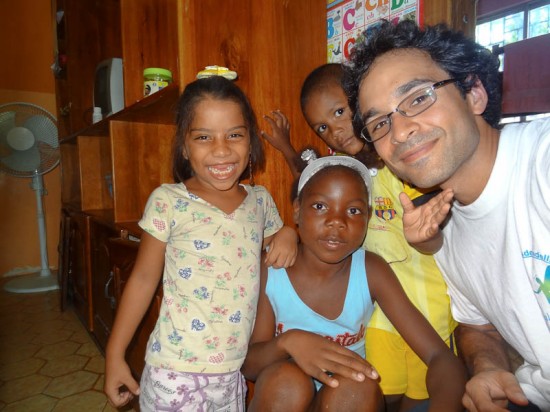 At an orphanage in Ecuador[/caption]
[caption id="attachment_6325" align="aligncenter" width="500"]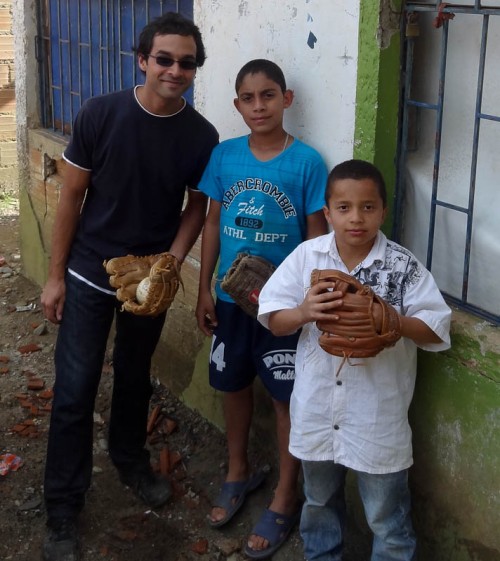 With kids at Angelles de Medellin, ( Angels of Medellin) at Medellin, Colombia[/caption]
How has your MBA helped in this new initiative?
For me, an MBA is mostly a degree in problem solving. My school used the case method and generally each class was a discussion on how to solve a problem. Although we solved accounting, marketing, finance, and human resource problems, the underlying skill of solving problems was still there. Both in preparing for this new life and in living it, problems lurk around every corner that need to be solved.Also, my business school IE Business School had CSR and social entrepreneurship embedded in the curriculum. I also took many electives in those areas too. It helped me see business through a different angle, one much more aligned with my values. I'm not sure this helped directly, but indirectly the cases and stories I read inspired me and I have a goal of starting my own non-profit organization in the future.
[caption id="attachment_6233" align="aligncenter" width="550"]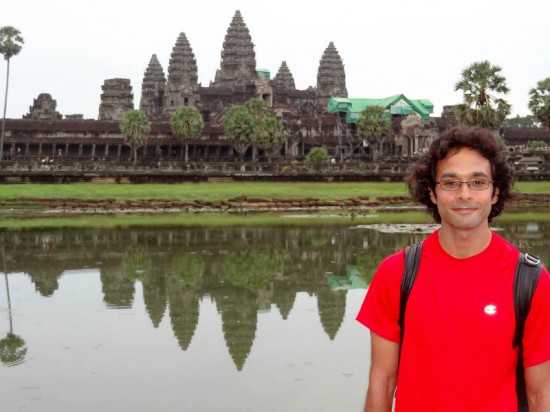 At a well known temple in east asia[/caption]
Do you think MBA schools have a duty to inculcate social awareness and sensitivity among their students? How can this be achieved? I think it is difficult for CSR and social sensitivity to be imbibed by incorporating a compulsory course and project in the curriculum.
It's hard to say they have a duty. In the end, it seems like top MBA programs are slaves to antiquated rankings systems and the wants of their students. If more students and alumni start demanding change, it will come. Schools scarcely used to admit female students and now it's become much more gender-balanced. These things take time but generally what's right prevails.I think a large percentage of MBA students will never take an interest in these issues. That said, hardly any MBAs become accountants yet we all have to take accounting. The need to understand accounting is there, even though few of us ever use it afterward (and many of us strongly dislike it!). There will come a time when social awareness and CSR will have the same role. In the end, governments have never been more ineffective and broke and companies have never been richer. The needs of society will need to be met somehow.
This is the land of Bapu. One man (or woman) can make a huge difference. Google Bunker Roy and look what he did in Rajasthan. Look at this amazing woman in Delhi single-handedly saving children from red-light destinies. India is full of such stories. The world is too. Why aren't business schools writing cases that teach valuable lessons in finance, accounting, HR, marketing, and entrepreneurship using their stories? My point is that the imbibing, as you put it, need not be direct. You can learn valuable lessons in all areas of business from non-corporate sources.
[caption id="attachment_6326" align="aligncenter" width="550"]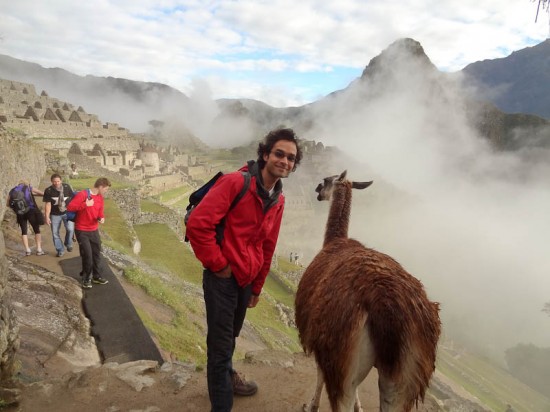 At Machu Pichu with a friend - never thought work could be so much fun.[/caption]
Our audience is basically a bunch of twenty somethings who have a lot in common with you – at least until the MBA part and immediate post-MBA bit. What is your message to
(1) MBA aspirants
An MBA program is the experience of a lifetime. You'll learn and grow so much and have a ton of fun. Universities in general always have so much energy and positivity. Use this time to make your dreams come true, no matter how outlandish or crazy they are. With the education you'll receive and the resources available at the university, you'll never be presented with a greater chance to make your dreams come true while having so few responsibilities.
(2) Recently graduated MBA students
You've just had the experience of a lifetime. You learned how to solve problems and "create value." I challenge you to dig deeply in your soul and figure out what kind of problems you want to solve and what kind of value you want to create. And it's never too late to make your dreams come true, whatever they may be.
In both cases, listen to your heart and live a professional life based on your values. Don't compromise your values for pieces of paper bearing Bapu's face.
The interview will be continued.
Click here to read InsideIIM's features on careers.