Everyone and their uncles are busy commenting and advising on the placements season that is approaching fast. At most B-schools, the atmosphere had decidedly become more serious and brimming with self-confidence. Yet beneath the veneer, lie a few murky truths and a few clear writings on the wall which no one wants to talk about.
As always, there are a few things which no one will tell you about Placements – some of it, you would already know from witnessing your senior batch's placements and some of these truths will become self-evident only after you graduate and reflect back. A few of these truths become clear when you come back to the same campus as a recruiter.
Being Better Informed allows you to be Better Prepared… So here it goes.
1) They are not trying to get you your dream job; they are trying to get everyone a Job. Period- Understand this very carefully. A placement committee is interested in getting 100% placements. They will try to accommodate your preferences but you are just one out of a batch of 400 students for them. Their motivation is NOT to get everyone the job of their dreams but theirs is a more prosaic cause- Get the Batch Placed.
Be extremely clear in your preferences. Choose your firms and roles with absolute clarity. Even though placements are a few months away, take those surveys and preferences floated by the placement guys very seriously because that will dictate the choices you get. Don't be a victim of your own ill-formed choices
2) Reputation, Reputation, Reputation – Here is a simple analogy: If you are keen for a brand management role, you have to start with the most important brand there is – YOU! You have got to learn to market yourself before you can start marketing other things. Brand yourself first as a Branding Expert because if you cannot convince your own batch of 400 students about your marketing prowess, how are you going to convince millions later? The same principles work for every role out there.
Your reputation will always precede you. Conduct gyaan sessions, be member of the marketing/finance/PE/Operations club or help them whenever there is a chance, share industry/firm presentations with your batch that will help them in their preps.
Imagine if you were a Placement Committee Member aka a placecommer who was asked to recommend a couple of people for a marketing role, wouldn't you recommend somebody who has done all these things and built a strong reputation for herself/himself over somebody who has not bothered with any of this?
During placements days, there are plenty of second chances coming up. Companies often seek the opinions of placecommers, PPO holders and seniors who were recruited a year ago. Give them enough ammunition to fire your application. These things happen in every placement season across almost all institutes.
3) Be Humble, Be Nice - It is often called the Airplane Test and used frequently by consulting firms – Interviewers will often ask themselves this simple question –'If you are going to be working with this newbie here for more than 10 hours and then be stuck on a delayed flight for another 3 hours – Would you like to spend time with this guy ?'
You may be super qualified for the role and a perfect fit for the job but if the interviewer does not like you – you are out of the race. Understand that often recruiters are not from the IIMs or other prestigious B-schools but they have worked hard to reach there. The last thing they want is some young brash kid from a fancy IIM with a chip on his/her shoulder. A lot of fortune 500 firms list "Respect" as one of their core values.
The same virtues work for Placecommers. They have an extremely demanding job and a much more thankless one at that. They have to withstand a lot of criticism and still carry on. Allegations from students and tantrums from hiring managers don't help. In all of these, a little bit of respect often goes a long way ahead.
And well, if you think all of this is too much sycophancy- here is an old adage that might help. And it goes like this – Fake it till you make it J
No one will tell you the importance of being likable, or building your reputation in the batch is just as important as building your resume with those prized CV points. These are lessons usually learnt long after one graduates and returns to the campus as a recruiter with a significantly wizened outlook to life…
Lastly, here is a parting fact: You are just starting your careers. There is plenty of time ahead. Focus on building functional skills and relations. Salaries and jobs become obsolete very quickly. You don't want to be known as that A$$0!€ who screwed the batch for his/her personal gain. You are better than that….
Wishing you a great placement ahead. May You Get the Job You Deserve and Not the One Which You Want…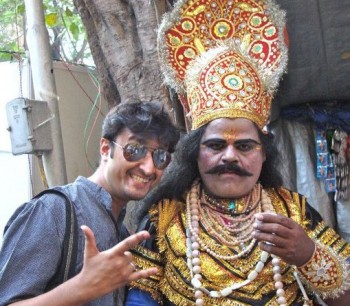 About Alternative Mavericks
"Alternative Mavericks", weaves different stories to present unconventional view points which challenge the readers to not accept everything at face value. It is not enough to point out problems and crib about them. The column invites the readers to come up with out-of-the-box solutions to everyday problems
Read everything about IIM Ahmedabad here