TISS Mumbai has released the final placement report for the HRM and LR Class of 2020. The institute saw participation from top brands including the Aditya Birla Group, Amazon, Reliance Industries Limited, Tata Administrative Services, Hindustan Unilever, and the Mahindra Group amongst others. One in five students of the HRM & LR batch of 2020 received salaries in excess of INR 25 lakhs! These are important highlights and key salary related information from the TISS HRM and LR final placement report.
One In Five Students of HRM & LR Batch Receives INR 25+ Lakhs Salary, Highest Salary Touches INR 32.79 Lakhs
The HRM & LR batch of 2018-2020 at TISS witnessed an excellent final placements season. The following are important salary figures from the final placement report:
Colgate Palmolive paid the highest package of INR 32.79 lakhs per annum.
The average salary stood at INR 21.15 lakhs per annum. Compared with last year, the average salary increased by nearly 5.43%.
The median salary stood at INR 20.25 lakhs per annum.
The 50th percentile salary stood at INR 20.25 lakhs per annum.
The 75th percentile salary stood at INR 24.25 lakhs per annum.
More than 20% of the batch received offers of more than 25 lakhs per annum.
TAS, Mahindra, Amazon, ABG, Return As Regular Recruiters; Adani, TCS New Recruiters At TISS
The final placement process for the HRM & LR class of 2020 at TISS witnessed the participation of regular recruiters like Accenture, Aditya Birla Group, Asian Paints, Amazon, ITC, Mahindra and Mahindra, Reliance industries etc. The total number of Pre-Placement Offers (PPOs) were 20 for a batch of 60.
Adani Group, Fractal Analytics, TCS and WNS were all first-time recruiters. Companies like IBM, ONGC, P&G were back on campus after a hiatus.
Students with relevant work experience were hired into middle management positions by companies making Lateral Placement Offers. Some of these companies were Amazon, Dell EMC, Deloitte India, Adani Group, IBM, L&T Infotech, Samsung R&D etc.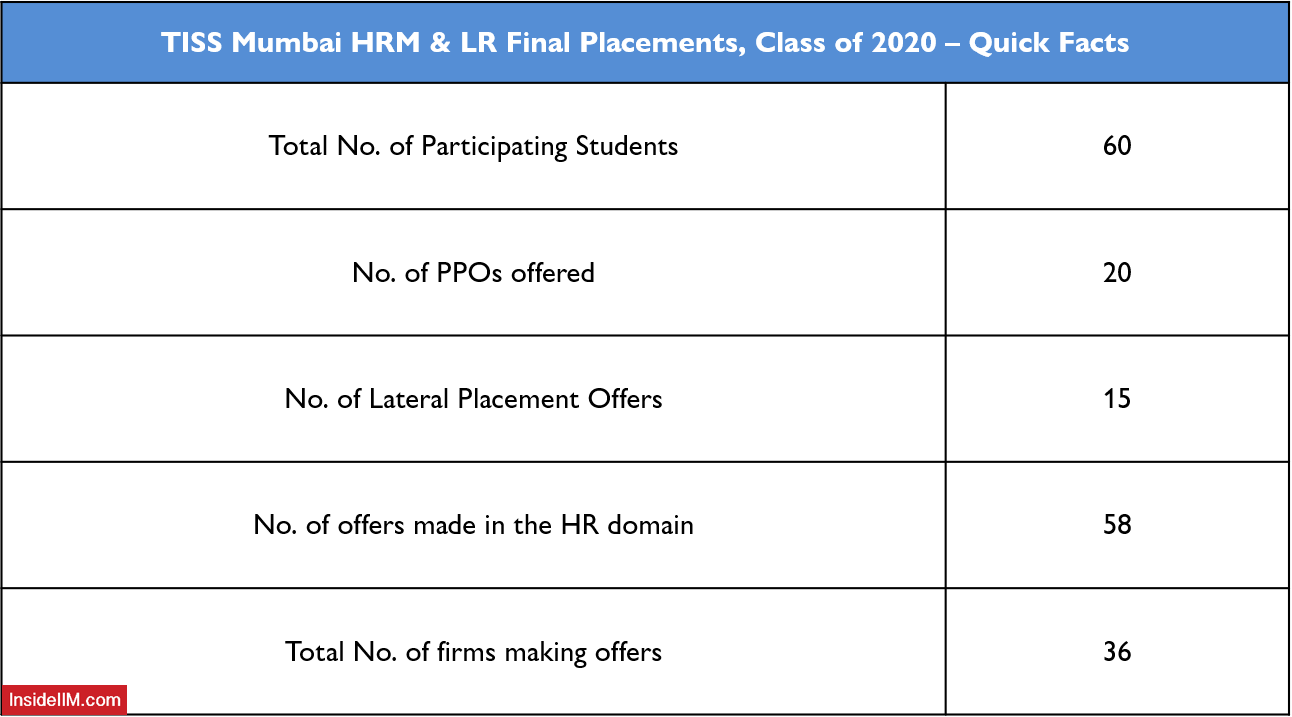 Top Hiring Companies In FMCG - TISS HRM & LR Final Placement 2020

Top Hiring Companies In Consulting, General Management - TISS HRM & LR Final Placement 2020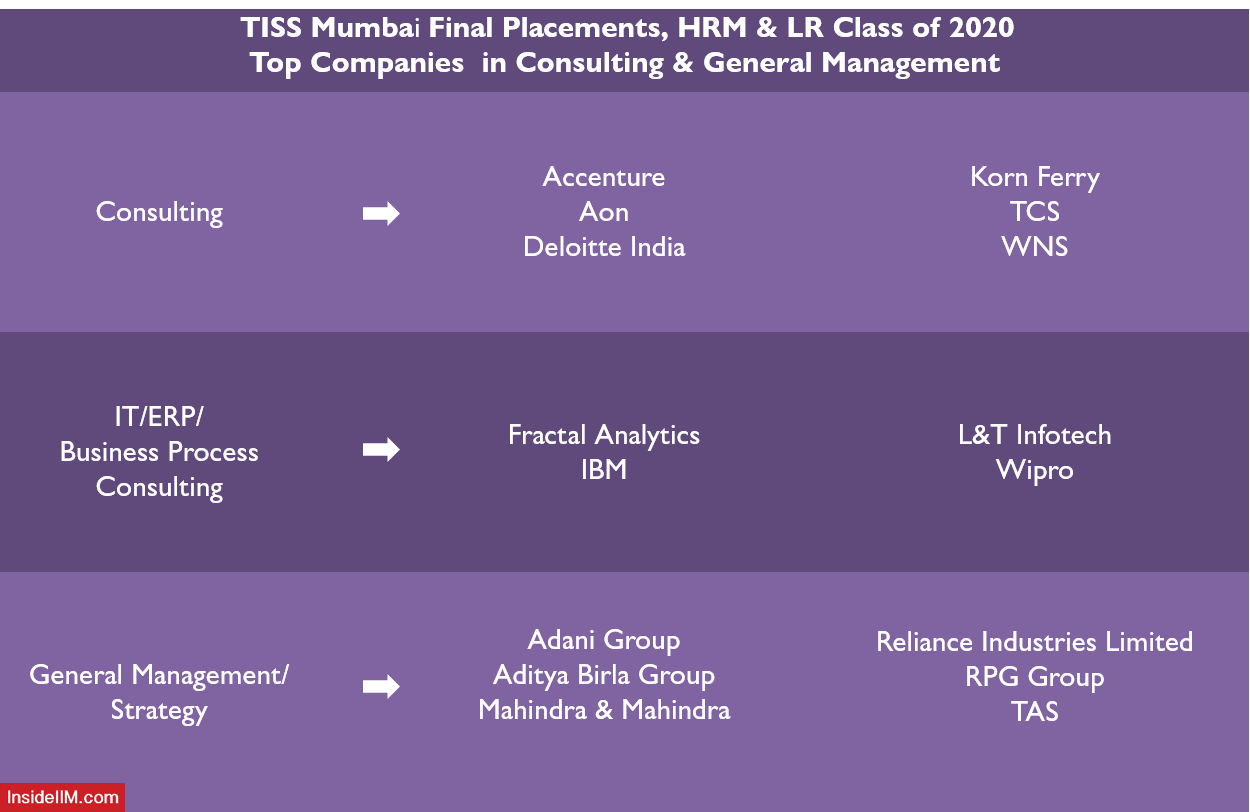 Top Hiring Companies In FMCG, Banking & Finance - TISS HRM & LR Final Placement 2020

Top Hiring Companies In Energy, Telecom, Automobile, Energy, E-Commerce & Others - TISS HRM & LR Final Placement 2020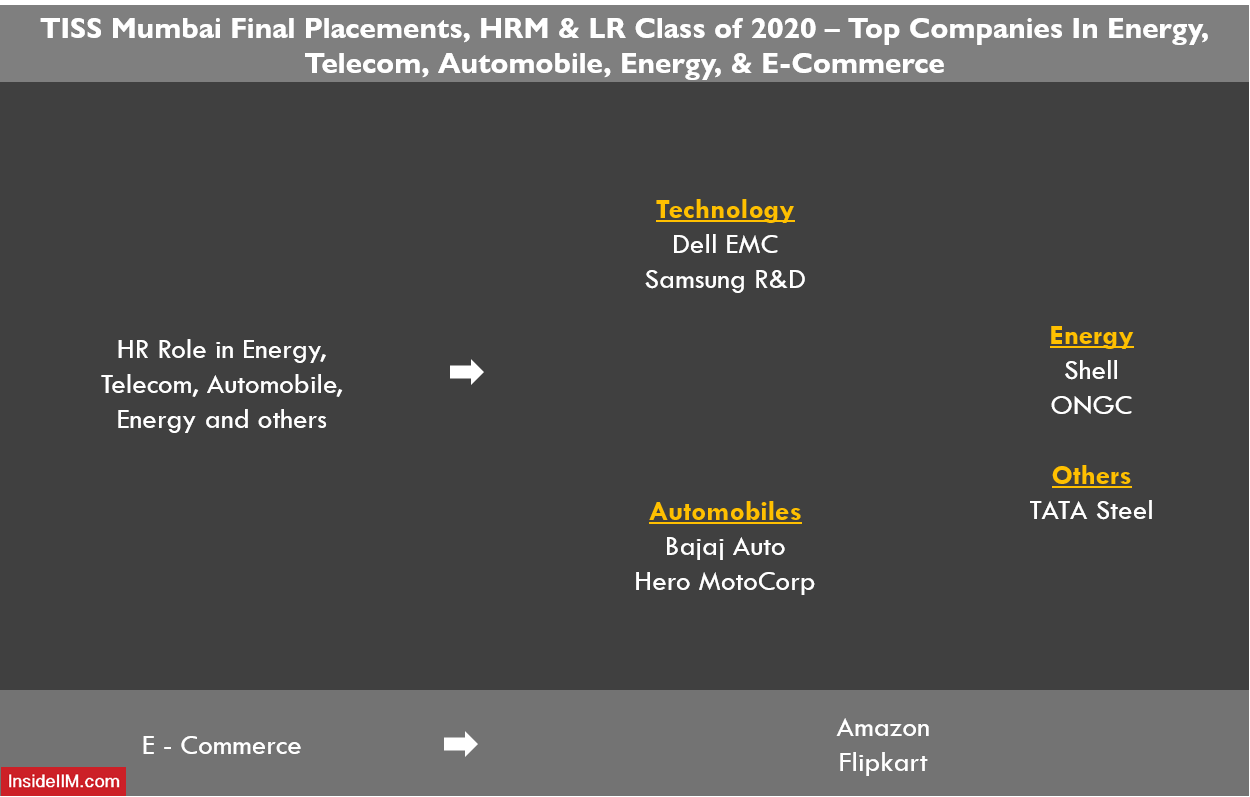 Top Hiring Companies In Pharmaceuticals, Healthcare, & Medical Devices - TISS HRM & LR Final Placement 2020

---
Want To Know More About TISS? Here's What We Recommend You Read Next