In a recent analysis by the Financial Times' education team, it was revealed that finance and banking was the most popular destination for MBA graduates belonging to the world's top business schools. The InsideIIM recruitment survey also revealed something similar - banking and financial services is amongst the most desirable sectors to work in for MBA students at the IIMs and other top institutes, and with good reason. Management graduates working in this sector tend to be some of the most well-paid professionals in the world, and roles in this sector are known to have a certain glamour quotient and present tremendous opportunities to learn. So, which banking and finance companies do MBA students from the country's top b-schools want to work with the most? To answer this, InsideIIM has come out with the 2020-2021 rankings of the top consulting firms to work with after an MBA!
Every year, the InsideIIM Recruitment Survey reveals the most desirable companies across various sectors/domains, rated by MBA students at India's top institutes. One of the most popular amongst these reports is that of the top banking and finance companies to work with after an MBA. So this year, have Goldman Sachs, JP Morgan, and Morgan Stanley - the big three of Wall Street - continued to dominate? Or has there been a shift in preference in the minds of MBA students? Here's what the survey revealed.
---
Goldman Sachs, JP Morgan, Morgan Stanley Top BSFI Companies To Work With After MBA
To create these rankings, we asked respondents to rate multiple companies offering finance roles at Indian b-school campuses. The ratings were on a scale of 0 to 5, with '0' indicating no interest in joining firm XYZ, and '5' indicating a keen interest in joining firm XYZ. Finally, a weighted score was calculated to create the rankings below.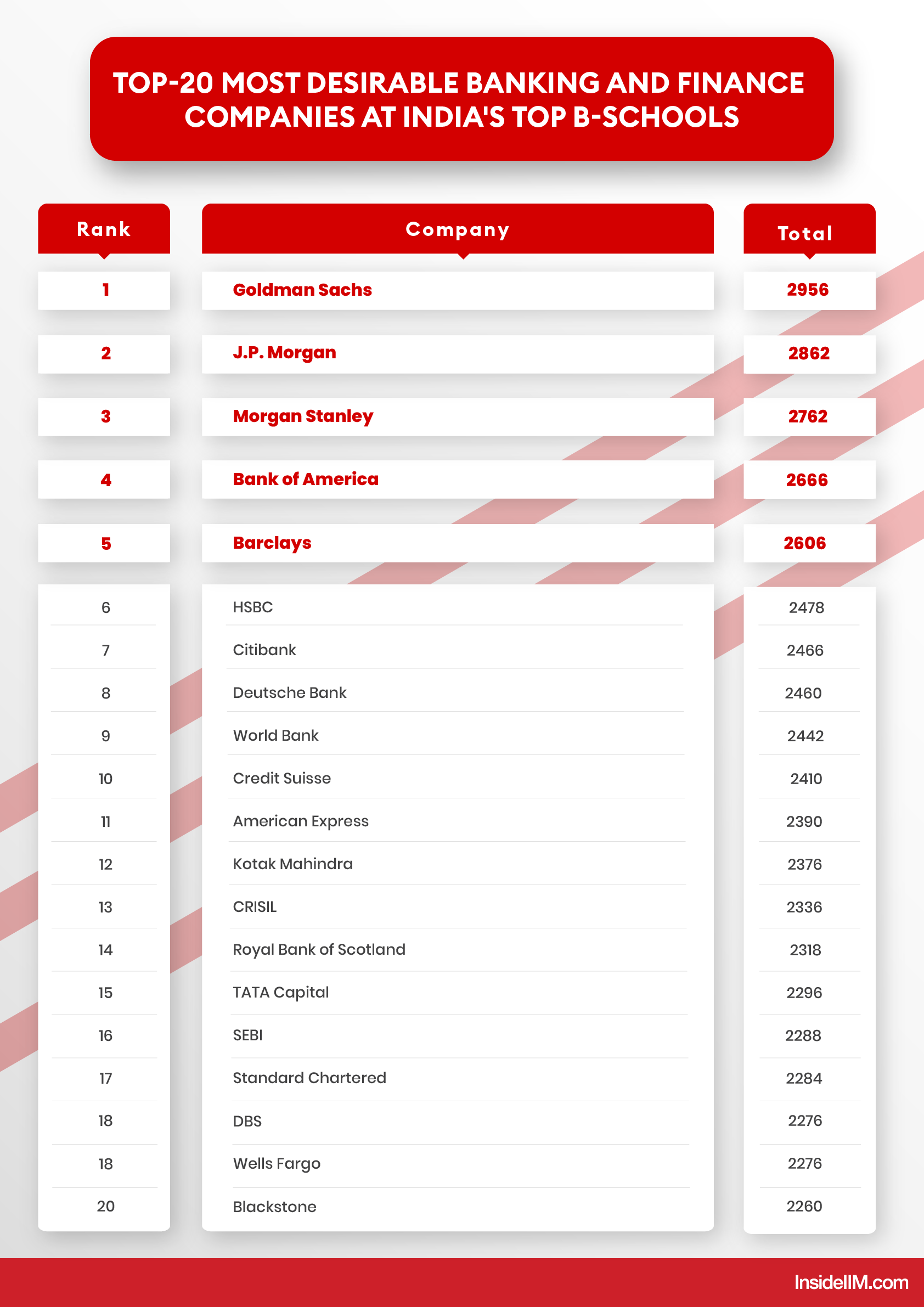 Goldman Sachs, JP Morgan and Morgan Stanley - Wall Street's big three - have emerged as the most desirable BFSI companies to work with for MBA students at Indian b-schools. This has been the case since the inception of these rankings. Getting a chance to work with a top tier i-bank like Goldman Sachs is considered by many to be a dream opportunity. It's not easy to get in either; Goldman Sachs is nearly ten times more selective than Harvard when evaluating the lakhs of job applications they receive every single year.
Last year, there was an interesting uptick in the inclination of MBA students toward venture capital firms, with firms like Sequoia Capital and SoftBank making their debut. However this year, these firms don't even feature in the top twenty, or even the top thirty.
In the 2020-2021 recruitment survey, four of the top twenty companies are of Indian origin. These include Kotak Mahindra, CRISIL, Tata Capital, and SEBI. However, unlike last year, no Indian banking or financial services company has featured in the top ten.
Presenting the Most Employable CA Challenge 2021. Here's your chance to prove your mettle in real life, show your business acumen and communication skills; and get your CV referred to recruiters like KPMG, ABG, and Mondelez! Win a one-to-one mentorship session from our expert and get the title of Most Employable CA Professional. Register now!