It's important to know the purpose of doing what one wants to do, before starting with what one does. Although I had enrolled myself with T.I.M.E institute back in 2nd year of my college, I really did not have any passion or enthusiasm to pursue an MBA, it's only after when I visited a tier 1 B-school in Jan 2020 for a case study competition and lived that B-school life, I realised that MBA is something I really wanted to do and understood how this will give a jump start to my career.
So, after I received clarity regarding the 3 placement offers that I had bagged (which eventually got rescinded because of the pandemic), I started preparing for CAT and other management entrance exams full-fledged from July 2020. I had a clear goal in my mind and that was to get into a top B-school right in this attempt only. I started preparing from the very basic level and went on practising till the advanced level. I divided my time into slots and I used to devote 7-8 hours minimum on a daily basis for the preparation. From August, I started making my timetable stricter and started devoting 10 hours per day (including the time for mocks). Initially, I was focused more on the preparation for CAT but after it was over I started practising for other management entrances too, which basically involved filling the learning gap/syllabus for my other management tests.
Take Your Career To The Next Level. Ask Our Experts Anything. We Will Respond Within 48 Hours.
Mocks- I had practised 50 full length mocks (AIMCATS for CAT'20, CAT'19 and previous year CAT papers) and had taken 600 sectional tests. I made sure I took at least one sectional test every day, especially for VARC. I started taking my full length mocks from August and my marks in my mocks used to fluctuate a lot, where I used to score a 70 one day and a 90 on the other. My advice to the aspirants is that don't be demotivated by the mock scores, just take them as a learning curve and go on improving your past mistakes. Take one day at a time and focus on learning, don't be demotivated by the cores of your peers.
VA-RC
I referred to standard books such as Arun Sharma sir's "How to prepare for VARC for CAT" in the beginning it helped me in making my fundamentals strong. After my practice from that was over, I switched to material provided by T.I.M.E institute and used to practice at least 4 RCs a day by setting a timer. I practised para jumbles and para summary and accordingly strategised what needs to be focussed upon more.
LR-DI
I referred to material provided by T.I.M.E institute, I found it to be wholesome- all the concepts which are required were included in the material. As LRDI was my favourite out of the 3 sections, I used to solve 10 sets a day minimum.
Quant
I referred to Arun Sharma sir's "How to prepare for Quantitative Aptitude for CAT" in the beginning and I practiced till level 2 for each chapter, I finished practicing it by September starting and then switched to T.I.M.E material, which I practised thrice before the exam day.
---
Hard Times And How I Bounced Back
Unfortunately, even after practising so much, I could only score a below-average percentile in CAT 2020. This incident shattered my confidence to the level that I couldn't sleep for days and made me negative to the extreme. Despite, putting in so much effort I didn't get the result I deserved and it felt like the end, I was depressed to the level that I didn't even download my unofficial scorecard which was released just within 10 days after the CAT, but after going through all that I soon realised that my aim was to get into a top B-school, which was still possible if I would channelise my energy in the right direction again and push myself to perform better.
It was only after my first attempt at SNAP, that I regained my confidence. Though I scored averagely in my first attempt, that attempt made me realise that I have the potential to ace this exam and that not moving on from that CAT fiasco won't help me. So I motivated myself, reflected back on my purpose and started taking mocks regularly for my second attempt which was held on 6th January 2021. I eventually scored 97.93 percentile in that exam.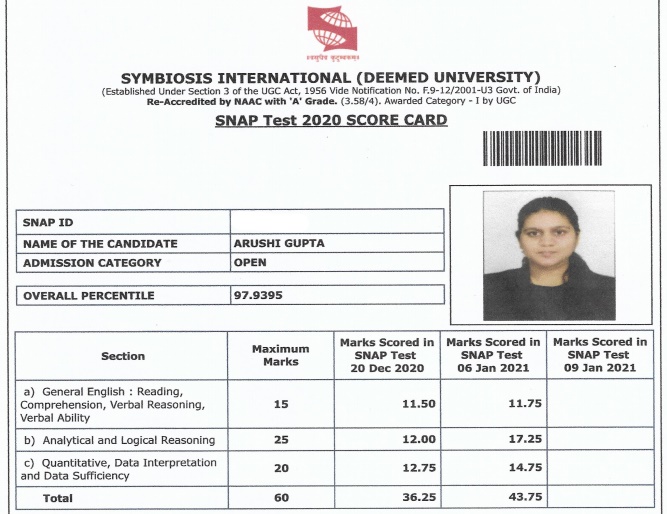 It was a dream come true for me, in the process I even appeared for NMAT, XAT and IIFT, where I missed NMAT's cut off by a whisker (had a low score in quants) and couldn't qualify in any of the other two exams.
I had received calls from SIBM Pune and SCMHRD; I converted SCMHRD in the first merit list. The journey from a great percentile to the conversion of this college was also quite challenging, we had our GEPIWAT process all in an online mode. As I only had 2 calls, the margin of error was zero for me, it was a lot of pressure, but I didn't give up till the end moment. I prepared for the GEPIWAT process by reading newspapers daily and writing down important current events of national and international importance. Although GEPIWAT is a stage, where one could be asked about anything under the sun still I did my bit and prepared a narrative for each of the current topics and prepared for the potential questions on them. My GE-WAT process was very smooth, where I could easily perform good (I believe my public speaking skills helped me there), but in my interview, I was cross-questioned a lot, even on little things such as the meaning of certain words which I had used in my SOP, but still, I maintained my calm and answered them to the best of my ability.
Eventually, I converted SCMHRD and got waitlisted in SIBM Pune.
I would like to thank all the people who supported me during this phase, where I was failing continuously. As it's said "When the going gets tough, the tough get going" I learned that it's important to maintain one's calm and patience levels in such tough times and that such situations are where the mental strength of an individual is tested.