We left our campus on the 21st of July, skeptical about the 24 hours of journey (which got extended, surprisingly, to 36 hours) ahead of us to IIM Ranchi. After a lot of confusion regarding the number of participants willing to attend and several last moment adjustments, the Sports Committee of IIM Indore arranged a bus for 41 students. It was a pleasant summer night at Rau, when all of us assembled at the pick-up point. This being our first out station tournament of the year, there was a plenty of euphoria and confusion when we boarded the bus. Having been through one and a half month of a hectic schedule, we were craving for a break and some fun, besides the medals and wins. After all it was an old-school-all-boys-trip! The girls had dropped out, clearly because of the mean travel plan from Indore to Ranchi, through a supposedly Naxal infested area. A gruesome 1300 KM one way bus trip!
The route which we took was surrounded by scenic landscapes and dense green forests. We travelled via the famous Panna forest and Hazaribagh national park. We planned to stop at Khajuraho and Varanasi, both while on the way, and while coming back from Ranchi. But, none of that worked out thanks to our lengthy royal feasts at the dhabas on the way, and the occasional chai-sutta breaks which were hour long as well. I, being a south Indian, enjoyed the delicious paranthas and the pleasing curries served at the dhabas. Plenty of socializing happened during these breaks, and we were getting to know each other gradually. We made friendships with the dhaba owners as well, though they were appalled by our clamorous behaviour, and worried about us vandalizing their places!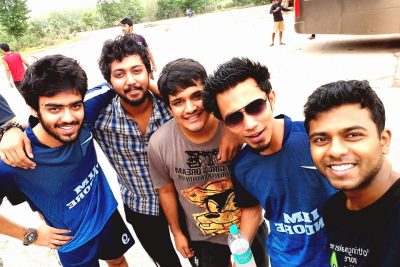 We reached our stay at Ranchi on the morning of 23rd July, at 10:30 am. Since our bus driver got confused with the route at occasions, we took a few detours, which extended our travel time further. After a 36 hour bus journey, all that we could think of was some food and sleep. But, to add to our distress, we had a Basketball match in two hours against IIM Calcutta, as per the schedule. We got prepared and left to board the bus to the venue (Sheikh Bhikhari indoor stadium at Ranchi). I was surprised to see majority of the contingent present there. They were happy to be our cheerleaders, though they had no games to play, and were equally fatigued. We lost that game, but won the other matches to get second position (silver) in Basketball.
The sports meet went on for two days, and the rule of having maximum support for all IIM Indore games followed, with all 41 students being present every time we participated. All of our teams enjoyed vigorous support, countering the larger numbers from other colleges. Being the underdogs, we displayed immense hunger to win and dominate at all our games and performances. The passion we exhibited during the matches shocked the other teams and us as well. All our teams seemed jovial before and after the games, but we were focused and competitive on the field. Eventually, we won a total of 12 medals across all categories. A grand medal ceremony was organized on the last day of the meet, and it was evident, with other colleges cheering for us, that we had won a lot of hearts! The efforts all the teams put in before and during the tournament paid off. We were proud of ourselves!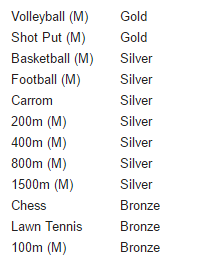 The five day tour was more than just a sports tournament. We got to know each other closely during the games, while sharing food, while cheering the teams, and even during the occasional pee-breaks on the way. The 72 hour long bus journey didn't seem that tiring with us being together. The group was merrily occupied playing cards and mafia, listening to music, or having conversations. I realized during this trip that we were a bunch of animated, riotous and congenial guys, who were starving for an opportunity to prove our worth as true sportsmen. IGNATIA 2016 was the opportunity we were yearning for and we made a mark. We were pretty much strangers before we climbed the bus, but we came back with a memorable experience.