(For earlier posts on Kashmir, Amritsar, Mcleodgunj, Mussoorie,Delhi-Gurgaon, Mughal Sarai – Varanasi, Bangalore,Pondicherry, Hyderabad, Puri, Dantewada click here : Baazigar Series)
Sometimes you get a sign right at the beginning of a journey, what it's all going to be about. Before you know it, that sign becomes the theme for the entire length of that particular romance. My romance with Kanha-Pench – the famed tiger sanctuaries in Madhya Pradesh began with a bus journey early in the morning from Raipur. The bus took 9 hours to cover a distance of 230 kms, running on a languid pace, laced with stopovers for Paan and folk wanting to go watch a procession go by, almost as if the journey in itself were an end – a blasphemy as far as city-slickers like me are concerned. Sitting next to me was a 12 year old boy – chubby and fair, not unlike how I would have looked at that age. He was on his way to his grandmother's home with his mother for the winter holidays. Unlike me, he must have slept well the previous night as he went on rambling about himself even when I made it clear I needed to sleep. He talked about life at his grandmother's village, his skills at climbing trees and playing cricket in the field, his fascination when one day grandmother got cable TV and he saw Mithun Chakraborty for the first time. He even talked about pranks he played on the local folk in the night. And on and on he went with his monologue. He knew the road like the back of his hand. By noon when he was tired, he simply leaned his head on my shoulder and went into a happy slumber - feeling no need to ask or tell. I woke him up a little later to check when I will be reaching Kanha and he described to me in his sleepy sing song tone how we will cross a bridge-less rivulet, with buses and animals being bathed in it, and then a narrow winding road will lead us to Kanha in 2 minutes. The best part was he wasn't interested in knowing anything about me – just happy with who he was. Right then I thought, gee, childhood was a good time.
And childhood was what the entire last week was about.
To begin with, I was coming to the end of the second phase and was homesick and missing my loved ones. Christmas didn't help matters either. I grew up in a catholic colony and Christmas has always been very close to the heart – the neighbors would all shower us kids with home-made plum cakes, mashmallows, muffins and sugar frosties, the night air would be filled with merry Christmas carols, there would be fun Chistmas parties and adult ball dances to gate-crash at, there would be a Home Alone marathon at home and a rather pleasant Bombay outside, all dressed in fairy lights.
As if that wasn't enough, a certain gentleman retired last week from a format which made me fall in love with cricket to begin with. It was a long time coming and it was more of a formality than anything, but it made it official that I will never see Sachin Tendulkar in the India Blue again. He was my first hero, even before I knew what a hero was. He was the reason I cried for the first time for a sport which moved me several times in the future. It made my brother and me come closer – his admiration, the effort to emulate him in our evening games, the hours spent collecting photos and trivia and gushing over it. When we saw him hitting those hundreds, we would want to grab hold of the bat and try for ourselves, that upper cut, that paddle sweep, that backfoot cover drive, that straight drive. With him gone, I guess I also have to let go of any illusion that, I am still young and don't have to deal with realities of adult life.
But above all, I was in the jungle. This fascination for wildlife is an acquired taste. Years of travelling with the younger brother ensured that we went to every wildlife sanctuary and zoo wherever we went. I was scared of animals and didn't really find them so exciting. But over the years, through a blur of safaris, zoo excursions and natgeo shows with the little one, I have come to fall in love not just with wildlife but the quiet trees, the portentous silence and the white, cold streams. Now I am enamored even by the sight of deer grazing in the field even though they are so common place that their singular and multiple noun forms are the same – like fish or hair.
As kids we would believe in the guide when he would stop suddenly during the safari and pretend to listen for an animal or look at an innocuous patch of yellow in the bush and try to figure out if it is indeed the great big cat. Now I would just know that they are doing this because probably we aren't going to find anything exciting enough. They would make light of the fact that they have seen so many tigers and leopards and bears in their time and we simply need to be lucky. I don't blame them. It is a matter of luck. After all the odds are stacked against us every time we go on a safari because the wildlife would ideally want to stay away from us and most fascinating animals are nocturnal animals with no interest in roaming about in the day. But a good guide would know that the jungle is his biggest help even in its most sedate state. The winter is something else in a jungle. The swirling mist early in the morning, coupled with the biting cold which can find a way in through the tiniest of inlets especially when you are hurtling down the dirt road in an open gypsy, creates an atmosphere of dread befitting of the skillful hunters the forest is home to. As is the case with most jobs requiring human interaction, a guide's job is also that of a skillful storyteller above all else. I did not find the tiger, but I did see leopards, elephants, bears, wild boars, deer and monkeys.
I visited the Kanha-Pench national parks for another major reason. I had spent my childhood Sundays gawking at Rudyard Kipling's little world with Mowgli swinging from tree to tree. Only recently I came to know that it were these sanctuaries that were the inspiration behind The Jungle Book. And then, as would be the impact of any good animation series, irrespective of technology, the panels just came alive right there in the safari. I could hear Nana Patekar's menacing voice rankling the jungle as Sher Khan would roar from his den and the safari ride set to Gulzar's charming words and Vishal Bharadwaj's jolly tune.
Kanha, as the sun goes down and the animals come out
Only, there was no Mowgli and more disappointingly, no Sher Khan. I have looked for the bloody cat for a long time now. I have been to Jim Corbett,. Ranthambore, Bandhavgarh, Chitwan and Tadoba. After having covered Kanha-Pench, I have now given myself a chance of seeing around 1500 tigers out of the 2000 odd tigers we have in this region. And still not a single one have I seen, prowling in the wild, as if he were royalty. He mocks at me from the screen when he appears in Life of Pi, reminding me that the closest I have come to seeing a Royal Bengal Tiger in the wild was only in a cricket field when Ganguly would flay through the off side with that kingly authority. But I guess, looking for the Royal Bengal tiger is somewhat like looking for that other elusive thing I have never found. And what do they say about it? You can't find it, it will find you.
I now head home. And it couldn't have been sooner! The next few days will be spent munching on Christmas sweets, youtube-ing old cricket matches and going through old photo albums. Wake me up when 2012 ends.
- Kunj Sanghvi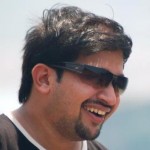 (Kunj Sanghvi will be writing about his experiences in each new city every week on InsideIIM.com. At various junctures on this trip, he'll be found working over cups of coffee in coffee shops across the country. He'd love to meet, talk, discuss with anyone who'd care to meet him; just to know the city and its people better. Follow him on twitter here – @kunjsanghvi. He blogs here.
About Kunj – Kunj Sanghvi is a B.Com graduate from Narsee Monjee College of Commerce and Economics and MBA from Mudra Institute of Communications, Ahmedabad(MICA). Prior to plunging into this adventure he was a Senior Manager at Hindustan Times. He has also worked with whatsonIndia.com in the past. )
You may be interested in :