A man's interaction with his native land and the native land's with him is something that has always intrigued me. For the first 21 years of my life, Bombay was my home and the only place I would claim to belong to after India. That I was a Gujarati didn't make me feel any affinity for Gujarat and Bombay is anyway as much a part of Gujarat as it is of Maharashtra because of the shared history. It also helped that my ancestors hailed from Karachi and none of them had really lived in Gujarat for the last 150 years. Basically, Gujarat up till 5 years ago was just a state I went to often because many pilgrimage places and not-so-cool relatives happened to be there. The 2 years at MICA, in spite of being in a ghetto which was a far cry from where it was located, made Gujarat too my unwitting second home. Today every trip to Gujarat is like going home. I am less of a tourist and more of a native here. Its one of the many ways a man interacts with his native land. The people all over the country who ask me these days on what topic I have based my stories in their home town is another way. It makes me scared just to look at such people in the eye and tell them what I have written about their home town. I humbly tell them I try my best but I wouldn't have done full justice just by living there for a week.. And then the native land also interacts in peculiar ways. It interacts in absolute and unequivocal adulation for its favorite sons – the way a Dhoni was received in the new Ranchi stadium yesterday. Or the way 'Sri Narendrabhai Modi' is received all over Gujarat.
(For earlier posts on Kashmir, Amritsar, Mcleodgunj, Mussoorie, Delhi-Gurgaon, Mughal Sarai – Varanasi, Bangalore,Pondicherry, Hyderabad, Puri, Dantewada, Kanha, Goa click here : Baazigar Series)
Gujarat is the upside down state.. Even when you do away with pet English media platitudes such as people here who follow ahimsa and vegetarianism, vote a mass murderer into power election after election or that a fundamental majority religion based party is voted into power on the development platform, there are many more delightful little indications in the everyday mundane life of its unique upside-downness.
Having batch-mates in high places ensured that I got a rather comprehensive access to the Vibrant Gujarat Summit happening in Gandhinagar which is India's most successful investor acquisition programme run by any State Government. To begin with, the very fact that a Government event could achieve this scale of operation and efficiency turned the conventional logic of public servants' nepotism and bureaucracy on its head. Then the local Gujarati businessmen dressed in Hugo Boss and Armani suits, referring to going to the washroom as wanting to do "su-su" only added to the fun. Soon some of India's biggest corporates, each of whom could himself be an inspiration for an entire generation joined in the madness by acting like poor sycophants in an emperor's court as they heaped on Modiji an embarrassing array of praises which reeked of insincerity in its extreme hyperbole. It was upside down to see heads of so many multi-nationals and ambassadors of so many developed countries, actually coming down to an Indian state to look for business opportunities. It turned around the very concept of who was the seller and who was the buyer.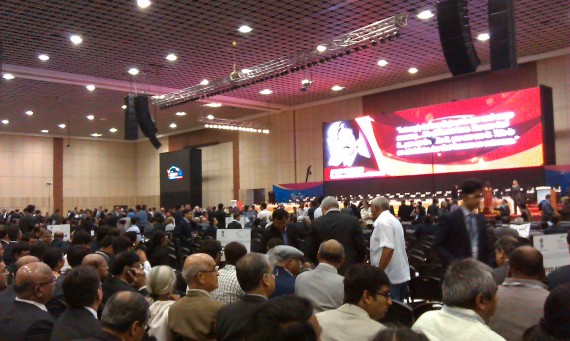 Pic 1 - The massive venue which my camera proved insufficient in capturing
The seminars at the event were a mix of Government sponsored propaganda on pet issues and some fine discussions on safe issues. Amitabh Kant taking the session on Modern Smart Cities made amazing observations on how today's cities will have to upturn the logic of 20th century mega-cities of America as they were conceptualized by and served the interests of gas and automobile companies while ours will be made by technology and telecom behemoths. On the other hand there was a session on Youth Education hijacked first by Mr Chetan Bhagat's penchant for long-winding clichés and hardly veiled self promotion and then by some Hindu baba travelling to the very edge of his vocabulary using words as if their profundity lay in their complex spellings and using a rousing tone to cover for the lack of any serious content. Sitting there in the heart of Modi's capitalist enterprise which is this state, I had a delightful conversation with a youth from the National Institute of Design on Chomsky and his influence on his work. From what I saw, Gujarat is well on its way to becoming our biggest manufacturing sector hub. If however it wants to make a dent in the service sector too, it will have to become friendlier to the white collar employee – starting with more variety in food and legalizing alcohol. Also, Gandhinagar is fast becoming a wonderful little university town apart from being the state's capital.
Pic 2 - Mr Modi's face created by photoshopping faces of millions of youngsters of Gujarat
When in Rome you do as the Romans do, so in an upside down place, you do something upside down. So two baby-faced, not even 5ft 7 inch tall, Gujju boys decided to make their trip to Kutch a road trip. Neither of us had ever ridden a bike on the highway, nor was I packed to ride a bike but we did it anyway. What followed was 4 blissful days in the wilderness, away from the madness of urban Gujarat, away from the crowds of the ongoing Rann festival, heck, away from civilization itself for the most part.
We first went to Lakhpat – a walled ghost city on the India-Pakistan border which was a glorious port 300 years ago before an earthquake made the Sindhu river change course and left the city useless as a port. A couple of hundred people still live there and there is a Gurudwara in the center where Guru Nanak is said to have stayed on his way to Mecca. We were welcomed by the caretaker there to stay for a couple of days. When told we were from Bombay, this man who himself lives in a desolate scary place exclaimed "Oh! You are from the jungle!" and grinned. On three sides of the walled city is the rann and the highway on the fourth. There are armymen stationed on pillars overlooking the rann. A Kashmiri armyman was kind enough to chat with us on a boring afternoon about his life and home. It was ironic to see a Kashmiri stand guard over peaceful Gujarat even as violence had once again erupted back home. The food at the langar in the Gurudwara had the simplicity and affection of a man cooking to serve, not earn.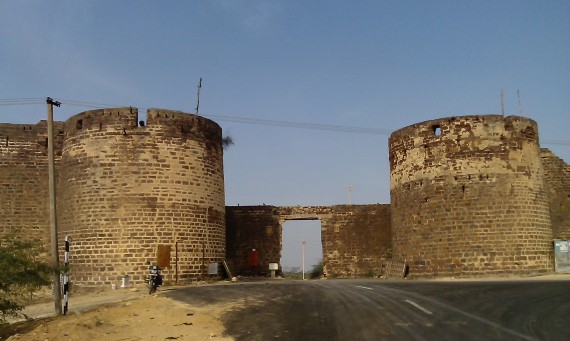 Pic 3 - The entrance to the walled city of Lakhpat
Then off we went across the morbid landscape of the Banni grasslands to reach Haji Peer Dargah by midday. Beyond it there was no sign of a path towards Karo Dungar and we ran into a Banni tribal who guided us across in exchange for a liter of petrol. On the way he told us a story of a particularly desolate stretch where it was rumored a massive black-breasted beast used to roam in search of prey and would attack anyone travelling alone, even if on a bike. It had nothing to do with the story, but the landscape gave me the kind of creeps one would never expect to feel on a sunny afternoon. Just as the light was fading, we reached our next pitstop – Karo Dungar. It is the highest point in Kutch and overlooks the bridge up till which Pakistani troops had reached during the 1971 war. After the aarti in the mandir there, the shepherd poojari would go offer prasad to foxes that prowl in the nearby jungle. They would come scurrying at the sound of the temple bells to have vegetarian food. The next day, along with tidings of rains in Delhi, came the dark clouds which gave the arid rann a completely different hue. The rann which receives a handful cms of rain through the year, put on its top game to impress us.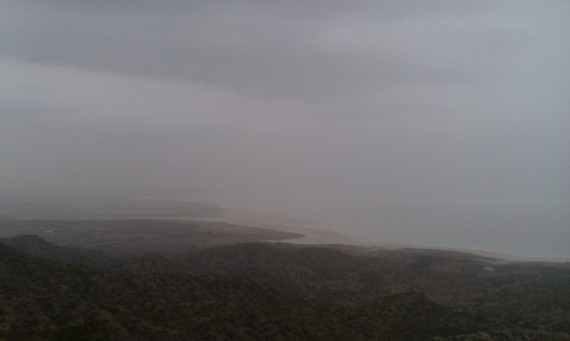 Pic 4 – View of the border in the White Rann from Karo Dungar
The Gujarati man is caricatured across all media in our country - right from the accent to the stock market to the food choices to the stinginess to the attire to the teetotalerism. I always find it a wonder that he keeps doing his thing irrespective. Most Gujaratis are extremely secure in spite of this scorn in the mainstream. Just like the rest of the country, give the Gujarati a non-communal development poster boy and he will let go of people like Modi, but till then whatever our pseudo secular media says about Modi, the Gujarati is his own man and he will vote for a strong entrepreneurial climate, great roads and development. The Gujarati doesn't get scared to go upside down and isn't embarrassed of making a profit.
And I don't think we should mind that as long as it's not at anybody's cost. There is certain optimism in this state today which is reflective of India in itself – just as we as a country aspire and move confidently towards becoming a superpower, so does Gujarat as the prime mover in this superpower.
This pro-development stance raises a lot of ethical and social questions which will have to be tackled delicately over time. I have attempted to bring that out in my story.
Whether it's the vibrant kite-flying festival, the colorful clothes of people against the arid backdrop or Gujarati music with its patently high-pitched aalaps and heavy orchestrations or the awkward and often hilariously incorrect use of fancy English words on road and store signs, there is a certain devil-may-care attitude and energy to the place today across urban and rural areas which I haven't found anywhere else so far. The world will observe India very closely over the next few decades and India will observe Gujarat as closely.
Off to Ajmer and Jaipur Lit Fest then. Will be going to MICA post that for the alumni reunion. Trying really hard to focus on the current job and not day dream about it!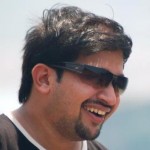 (Kunj Sanghvi will be writing about his experiences in each new city every week on InsideIIM.com. At various junctures on this trip, he'll be found working over cups of coffee in coffee shops across the country. He'd love to meet, talk, discuss with anyone who'd care to meet him; just to know the city and its people better. Follow him on twitter here – @kunjsanghvi. He blogs here.
About Kunj – Kunj Sanghvi is a B.Com graduate from Narsee Monjee College of Commerce and Economics and MBA from Mudra Institute of Communications, Ahmedabad (MICA). Prior to plunging into this adventure he was a Senior Manager at Hindustan Times. He has also worked with whatsonIndia.com in the past. )
You may be interested in :