Do you ever pay attention to those other people at the Filmfare and IIFA awards ceremonies - the editors, singers, cinematographers, etc? The camera never pans out to them. When a dance performance is on, nobody focuses on a choreographer to see if he is enjoying it. They all try and emulate the stars in dressing up. They think they wear the same long gowns and tuxedos and look the best they would ever do for the rest of the year. And yet there is always easy to tell who is a technician and who is a star. There will be that extra flab somewhere; something remiss about the fitting would stand out; maybe they would be wearing something that is so last season. Now if you are the cool kind who watch the Oscars and Grammys and watch the Indian ones only because it's on in the living room on a Sunday evening, you would know the Indian stars are pretenders too. Look at a George Clooney or a Rihanna and you would notice that extra make up on Anushka's eyes and Saifs attempt at pulling off highlights in his hair - so 2010!
( Read : The entire Baazigar Series - Kunj's chronicles on Kashmir, Amritsar, Mcleodgunj, Mussoorie, Delhi-Gurgaon, Mughal Sarai – Varanasi, Bangalore,Pondicherry, Hyderabad, Puri, Dantewada, Kanha, Goa, Gujarat, Rajasthan and Kolkata.)
It is the same with the small town versus big town debate. While Ranchi laughably queues up and celebrates the arrival of KFC and Pantaloons, Mumbai and Delhi queue up outside Starbucks. The KFC launch of Ranchi was, by the way, the biggest first week of a KFC outlet anywhere in Asia. In the end, we all are not as different as we think. In my opinion small town aspiration is a myopic short-term articulation of the ambitions of a set of people. In reality, there is just ambition or lack of it, and that's both universal and subjective.
I have been to several small towns in northern India these last few months and there exists in all of them this underground counterculture of local folk music, coupled with more mainstream language and sensibility. The hotch-potch leads to a genre which can easily fit into the 'so bad its good' category. Perhaps one of the greatest examples of that is the youtube sensation "Ischool ke tem pe, aane gori dam pe" (4 million views) which was shot here in Ranchi and the dam it refers to is the only real tourist attraction of Ranchi – the Kanke Dam. It is located at one end of the city, with a garden on a hillock overlooking a fairly large artificial lake. The said garden is a funny little place with little make-out places, amusement rides for kids like the haunted house inside a pyramid and a weird trippy little space ride, and random eateries. Also firmly in the 'so bad its good' category are the various disastrous attempts at English on road signs and store names and this curious little area in the city called 'Chutia'.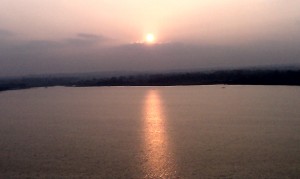 Pic 1 – A view of the famed Kanke Dam
Ranchi is a plateau and hence the weather is fairly pleasant all round the year. It was the summer capital of Bihar and now is the capital of Jharkhand and perhaps its biggest city. It has neither the efficient capitalism of Jamshedpur nor the coal-addled mania of Dhanbad. It is a city under construction. A city looks its worst when its on its way to becoming something more than its always been. It looks even worse than it does during its decadence because old plans are ripped apart, people are displaced, the ugly old buildings are torn down to make way for the new ones, rubble and old drains lie unattended as new, awkward structures are made on top of them. The perils of a newly formed state also adversely affect the growth of its cities. 4 presidents' rules in 12 years indicate deserted plans, ego tussles, constantly switching loyalties and general lack of long term view on things. As my friend put it, Jharkhand is the most resource rich state in India. It is then, like a father blessed with a rather beautiful daughter. He can't but look at it as a curse, what with her honor being in trouble all the time.
There is no better way to understand a city than on foot. But in a non-touristy place, it's difficult to find enough to do to keep you interested for a week. So I was fortunate enough to get a chance to live in a deserted hospital ward of a friend's private hospital for the last 3 days of my time in Ranchi. Hospitals are depressing places and they do nothing to improve the situation if you are anyway prone to insomnia and nightmares, and the morgue is right opposite your ward. But as a tourist, insomnia gives you a strange advantage. It gives you a chance to look at the city at an unexpected hour. I spent a couple of nights in the casualty ward of the hospital, chatting up with the nurses and ward boys and getting a glimpse into their lives – how they came from the adivasi areas of Jharkhand to get training in first aid and housekeeping and then were hired by the hospital. Unlike what Greys Anatomy would have you believe, they don't spend cold nights making out in the on-call room. They study for further exams, fill up paper work for their parents and plan out where the next month's rent is going to come from. Death, sickness and tears are a part of an everyday job for a six thousand rupee salary. So let us inconsequential management students not assume that stress is proportionate to pay and education.
There are clear three classes in Ranchi – the Marwaris and Baniyas who are the doctors, accountants, magistrates and business owners in Upper bazaar. Then there are the locals who run small shops, work at restaurants and retail outlets and celebrate Durga Puja and Saraswati Puja with passion. And finally there are the lower castes who may have converted to Christianity and adivasis – working as house help, workers and labourers. Each class has a different hindi and the person from the lower class always tries to tamper his hindi to suit the person from the upper class he is talking to.
They seem to love Chowmein here, as roti-sabji and biryani stalls are far outdone by it. Wonder what rape figures are in Jharkhand then! I skipped Litti Chokha here but I'm told the one at Patna is even better. And Patna is the last conventionally north Indian city of my adventure. As I enter the northeast next week, the season for second-to-lasts and lasts has well and truly begun. Like a cone of strawberry ice cream, I am going to take it as slowly as possible, so that it can last as long as possible.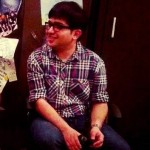 (Kunj Sanghvi will be writing about his experiences in each new city every week on InsideIIM.com. At various junctures on this trip, he'll be found working over cups of coffee in coffee shops across the country. He'd love to meet, talk, discuss with anyone who'd care to meet him; just to know the city and its people better. Follow him on twitter here – @kunjsanghvi. He blogs here.
About Kunj – Kunj Sanghvi is a B.Com graduate from Narsee Monjee College of Commerce and Economics and MBA from Mudra Institute of Communications, Ahmedabad (MICA). Prior to plunging into this adventure he was a Senior Manager at Hindustan Times. He has also worked with whatsonIndia.com in the past. )
You may be interested in :
The entire Baazigar Series - Kunj's chronicles on Kashmir, Amritsar, Mcleodgunj, Mussoorie, Delhi-Gurgaon, Mughal Sarai – Varanasi, Bangalore,Pondicherry, Hyderabad, Puri, Dantewada, Kanha, Goa and Gujarat