These roles offer cross-functional exposure and rapid growth - not to mention that at top b-schools, these roles are offered by industry giants like the Mahindra group, Hindustan Unilever, the Aditya Birla group, Godrej, ITC, Capgemini, the Tata group (TAS), and many others. In fact, HUL and TAS feature amongst India's top-ten dream companies! But does desire match the reality? As it turns out, it does - MBA students from the batch of 2021 at the IIMs have shown preference for General Management roles, though Consulting still rules the roost.
As compared to last year, there has been an increased inclination towards high-paying product and analytics roles, while the preference for Sales and Marketing has diminished slightly but remains strong. Finance roles are placed at the lower end of the pecking order, below Operations and ahead of HR roles.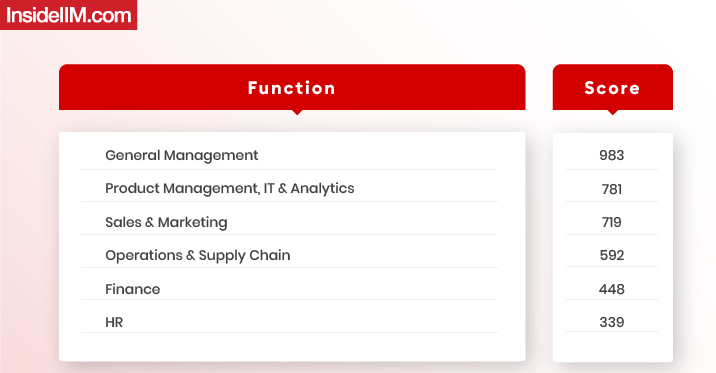 ---
Technology, eCommerce Sectors Most Alluring for MBA Students at India's Top B-Schools
In 2021, MBA students have chosen the technology and eCommerce sectors - two of the hottest sectors in India and the world - as their most desired sectors to work in. This comes as no surprise given that the most valuable companies in the world belong to these sectors and are market leaders in innovation - who wouldn't want to work with companies leading the innovation charge like Meta, Amazon, Google, Microsoft, and Apple?
The next most desired sector for MBA students is, to no one's surprise, Consulting. At the top-ranked IIMs, Consulting has been the most sought-after sector for MBA grads to get placed in, and this can be seen in the placement reports for the batch of 2021. Consulting, like General Management, offers a relatively more generalist and strategy-oriented learning curve, and Management Consulting firms are known to offer handsome remuneration to their suited-up, deck-wielding teams of Consultants.
Other sectors also preferred include the Consumer Goods and Durables sector, as well as BFSI. Amongst the least preferred sectors are government organizations, NGOs, as well as education and recruitment.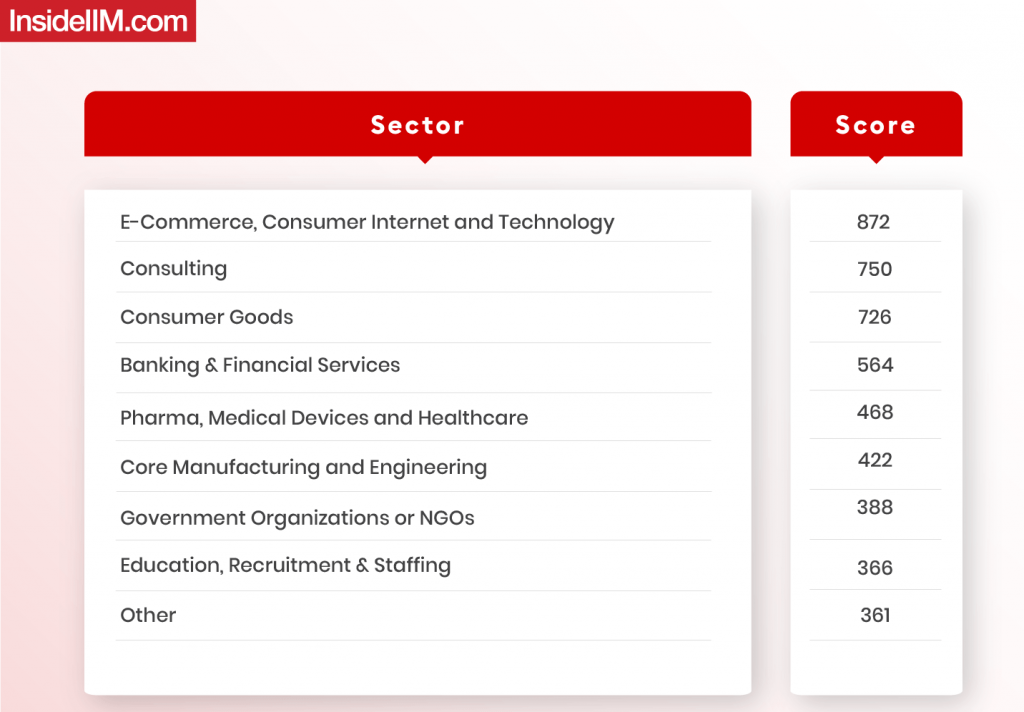 ---
How We Created This Report - Methodology
In 2021, we reached out to first and second year MBA students across India's top business schools to tell us about their thoughts on the b-school recruitment process. Amongst the many questions in the survey that was floated, two questions asked MBA students to rank their top-5 sectors and domains from a given list of options. Based on the responses received, a weighted score was calculated, using which rankings were generated. Respondents to the InsideIIM Recruitment Survey include a good mix of 1st and 2nd year MBA students.
Students responding to this survey belong to business schools like IIMs Ahmedabad, Bangalore, Calcutta, Lucknow, Indore, Kozhikode, as well as second and third generation IIMs. Respondents also belong to campuses such as FMS Delhi, XLRI Jamshedpur, SPJIMR Mumbai, ISB, MDI Gurgaon, SIBM Pune, IIFT, and NMIMS Mumbai amongst others. Other campuses include IMT Ghaziabad, SCMHRD, Welingkar, KJSIMSR, XIMB, IMI New Delhi, and the IITs.
---
What do you think of this list? Do these rankings of roles and sectors match with the reality of placements at your b-school? Let us know what you think in the comments below!